Obama Approval Rating Holding Steady in Minnesota and Blue States, Still Dropping in Red States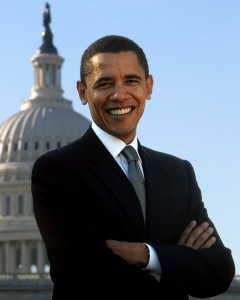 Barack Obama's latest approval rating in Minnesota remains in the low 60s – holding essentially, and impressively, flat for the third consecutive month, according to the latest round of polling by SurveyUSA.
For the month of April, in a survey of 600 adults statewide, 63 percent of Minnesotans approve of the job Obama is doing as President – compared to 61 percent in March and 62 percent in February. Only 33 percent disapprove of Obama's job performance. The poll has a margin of error of +/- 3.9 percent.
Minnesotans appear to be mirroring what is a nationwide trend, at least among the 14 states tracked each month by SurveyUSA. Obama started with very high marks in both red and blue states after Inauguration Day, only to see his marks fall across all states in February after controversial economic stimulus legislation was passed in D.C.
But in the states polled by SurveyUSA that Obama carried last November (California, Iowa, Massachusetts, Minnesota, New Mexico, New York, Oregon, Virginia, Washington, and Wisconsin), his collective approval rating has remained virtually flat for the last three months – 62.2 percent in February, 61.8 percent in March, and 62.7 percent in April.
Obama's disapproval rating has also remained essentially unchanged during this span among these 10 states: 32.8 percent in February, 32.6 percent in March, and 32.5 percent in April.
However, in the states polled by SurveyUSA that Obama failed to carry in 2008 (Alabama, Kansas, Kentucky, and Missouri), Obama's aggregate approval rating has dropped from 62.3 percent in January to 53.8 percent in March, to 50.3 percent in April. Perhaps more telling, his disapproval rating has increased from 23.5 percent in January to 40.5 percent in February, to 41.0 percent in March to 45.0 percent in April in these four more conservative states. In short, the honeymoon period appears to be about over for Obama in McCain Country.
As a result, the net "blue state" versus "red state" difference in Obama's approval rating has increased from 7.7 points in January to 12.5 points in April. (This includes, admittedly, a few purple states tracked by SurveyUSA; for the purpose of this post, "blue state" is shorthand for those states carried by Obama, and "red state" is shorthand for those won by Republican John McCain).
The net difference in disapproval rating between Obama and McCain states has also increased each month, from 5.7 points in January to 12.5 points in April.
Presidential Disapproval Rating in McCain States vs. Obama States
Month

McCain states

Obama states

Difference

Jan 2009

23.5

17.8

5.7

Feb 2009

40.5

32.8

7.7

Mar 2009

41.0

32.6

8.4

Apr 2009

45.0

32.5

12.5
Note: SurveyUSA polling data compiled by Smart Politics.
Follow Smart Politics on Twitter.