Michele Bachmann Appears on National Cable TV Every 9 Days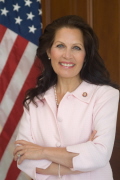 With her A-block interview on health care reform on Fox News' Hannity program Tuesday evening, Minnesota Congresswoman Michele Bachmann has now equaled in 7+ months in 2009 the number of national cable television news appearances she made in all of 2008.
A Smart Politics analysis of media transcripts dating back to when Bachmann first took office in D.C. in January 2007 finds the Congresswoman has made 22 appearances on national television cable news programs through mid-August 2009 – the same number she made in all of 2008. (The Congresswoman did not make any such appearances in 2007).
Representative Bachmann has thus substantially increased her national profile from averaging one national cable television news interview every 16.6 days in 2008 to one appearance every 9.1 days thus far in 2009.
In addition to the increasing number of national cable television appearances, there has also been a notable shift in the networks on which she is appearing.
In 2008, only half of the conservative Congresswoman's televised national media appearances were on the right-leaning Fox News Network: 10 on the Fox News Channel (FNC), and one on the Fox Business Network (FBN). Bachmann made nearly an equal number of appearances (9 of 22, 41 percent) on CNN – with the majority of those being on Larry King Live.
Bachmann also made two appearances last year on MSNBC – one an October 2nd interview with David Shuster on the financial bailout plan, and the second being her well-known October 17th interview with Chris Matthews on his Hardball program.
In 2009, however, 68 percent of Representative Bachmann's appearances have been made on the Fox networks – 13 on FNC and 2 on FBN. The Congresswoman has been a favorite of Glenn Beck – appearing six times this year on his popular program – as well as Sean Hannity on his primetime Hannity program (four times).
Bachmann has only made three appearances on CNN this year, and has sworn off MSNBC after her headline-making appearance last October on that left-leaning network. However, Bachmann has made four appearances on MSNBC's sister channel CNBC – three of which were with Larry Kudlow.
Michele Bachmann National Cable News Program Appearances, 2008-2009

Network

2008

2009*

Total

Fox News

10

13

23

CNN

9

3

12

CNBC

0

4

4

Fox Business

1

2

3

MSNBC

2

0

2

Total

22

22

44
* Through August 18, 2009. Data compiled by Smart Politics.
Congresswoman Bachmann has been interviewed on a variety of subjects this year, including her opposition to bailouts, the federal stimulus package, a global currency, ACORN receiving taxpayer money, energy taxes, giving detailed information for the U.S. Census, and the President's health care plan.
Even though Bachmann made 22 appearances last year, her cable news blitz did not begin in earnest until August 2008. All but one of her 44 appearances have occurred within the last 12 months.
Overall, Representative Bachmann has appeared on 19 different cable news programs since 2008, led by Larry King Live (8), Your World with Neil Cavuto (6), Glenn Beck (6), Hannity (4), and The O'Reilly Factor (3).
Despite these national media appearances, Bachmann still raised two-thirds of her Q2 2009 individual itemized campaign contributions from within Minnesota.
Raising her national profile, however, may have enhanced Congresswoman Bachmann's ability to raise small funds from across the country. Representative Bachmann outraised her closest Minnesota colleague by more than 3 to 1 in unitemized small donor contributions last quarter. (Since the FEC does not require contributions of less than $200 to be itemized it is unknown what percentage of these come from outside of Minnesota).
If Bachmann remains true to form, continuing to appear on national cable television news programs once every nine days, she will next turn up on your television set on August 27th.
Follow Smart Politics on Twitter.