Michele Bachmann: History Is On Her Side
This report is Part 1 in a series on the incumbency advantage in Minnesota politics.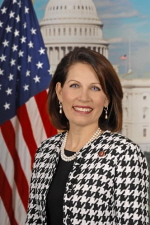 As the DFL makes yet another pitch to the voters of the 6th Congressional District in 2010 – perhaps with their most formidable challenger to date – Minnesota electoral history suggests the road to unseating incumbents such as Michele Bachmann is long and rocky.
A Smart Politics analysis of more than 560 U.S. House contests since statehood finds only 62 out of 487 incumbents who appeared on the general election ballot failed to win reelection, or 12.7 percent. For 2-term incumbents, like Congresswoman Bachmann, 88.2 percent have won a third consecutive term, or 75 out of 85 Representatives.
History also suggests the odds of unseating an incumbent in 2010 are even more difficult than this.
· Of the ten 2-term incumbents who have lost their bid for a third term, only six were defeated in non-redistricting years. While many pundits speculate that Representative Bachmann will be the most vulnerable member of the Gopher State U.S. House delegation if Minnesota loses a seat due to reapportionment, that (or any unfavorably drawn district lines) would not take effect until 2012.
· Of the six 2-term incumbents who were defeated in non-redistricting election cycles, only two have been Republicans. The GOP has historically dominated Minnesota politics – winning 368 of the 568 U.S. House seats in general and special elections since statehood (64.8 percent).
· It has also been 65 years since the last time a 2-term Republican has been defeated in a non-redistricting year: Richard Gale in 1944. (Arlen Erhdahl lost his bid for a third term after redistricting in 1982).
· The only other Republican to lose a third term in the history of the Gopher State was Horace B. Strait, all the way back in 1878. (Congressman Strait, for the record, would go on to reclaim his seat in 1880, and win two more terms after that).
Moreover, even with a strong candidate, there are few who believe a DFLer can win easily in the Republican-leaning 6th CD. Minnesota history also suggests 2-term incumbents do not get defeated without a fight: of the six 2-term U.S. Representatives who were defeated in non-redistricting elections, the average margin of victory was just 3.9 points, with five of the six incumbents losing by 2.8 points or less.
Unseated Two-Term Minnesota U.S. House Representatives, 1857-2008
| | | | | |
| --- | --- | --- | --- | --- |
| Year | U.S. Rep. | Party | MoV | MoL |
| 1878 | Horace B. Strait | Republican | 12.6 | 2.5 |
| 1894 | Ossee M. Hall | Democrat | 3.3 | 13.4 |
| 1926 | Knud Wefald | Farmer-Labor | 13.6 | 1.4 |
| 1932* | Victor Christgau | Sticker (former GOP) | 30.0 | N/A |
| 1932* | William I. Nolan | Republican | 25.7 | N/A |
| 1932* | William A. Pittenger | Republican | 30.4 | N/A |
| 1944 | Richard Gale | Republican | 16.1 | 1.8 |
| 1958 | Coya Knutson | DFL | 5.4 | 1.4 |
| 1966 | Alec G. Olson | DFL | 3.6 | 2.8 |
| 1982 | Arlen Erdahl | Republican | 43.6 | 1.6 |
* In 1932 Minnesota elected all nine Representatives to the U.S. House as at-large representatives. Six incumbents from 1930 lost in the statewide election. The margin of victory column (MoV) indicates the Representatives victory margin in the year he or she won their 2nd term. The margin of loss column (MoL) indicates the margin by which the two-term Representative lost his or her bid for a third term. Data compiled by Smart Politics.
History also suggests that the DFLers had their best shot at Bachmann last year, when she was a 1-term incumbent and Democrats were in the midst of their second consecutive wave election cycle.
Freshman Representatives have lost their re-election bid 20.3 percent of the time in Minnesota history – or nearly double that of sophomores (11.8 percent). Of the 118 1-term incumbents who appeared on the general election ballot, 94 have been victorious, with 24 losing their seat.
DFLers are thus banking on the fact that their likely contenders for the 6th CD seat, State Senator Tarryl Clark and former Independence Party Lieutenant Governor nominee Maureen Reed, are strong enough candidates to not only counter these historical trends, but also Bachmann's formidable fundraising abilities. Through June, Representative Bachmann led the Minnesota U.S. House delegation in campaign funds raised for each of the first two quarters of 2009 – at $598,811 in total.
Follow Smart Politics on Twitter.