Pathway to the Governor's Mansion in Minnesota, Part I: Political Experience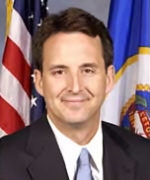 With nearly 20 announced or likely candidates under the DFL and Republican Party banners for the 2010 race for Governor of Minnesota, most gubernatorial hopefuls will doubtlessly be touting the political experience on their resume as they seek to win their respective party's nomination next year (or make their case to the voters in the primary should they not abide by the nomination process).
To be sure, this election cycle's crop of candidates do offer significant experience in elected or appointed office: a former US Senator, a former State Auditor, several former or current Minnesota State Senators, Minnesota State Representatives, mayors, city council members, a county attorney, a former school board member, a former assistant Attorney General etc.
But what is the right political experience? What is the clearest pathway to the governor's mansion?
Smart Politics examined the previous political offices held by each of Minnesota's 38 governors before they became governor of the Gopher State. Like the candidates running in 2010, their background offers a mix of federal, state, and local governmental experience prior to becoming Governor of Minnesota.
A survey of this historical record finds one common ingredient in the political background of most governors is, not surprisingly, prior state governmental experience. Overall, 79 percent of Minnesota's governors (30 of 38) had some form of state government experience before becoming governor, including five of the last six governors dating back to Wendell Anderson in the early 1970s. (The exception during this era being Jesse Venutra).
Interestingly, 79 percent of the Republican and DFL candidates seeking election in 2010 (15 of 19) also have state governmental experience: Mark Dayton, Tom Bakk, Steve Kelley, Margaret Anderson Kelliher, John Marty, Tom Rukavina, Paul Thissen, Paul Kohls, Marty Seifert, Matt Entenza, Pat Anderson, Tom Emmer, Bill Haas, David Hann, and Mike Jungbauer.
Fourteen governors of the Gopher State, however, had held positions at more than one level of government, with the most common pathway being service in both the local and state government. This pathway was taken by nine Minnesota governors.
Two recent examples of this model are Tim Pawlenty and Arne Carlson – each of whom served on city councils (in Eagan and Minneapolis respectively), as well in the state legislature (Carlson was also elected State Auditor).
The other seven governors using local and state governmental positions as stepping stones to the governor's mansion are Luther Youngdahl (1947-1951), Hjalmar Petersen (1936-1937), Theodore Christianson (1925-1931), David Clough (1895-1889), Knute Nelson (1893-1895), Andrew McGill (1887-1889), and John Pillsbury (1876-1882). (Note: Petersen was never elected Governor; as Lieutenant Governor he took office after Governor Floyd Olson's death).
Of the current crop of candidates for 2010, seven have state and local governmental experience: Pat Anderson , Tom Emmer, Matt Entenza, Bill Haas, Tom Rukavina, David Hann, and Mike Jungbauer.
Four governors, meanwhile, have served in both state and federal governmental positions prior to their gubernatorial victory: Al Quie (a U.S. Representative and State Senator), Elmer Benson (an appointed U.S. Senator and Commissioner of Securities), Cushman Davis (a U.S. District Attorney and State Representative), and the Gopher State's first Governor, Henry Sibley (a Territorial Delegate to Congress and a Territorial House Representative).
One 2010 candidate, Mark Dayton, follows this model – having served as both State Auditor and U.S. Senator.
Only one Minnesota Governor had served at three levels of government: Alexander Ramsey, the state's second Governor, had previously served as U.S. Representative from Pennsylvania, Territorial Governor of Minnesota, and Mayor of St. Paul. (Note: territorial governors were selected via federal (presidential) appointments, but their jurisdiction is 'state-esque').
In total, 30 governors had held state governmental posts prior to becoming governor, 13 had held local governmental positions, and 7 had held federal posts.
And the eight Minnesota governors who were State Capitol 'outsiders?' They are: Jesse Ventura, Harold LeVander, Orville Freeman, Harold Stassen, Floyd Olson, Winfield Hammond, John Lind, and Stephen Miller.
Three of these governors held no prior notable governmental experience: LeVander (1967-1971), Freeman (1955-1961), and Miller (1864-1866). Freeman, however, was deeply involved in politics, presiding as DFL Party Chairman and Secretary during his pre-gubernatorial years.
Prior Political Experience of Minnesota Governors by Level of Government
Level of government

# of Governors

State

16

State + local

9

Federal + state

4

Local

3

Federal

2

Federal + State + Local

1

None

3

Total

38
Note: Governor Rudy Perpich, the 34th and 36th Governor of Minnesota, is counted only once.
The current crop of 2010 candidates is, of course, heavily populated by current or former members of the state legislature. In fact, more than half of the GOP and DFL candidates (10) are current or former members of the State House of Representatives, with five having served in the State Senate.
Not coincidentally, serving in the Minnesota legislature is a common pathway to the Governor's mansion – 11 Governors had served in the State Senate and 9 had served in the State House prior to being elected governor.
Another historical pathway to the governorship that was once commonly traversed in Minnesota, but was not taken by any of the 2010 hopefuls, is getting elected to the office of Lieutenant Governor. Nine Minnesota governors previously served as lieutenant governor, although only one during the past 40+ years (Rudy Perpich). (The political cache of the lieutenant governor has been reduced ever since 1974 when that office has been tied to the Governor on a single ticket at the ballot box).
For those announced or likely candidates for 2010 with only local government experience – DFL Minneapolis Mayor R.T. Rybak and Ramsey County Attorney Susan Gaertner – there are historical pathways to the governor's mansion for each of them as well.
Governor Floyd Olson (1931-1936), for example, previously held the office of Hennepin County Attorney, while Jesse Ventura (1999-2003) was the former Mayor of Brooklyn Park. A third Governor, Harold Stassen (1939-1943), also only had local governmental experience (as Dakota County District Attorney).
Prior Political Experience of Minnesota Governors by Office Held
Position

# of Governors

State Senate

11

Lieutenant Governor

9

State Representative

9

City Council

5

U.S. Representative

5

State Commissioner

4

Mayor

3

County / District Attorney

3

State Auditor

2

Territorial House Representative

2

Territorial Governor

1

U.S. Senate

1

Territorial Congressional Delegate

1

U.S. District Attorney

1

State Supreme Court

1

State judge

1

Municipal judge

1

County School Superintendent

1

Political party leader

2

None

2
Coming next: Part II – an analysis of geographical pathways to the governor's mansion in Minnesota.
Follow Smart Politics on Twitter.