Bachmann 'Sends a Message to the Left': Raises $89,000 in One Day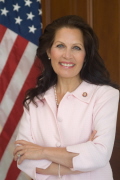 If anyone wondered just how Minnesota Congresswoman Michele Bachmann would respond to the impressive fundraising numbers released earlier this week by DFL hopefuls Maureen Reed and, especially, State Senator Tarryl Clark, that question was answered on Wednesday.
Beginning with a new fundraising campaign on her website Wednesday morning entitled, "Send a Message to the Left," a morning appearance on Glenn Beck's radio show, and a Twitter campaign that updated her followers as to how much money she was raising, Congresswoman Bachmann generated an astounding $89,000 from her supporters in one day.
To put that in context, Bachmann raised $313,685 in 90 days from January through March of this year, or an average of $3,485 per day (leading the Minnesota U.S. House delegation) and $285,125 in 91 days from April through June, or $3,133 per day (placing her second in the state delegation behind fellow GOPer Erik Paulsen).
In other words, Bachmann spiked her average 2009 daily fundraising tally by more than 25-fold on Wednesday.
Appealing to Beck's listeners that U.S. House Speaker Nancy Pelosi has made her the #1 GOP target to beat in 2010, Bachmann got in three plugs to her campaign website on the radio show and, perhaps more importantly, this following comment from Beck: "We should have a fundraiser for you."
Whether or not a Beck fundraiser pans out, Bachmann had, even before today, already demonstrated a talent for raising money for her campaign, particularly from individuals and small donors.
In her new fundraising campaign, Bachmann uses ads with headlines such as, "Tell Big Sister Pelosi & Big Brother Reid to Leave You Alone!" and "Help Michele Stop Nancy Pelosi's Tax and Spend Agenda" – the former slogan appealing to a new libertarian streak that is running through Bachmann's campaign.
On Beck's radio show, Bachmann railed against the government takeover of health care and federal funding of ACORN – telling his listeners to "melt the phone lines every day" of the members of Congress to express their discontent. Regarding her stances on these high profile issues, the Congresswoman stated, "That's why Speaker Pelosi has made me her number one target to defeat next year. She wants me gone next year."
As one of the rising conservative voices in the country, Bachmann has catapulted herself into a frequent guest on the cable TV news circuit, particularly on FOX News, but she's also got the attention of the traditional media, such as today's article in the New York Times: G.O.P. Has a Lightning Rod, and It's Not Palin.
Bachmann also appeared later in the day on Beck's FOX News television program to discuss the ACORN issue and the Community Reinvestment Act, whereupon she reiterated that she was a top target of Nancy Pelosi.
A Smart Politics analysis of Bachmann's third quarter fundraising, and as well as the rest of Minnesota's U.S. House members, will be released later this month.
Follow Smart Politics on Twitter.