History Suggests Kagan Confirmation Process Will Be Rockier than Sotomayor's
Presidents since Woodrow Wilson have faced increased Senatorial opposition in attempts to get their second Supreme Court Justice seated; only 1 such nominee out of 13 received greater support from Senate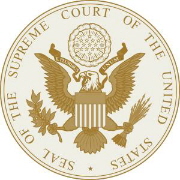 If history has its say, President Barack Obama and his newest Supreme Court nominee, Elena Kagan, can expect a difficult confirmation process this summer – and not simply because 2010 is an election year in an era of heightened political polarization of the Senatorial confirmation process.
A Smart Politics analysis of Supreme Court nominees finds that after a president has successfully landed one Justice on the bench, the process of pushing his next nominee through the U.S. Senate has become decidedly more difficult.
Since Woodrow Wilson, there have been 13 presidents who were in the same position as Barack Obama is in today – with one nominee already on the bench and a second nominee suited up to face the U.S. Senate for confirmation.
For seven presidents, this next nominee received more 'nay' votes than his or her predecessor who made it on the bench, with an eighth nominee pressured to withdraw due to lack of support from both parties.
Two of these presidents ultimately failed to get the nominee through the Senate – Herbert Hoover with John Parker and Richard Nixon with Clement Haynsworth.
For four presidents, support remained the same with the President's first seated nominee and subsequent nominee both passing through on voice votes or by unanimous roll call vote.
There has only been one instance since WWI in which a president's subsequent nominee to his first seated Justice received more support (Franklin Roosevelt with Stanley Reed was approved by voice vote five months after Hugo Black was confirmed by a 63-16 margin).
There are a variety of reasons why the Senate has historically given the President increased opposition in these situations.
For example, having seated one Justice on the bench, some presidents may try to push the envelope by submitting for confirmation a nominee with a more radical constitutional philosophy (e.g. Louis Brandeis).
The background of the nominee also plays a role. Some nominees, to be sure, have endured personal (e.g. Clarence Thomas) and professional controversies (e.g. Clement Haynsworth) that have stirred up fierce opposition in the Senate.
Others nominees have faced opposition from localized geographic voting blocs (e.g. John Harlan II and Thurgood Marshall from the South).
Or, perhaps the U.S. Senate sometimes simply pushes back at the margins in the perennial tug of war over executive and legislative powers.
Here is a summary of the increased opposition faced by several Presidents of the 20th and 21st Centuries: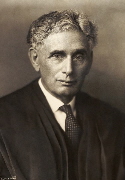 · After Woodrow Wilson got his first nominee, James Clark McReynolds, through the Senate with the support of 88 percent of voting members (44-6), only 68 percent (47-22) supported his next nominee, Louis Brandeis. Brandeis became the first Jewish Supreme Court Justice with most of his opposition due to his perceived radical judicial philosophy, particularly against corporations and monopolies.
· Herbert Hoover's first Justice, Charles Evans Hughes, passed through the Senate with 67 percent of the vote (52-26), but his next nominee, John Parker, was narrowly rejected with 49 percent of voting members (39-41) – the first rejection in 36 years. Parker was seen as too conservative by some Senators on labor issues and was also opposed by the NAACP for comments he made against black participation in the political process while running as the GOP candidate for Governor of North Carolina in 1920.
· Dwight Eisenhower was successful in getting all five of his Supreme Court nominees through the Senate during his eight years in office. But after his first nominee, Earl Warren, cruised through the Senate on a voice vote, his next, John Harlan II, would have to wait five months between his nomination and confirmation. Harlan ultimately won 87 percent of the vote in the Senate (71-11) but his opposition was fierce from Southern segregationists.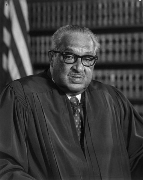 · Lyndon Johnson's first seated Justice on the Court, his friend Abe Fortas, also was confirmed easily by a voice vote. His next pick, Thurgood Marshall, would become the first black Justice on the Court, but not before many of the Southern Senators from the President's own party (along with newly converted Republican Strom Thurmond) opposed Marshall's confirmation. Marshall was confirmed with 86 percent of the vote (69-11), although 20 Senators in the chamber did not cast a vote.
· Richard Nixon's first nominee, the conservative-leaning Warren Burger, received the confirmation of 96 percent of voting Senators (74-3) – the largest support received by a nominee via a roll call vote since Ulysses S. Grant nominee Morrison Waite in 1874 (63-0). Nixon was not so lucky on his next choice, Clement Haynsworth. Haynsworth was rejected by the Senate, receiving the support of 45 percent of the body (45-55), due largely to his anti-labor leanings, possible conflict of interest in votes cast while on the 4th Circuit of the U.S. Court of Appeals, and for his lack of support on civil rights issues.
· George H.W. Bush saw his first nominee, David Souter, pass through the Senate with 91 percent of the vote (90-9). Bush's next pick, Clarence Thomas, escaped with just 52 percent of the vote (52-48) – the narrowest successful confirmation since John Garfield's nominee, Stanley Matthews, was confirmed with 51 percent of the vote in 1881 (24-23). It took 107 days from Thomas' nomination on July 1, 1991 until his confirmation vote on October 15th that autumn. Thomas' confirmation was nearly blocked by critics for his very brief experience as a judge, his suspected conservative leanings on abortion and affirmative action, and, of course, attorney Anita Hill's allegations of sexual harassment.
· Bill Clinton's first nominee, Ruth Bader Ginsburg, was confirmed with 97 percent of the vote (96-3). Only Republicans Jesse Helms (NC), Don Nickles (OK), and Bob Smith (NH) opposed her. Clinton's next nominee, Stephen Breyer, had three times as many votes cast against him, but was still confirmed with 91 percent of the vote (87-9). A group of nine Republicans, including Helms, Nickles, and Smith, cast the 'nay' votes. The period from Ginsburg's nomination to confirmation took just 58 days compared to 83 days for Breyer.
· George W. Bush's first seated Justice, John Roberts, was confirmed by 78 percent of the Senate (78-22). Bush's next nominee, Harriet Miers, turned out to be an unqualified disaster for the President – receiving strong criticisms from both Democrats and Republicans alike for her perceived lack of knowledge on constitutional law, her lack of experience as a judge, and her personal ties to the president.
Attempts to seat their second Justice on the bench went much more smoothly for Presidents Warren Harding (George Sutherland, confirmed via voice vote), Harry Truman (Frederick Vinson, via voice vote), John Kennedy (Arthur Goldberg, via voice vote), and Ronald Reagan (Antonin Scalia, 98-0).
With Obama's first nominee, Sonia Sotomayor, confirmed with just 69 percent of the vote (68-31), history suggests that Elena Kagan could draw even more opposition this summer, especially because it is an election year.
Fate of Presidential Attempts to Get Second Justice Seated on the Supreme Court Since Woodrow Wilson
| | | | | |
| --- | --- | --- | --- | --- |
| President | 1st Confirmed | Result | Next nominee | Result |
| Obama | Sotomayor | 68-31 | Kagan | ??? |
| Bush 43 | Roberts | 78-22 | Miers | Withdrew |
| Clinton | Ginsburg | 96-3 | Breyer | 87-9 |
| Bush 41 | Souter | 90-9 | Thomas | 52-48 |
| Reagan | O'Connor | 99-0 | Scalia | 98-0 |
| Nixon | Burger | 74-3 | Haynsworth | 45-55 |
| LBJ | Fortas | Voice vote | Marshall | 69-11 |
| Kennedy | White | Voice vote | Goldberg | Voice vote |
| Eisenhower | Warren | Voice vote | Harlan II | 71-11 |
| Truman | Burton | Voice vote | Vinson | Voice vote |
| FDR | Black | 63-16 | Reed | Voice vote |
| Hoover | Hughes | 52-26 | Parker | 39-41 |
| Harding | Taft | Voice vote | Sutherland | Voice vote |
| Wilson | McReynolds | 44-6 | Brandeis | 47-22 |
Table compiled by Smart Politics.
Follow Smart Politics on Twitter.