Retirements from Minnesota State House in 2010 Currently Down from '06 and '08
Republicans account for 63 percent of open seats over the last four election cycles; percentage of open GOP seats is more than twice that of DFL seats since 2004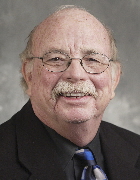 Although the names of Minnesota Representatives who are retiring from their House seats in 2010 continue to trickle in during this election year (DFLer Larry Haws of St. Cloud, pictured, being the most recent), there has not yet been an exodus from the legislature that is out of step with previous election cycles this decade.
In fact, a Smart Politics analysis finds that the number of open seats in the state House is down in 2010 (13) from both 2006 (23) and 2008 (15), and is only slightly higher than 2004 (12).
And although Democratic incumbents are considered to be especially vulnerable nationally, the percentage of open DFL seats (pending any more retirements) is tied for its lowest level since 2004 and is lower for the Party than both the 2006 and 2008 election cycles, when Democrats were enjoying partisan momentum in their favor across the state and nation.
Meanwhile, the Minnesota GOP – both in absolute numbers and as a percentage of seats held – continues to shed House incumbents before Election Day at a much higher rate than the DFL, as it has during the past three election cycles.
Overall, Republicans have accounted for 63 percent of open House seats during the 2004, 2006, 2008, and 2010 election cycles, with 40 open GOP seats during this span compared to just 23 for the DFL. (Going into these elections the DFL had held 291 seats, compared to 245 for the Republicans).
In the current election cycle, eight Republicans have announced their retirement, comprising 17.0 percent of their 47-member caucus. By contrast, only five DFLers are stepping down from their seats, or just 5.7 percent of their 87-member caucus.
This trend – Republicans stepping down in greater number and proportion than DFLers – mirrors that of the previous three election cycles:
· In 2008, Republicans had 10 retirements, or more than one-fifth of their 49-member caucus (20.4 percent), compared to only five for the DFL, or just 7.1 percent of their 85-seat caucus.
(The GOP tally above excludes Neil Peterson, who ran for reelection, but failed to receive his Party's endorsement as well as Ron Ehrhart, the Republican incumbent who was likewise not endorsed and ran as an independent; the DFL tally excludes Augustine Willie Dominguez who lost both his Party's endorsement and primary).
· In 2006, there were 13 open Republican seats, or 19.1 percent of the GOP's 68 districts, compared to 10 open DFL seats, or 15.2 percent of its 66-member caucus.
· In 2004, there were three times as many open Republican districts (9 seats, or 11.1 percent of the 81 GOP seats) as open DFL districts (3 seats, or 5.7 percent of its 53-seat caucus).
Overall, the percentage of open Republican seats since 2004 (16.3 percent) has been more than twice that of open DFL seats (7.9 percent).
What accounts for this discrepancy?
On the one hand, Republicans may have decided to exit the House at a higher rate because they foresaw the DFL tsunamis coming down the chute (the DFL has netted nearly three dozen House seats since 2004).
On the other hand, it could also be argued that DFLers see legislative service in the House as more of an end in itself (i.e a career), whereas Republicans see it more as a means to an end (i.e. a stepping stone to other career paths including higher office).
To be sure, many of the Republicans retiring from their House seats during the current election cycle are some of the most prominent and rising GOP stars: Republican gubernatorial endorsee Tom Emmer, former gubernatorial candidates Marty Seifert and Paul Kohls, and once-rumored gubernatorial candidate Representative Laura Brod.
Whether the DFL can avoid significant losses in the House in 2010 by keeping 90+ percent of its Representatives on the general election ballot remains to be seen.
Follow Smart Politics on Twitter.