Will the Defeat of Handel and Anderson Kelliher Dash 'Year of the Woman' Prospects?
Female gubernatorial candidates still on track to break records for total number of nominees on the ballot and elections won in 2010, despite set-backs in Minnesota and Georgia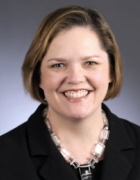 This is the eighth in a series of historical reports leading up to the gubernatorial elections of 2010. Past reports have examined the historic Class of 2002 and its large number of first-term governors, the success rate of ex-governors trying to reclaim their office, plurality winning gubernatorial campaigns, states with the most living ex-governors, what states give birth to the most governors, the number of potential GOP victories this election cycle, and the surge in third party candidacies.
With the defeat Tuesday evening of DFL-endorsed candidate Margaret Anderson Kelliher in Minnesota and Republican Karen Handel in a runoff election in Georgia, women in politics suffered a definite set back in an attempt to make history in 2010.
However, female gubernatorial candidates are still on track to break two records this November: the largest number of female major party gubernatorial candidates on the general election ballot and the largest number of women winning governorships.
In 2006, six states across the country cast their ballots to elect female governors – the most in U.S. history.
The election of three Republicans (Sarah Palin of Alaska, Jodi Rell of Connecticut, and Linda Lingle of Hawaii) and three Democrats (Janet Napolitano of Arizona, Kathleen Sebelius of Kansas, and Jennifer Granholm of Michigan) bested the previous high water mark of four back in 2002, when Lingle, Napolitano, Granholm, and Sebelius were elected to their first terms.
The key to eclipsing this record in 2010 is, of course, to maximize the number of major party female nominees.
During the last four mid-term elections (1994, 1998, 2002, 2006) the number of Republican and Democratic women on the gubernatorial general election ballot has peaked at 10 each cycle.
But this record may yet fall in 2010, despite the losses by Anderson Kelliher and Handel on Tuesday, although the math became just a little bit trickier.
Thus far in the 2010 election cycle, seven Democratic and Republican women have already secured their place on November's ballot by winning their respective state's primary:
· Republican Meg Whitman in California
· Democrat Libby Mitchell in Maine
· Democrat Diane Denish and Republican Susana Martinez in New Mexico
· Democrat Jari Askins and Republican Mary Falin in Oklahoma
· Republican Nikki Haley in South Carolina
Another two women are virtually assured to win their party's nominations being held later this month, which brings the number of female gubernatorial nominees to nine:
· Democrat Alex Sink in Florida
· Republican Governor Jan Brewer in Arizona
Needing one more woman from a major party on the general election ballot to tie the all-time record and two more to break it, additional female Democratic nominees may very well emerge from Vermont (with Secretary of State Deb Markowitz and Sue Bartlett) as well as Wyoming, where Democrat Leslie Peterson and Republican Rita Meyer are front runners in that open seat race.
Interestingly, although women in the electorate tend to self-identify more as Democrats than Republicans, the 2010 election cycle has produced more female Republican gubernatorial candidates (14) than Democrats (11).
Overall, seven female GOP gubernatorial hopefuls have already been defeated in the primaries, compared to just three on the Democratic side.
In Texas, GOP U.S. Senator Kay Bailey Hutchison (pictured) failed to upend three-term incumbent Rick Perry, winning just 30.3 percent of the vote.
In that same race, tea party favorite Debra Medina also lost with 18.6 percent of the vote, while Alma Ludivina Aguado came in a distant fourth out of seven candidates on the Democratic side (2.9 percent).
Two Republican women also challenged a sitting governor for the GOP nomination in Idaho. Governor Butch Otter notched 54.6 percent of the primary vote while Ada County Commissioner Sharon Ullman won 8.4 percent for third place and Tamara Wells received 2.8 percent for sixth.
In Kansas, although U.S. Senator Sam Brownback was a lock to win that state's Republican nomination for its open gubernatorial seat, businesswoman Joan Heffington threw her hat into the ring, but won only 17.8 percent of the primary vote.
Finally, although the winners of their party's primaries were women, two other major party female gubernatorial candidates have been defeated so far this year. In Maine, Democratic businesswoman Rosa Scarcelli placed third with 21.5 percent of the vote behind Libby Mitchell, while in New Mexico Republican State Representative Janice Arnold-Jones placed fifth with 3.1 percent behind Susana Martinez.
Of course, it is one thing to get nominated and yet another to win the election.
Can women get to seven victories in gubernatorial races in 2010?
Here is how the math looks today:
#1 & #2. Women are guaranteed at least two victories, as both the Republican and Democratic parties in New Mexico and Oklahoma nominated women in 2010.
#3. Additionally, Republican Nikki Haley from South Carolina is currently polling with a double-digit advantage over her Democratic opponent, Vincent Sheheen (Rasmussen, July 29).
#4. Should Jan Brewer win the Arizona Republican primary as expected, she will be heavily favored to defeat Democratic nominee Terry Goddard in November. Brewer held a 19-point lead over Goddard in a late July Rasmussen survey.
#5. Florida Democrat Alex Sink, meanwhile, has frequently polled ahead (by narrow margins) in general election matchup surveys against her two prime GOP contenders (Bill McCollum and Rick Scott) and independent Bud Chiles.
#6. A sixth victory for women could come from California Republican Meg Whitman. Although the Golden State leans Democratic, Whitman has eked out narrow leads over Democratic nominee Jerry Brown in three of the last six public opinion polls released over the past month and a half.
#7. A seventh and record-setting victory could come from either Maine (Libby Mitchell) or Wyoming, if Republican and/or Democratic primary voters nominate the front running women in that race. (Despite its conservative electorate, Wyoming has elected a Democratic governor during seven of the last nine election cycles).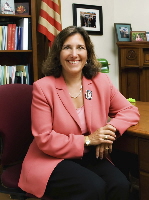 And then there is the state of Vermont. Even though the Green Mountain State is one of the most liberal in the nation, Republicans have won the governorship there in 9 of the last 18 elections since 1974, in 19 of 32 contests since 1946, and in 42 of 55 elections since 1900.
Presuming either Secretary of State Deb Markowitz (pictured) or Sue Bartlett wins the August 24th Democratic primary, they will face a tough campaign against GOP Lieutenant Governor Brian Dubie, who led both women in Rasmussen polls conducted earlier this summer.
But even though the number of women elected to the office of governor across the country has increased substantially over the past generation, they are being elected by historically much narrower margins than their male counterparts – suggesting there is still an uphill battle even successful female candidates are facing at the ballot box, at least when it comes to positions of executive power.
Smart Politics analyzed nearly 1,800 gubernatorial elections that have been conducted since 1900 across all fifty states. In the 1,739 elections won by men, the average margin of victory was 21.2 points. In the 38 elections won by women, the average victory margin was nearly half that, at 11.8 points.
Here are some telling illustrations from the early, middle, and later periods of the 20th Century.
From 1900 through 1960, the Democratic Party swept all 31 gubernatorial elections in Texas. The 29 elections won by men were decided by an average of 70.4 points during this span, while the two elections won by women (Democrat "Ma" Wallace Ferguson in 1924 and 1932) were decided by just 21.0 points.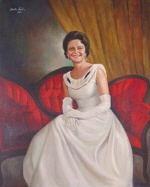 And when Democrat Lurleen Wallace – wife of term-limited George Wallace – won the Alabama governorship in 1966, her Republican opponent received 31.0 percent of the vote, which was the high water mark for the GOP across the 20 election cycles from 1902 through 1978. In the other 19 elections during this 75+-year span, the average vote received by the GOP when running against male Democratic candidates was only 13.4 percent.
As a result, Wallace's 32.4-point victory in 1966 was half that enjoyed by male Democratic candidates during this span (64.6 points).
Meanwhile, in New Jersey, the eight gubernatorial races won by men since 1973 have been decided by an average of 17.7 points, while the two elections won by women (GOPer Christine Todd Whitman in 1993 and 1997) were decided by an average of just 1.0 points.
Despite these historical hurdles, and the key losses by Anderson Kelliher and Handel, female candidates still have a very good chance to make 2010 the 'Year of the Woman' in gubernatorial elections.
Elected Female Gubernatorial Candidates, 1924-2008
Year

#

Governor

2008

2

Beverly Perdue (NC), Christine Gregoire (WA)

2006

6

Sarah Palin (AK), Janet Napolitano (AZ), Jodi Rell (CT), Linda Lingle (HI), Kathleen Sebelius (KS), Jennifer Granholm (MI)

2004

2

Ruth Ann Miner (DE), Christine Gregoire (WA)

2003

1

Kathleen Blanco (LA)

2002

4

Janet Napolitano (AZ), Linda Lingle (HI), Kathleen Sebelius (KS), Jennifer Granholm (MI)

2000

3

Ruth Ann Miner (DE), Judy Martz (MT), Jeanne Shaheen (NH)

1998

2

Jane Dee Hull (AZ), Jeanne Shaheen (NH)

1997

1

Christine Todd Whitman (NJ)

1996

1

Jeanne Shaheen (NH)

1993

1

Christine Todd Whitman (NJ)

1990

3

Joan Finney (KS), Barbara Roberts (OR), Ann Richards (TX)

1988

1

Madeline Kunin (VT)

1986

2

Kay Orr (NE), Madeline Kunin (VT)

1984

1

Madeline Kunin (VT)

1983

1

Martha Layne Collins (KY)

1978

1

Ella Grasso (CT)

1976

1

Dixy Lee Ray (WA)

1974

1

Ella Grasso (CT)

1966

1

Lurleen Wallace (AL)

1932

1

Ma Wallace Ferguson (TX)

1924

2

Ma Wallace Ferguson (TX), Nellie Tayloe Ross (WY, special election)
Table compiled by Smart Politics.
Follow Smart Politics on Twitter.