Election Profile: Iowa's 1st Congressional District
Smart Politics is running a series of election profiles of Upper Midwestern congressional races leading up to the November 2nd elections. The series will culminate with Smart Politics' official projections. The first profile in the series is Iowa's 1st Congressional District race.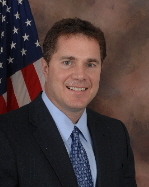 Candidates:
Democrat: Bruce Braley (2-term incumbent)
Republican: Benjamin M. Lange
Libertarian: Rob J. Petsche
Nominated by Petition: Jason A. Faulkner
District Geography:
Iowa's 1st Congressional District comprises twelve eastern counties: Black Hawk, Bremer, Buchanan, Butler, Clayton, Clinton, Delaware, Dubuque, Fayette, Jackson, Jones, and Scott.
History:
Braley, an attorney, turned a Congressional district that had voted Republican by double-digit margins in 2004 (11.9 points) and 2002 (14.6) into a double-digit Democratic pick-up in 2006 (11.9 points). His victory helped bring about the first Democratic majority in Iowa's delegation to the U.S. House since 1976 that year.
Braley followed that up with a 29.2-point thumping of GOPer David Hartusch in 2008, in a district Barack Obama carried by 17 points.
Braley serves on the House Energy and Commerce Committee this session. During his first term he served on the House Committee on Transportation and Infrastructure, the Committee on Oversight and Government Reform, and the Committee on Small Business.
Braley's GOP opponent, Ben Lange, is a political newcomer who runs a small law practice in Independence, Iowa.
Libertarian candidate Rob Petsche is a former Co-Chair of the Republican Central Committee in Dubuque County. Independent Jason Faulkner is another political newcomer who is a former Army Reservist and works as a gem cutter. The largest showing for any third party candidate in the 1st CD since redistricting in 2002 is a 1.1-point performance by James Hill of the Pirate Party in 2006.
Outlook:
Iowa's First Congressional District has a +5 Democrat Partisan Voting Index. Not only did the district vote for Obama by 17 points, but John Kerry carried it by seven points in 2004 when George W. Bush won the Hawkeye State. Although the district has only been in the Democratic column for two consecutive election cycles (won during Democratic waves), it is not one of the many vulnerable Democratic U.S. House seats in the Midwest this cycle.
Follow Smart Politics on Twitter.