Election Profile: South Dakota's At-Large Congressional Seat
Smart Politics is running a series of election profiles of Upper Midwestern congressional races leading up to the November 2nd elections. The series will culminate with Smart Politics' official projections. The sixth profile in the series is South Dakota's at-large congressional seat.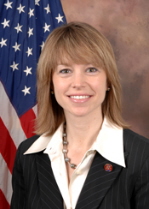 Candidates:
Democrat: Stephanie Herseth Sandlin (4-term incumbent)
Republican: Kristi Noem
Independent: B. Thomas Marking
District Geography:
This is an at-large seat, encompassing the entire state of South Dakota.
History:
Democrat Stephanie Herseth Sandlin won South Dakota's at-large seat to the U.S. House of Representatives in a June 2004 special election. The special election was called to fill the seat vacated by Representative William Janklow who resigned in January of that year after being convicted of manslaughter for killing a motorcyclist with his automobile. Herseth edged Republican nominee Larry Diedrich by just two points (approximately 3,000 votes). The two candidates squared off again in November 2004, with Herseth winning by 7.5 points.
In 2006, Herseth handily won her third term with a 39.8-point victory over GOPer Bruce Whalen and defeated Republican Chris Lien by 35.1 points two years ago.
Herseth Sandlin is one of three Blue Dog Democrats in the Upper Midwest and serves on the coalition's leadership team as the Co-Chair for Administration. The Congresswoman is also a member of the Agriculture Committee, the Resources Committee, the Committee on Veterans' Affairs, and the Select Committee on Energy Independence and Global Warming.
Herseth Sandlin's 2010 Republican opponent is Kristi Noem, from Castlewood. Noem is the Assistant Majority Leader in South Dakota's House of Representatives, representing HD 06, comprising Beadle, Clark, Codington, Hamlin, and Kingsbury Counties.
Independent candidate B. Thomas Marking, from Custer, is also on the ballot – the first time an independent has run for U.S. House in South Dakota since 1996, when two independent candidates tallied 5.3 percent of the vote.
Outlook:
Democrats won the first seven at-large races, and 11 of 15 overall, since the number of South Dakota's representatives dropped from two to one in 1982. Since statehood, Republicans have won 93 U.S. House races, compared to just 26 for the Democrats, and 2 to the People's Party.
Herseth's family has a long political history in the state – her grandfather was governor of South Dakota, her grandmother was Secretary of State, and her father served in the state legislature for twenty years and was the Democratic Party's nominee for governor in 1986.
Despite her strong name recognition and her vote against the unpopular health care bill earlier this year, Herseth Sandlin is in a dead heat with Roem. Put simply, this is not a year to be a Democratic incumbent in a statewide election in the Mount Rushmore State.
If Roem should upset the Congresswoman on Tuesday, Herseth Sandlin's plunge from a 35.1-point victory over her GOP rival in 2008 to a loss in 2010 would mark the biggest fall by a U.S. House incumbent in Mount Rushmore State history.
Follow Smart Politics on Twitter.