Election Profile: Wisconsin's 3rd Congressional District
Smart Politics is running a series of election profiles of Upper Midwestern congressional races leading up to the November 2nd elections. The series will culminate with Smart Politics' official projections. The ninth profile in the series is Wisconsin's 3rd Congressional District.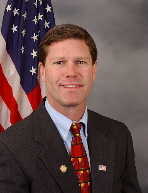 Candidates:
Democrat: Ron Kind (7-term incumbent)
Republican: Dan Kapanke
Independent Citizen for Constitutional Government: Michael Krsiean
District Geography:
Wisconsin's 3rd Congressional District follows the Mississippi and St. Croix River counties from the southern border of the state almost to Lake Superior. It encompasses the counties of: Buffalo, Crawford, Dunn, Eau Claire, Grant, Iowa, Jackson, Juneau, La Crosse, Lafayette, Monroe, Pepin, Pierce, Richland, St. Croix, Trempealeau, Vernon and parts of Clark and Sauk counties.
History:
Kind was elected to represent the 3rd District in 1996 filling the open seat left by eight-term GOP congressman Steven Gunderson. Kind beat his GOP counterpart in that election, James E. Harsdorf, by 4.2 points.
Since then, Kind has capitalized on his incumbency advantage – winning by 43.1 points over Troy A. Brechler in 1998, 27.8 points over Susan Tully in 2000, 29.3 points over Bill Arndt in 2002, 12.9 points over Dale W. Schultz in 2004, 29.7 points over Paul R. Nelson in 2006, and 28.7 points over Paul Stark in 2008.
Kind serves on the House Ways and Means and Natural Resources Committees and, if reelected, would have the most seniority among the state's Democratic delegation, with the retirement of David Obey.
Congressman Kind will face Republican State Senator Dan Kapanke from the Badger State's 32nd Senate District. Kapanka, like Kind, hails from LaCrosse and only narrowly won his 2008 legislative race, defeating Democrat Tara Johnson by just 2.9 points. Kapanke won his Senate seat by 5.1 points in 2004 after a failed 2000 bid.
The race will also include a third party candidate, Michael Krsiean, who is running under the Independent Citizen for Constitutional Government banner. Non major-party candidates have a high watermark of 3.2 percent in the 3rd CD over the last several decades (Libertarian Jeff Zastrow in 2002).
Outlook:
Although Barack Obama carried Wisconsin's 3rd CD by 17 points in 2008, John Kerry won it by just 4 points in 2004, for an overall +4 Partisan Voting Index tilt towards the Democratic Party, making it the 157th most Democratic U.S. House District in the nation. While Ron Kind cannot expect to enjoy the kind of victory margins he's had over the last few cycles during the Democratic waves, if the Party loses his seat on election day they will likely be experiencing losses in the 70+ range.