Minnesota to Have Only Democratic Upper Midwestern Governor for First Time Since 1954
Dayton one of four Minnesotan 'lone Democratic wolves' to govern in the five-state region since the Dakotas achieved statehood in 1889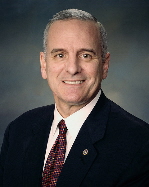 Presuming Mark Dayton sheds no more than 8,769 votes to Republican Tom Emmer in the manual recount of their gubernatorial contest in the coming weeks, Minnesota will be the only Upper Midwestern state with a Democratic governor come January.
And that is something of a rarity.
A Smart Politics study of historical gubernatorial election data finds that a Dayton victory would mean Minnesota will have the only Democratic governor in the five-state region for the first time since the election of 1954, when DFLer Orville Freeman won the first of his three terms that November.
Over the past 121 years, since the Dakotas joined the Union in 1889, there have been three previous instances in which Minnesota stood alone carrying the Democratic banner in governor's mansions across the region.
The first instance occurred after the election of 1904, when Democrat John Johnson's 2.6-point win over Republican Robert Dunn ended a four-year streak in which the GOP held all five Upper Midwestern governor's posts.
Johnson was the region's sole Democratic governor for two years until he was reelected in 1906 along with Democrat John Burke in North Dakota.
The second instance took place during an 11-month stint in 1915.
In 1914, Democrat Winfield Hammond was elected governor of the Gopher State by 3.6 points over Republican William Lee. Hammond took office in January 1915, but died later that year in December, allowing Republican Lieutenant Governor J.A.A. Burnquist to ascend into the governor's chair.
Republicans would go on to control the governorships of all five Upper Midwestern states for the next 11 years and 1 month – from December 1915 until January 1927.
This decade-plus stretch remains the longest period of single-party dominance in gubernatorial elections across the five-state region.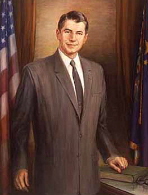 The third instance took place after the election of 1954, when Republican governors were elected in Iowa (Leo Hoegh), North Dakota (Clarence Brunsdale), South Dakota (Joe Foss), and Wisconsin (Walter Kohler, Jr.).
However, in Minnesota, DFLer Orville Freeman (pictured) defeated GOP incumbent C. Elmer Anderson by 5.9 points.
Freeman was the lone Democratic governor for two years until the election of 1956, when Democrat Herschel Loveless defeated Leo Hoegh in Iowa by 2.4 points and Freeman was elected to another term.
Should Dayton prevail in the recount in 2010 he will become the fourth 'lone Democratic wolf' from the Gopher State in a region soon to be dominated by GOP governors – Jack Dalrymple (North Dakota), Terry Branstad (Iowa), Scott Walker (Wisconsin), and Dennis Daugaard (South Dakota)..
Over the last 121 years, each of the other four Upper Midwestern states have also elected at least one governor who became the region's sole gubernatorial flag bearer for the Democratic party:
· In Iowa: Horace Boies (1890-1891), Nelson Kraschel (1937-1939), and Tom Vilsack (1999-2003).
· In South Dakota: William Bulow (1927-1931)
· In Wisconsin: George Peck (1894-1895)
· In North Dakota: John Burke (1909-1913), John Moses (1939-1945), William Guy (1969-1971), Arthur Link (1979-1981), and George Sinner (1991-1992).
Follow Smart Politics on Twitter.