George Allen Attempts Historical Rarity in 2012 U.S. Senate Bid
Only 11 U.S. Senators have been elected to two interrupted full terms over the last 100 years, and just 5 did so after losing a reelection bid in between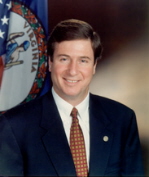 Former Virginia Republican Senator George Allen announced his "American comeback" on Monday, declaring his candidacy for the 2012 election cycle.
If Allen should secure the GOP nomination and defeat his Democratic opponent (which may or may not be his 2006 Democratic opponent, Senator Jim Webb), he would have accomplished a historical rarity.
A Smart Politics study of the U.S. Senate finds that only 11 Senators over the past century have been elected to a full term, left the U.S. Senate, and then returned to be elected to a full term once again.
However, of these 11 Senators, only five stepped away from the Senate involuntarily – by losing their reelection bid.
Allen served one term in the U.S. Senate from the Commonwealth of Virginia, winning the Election of 2000 by 4.6 points over Chuck Robb. Allen was swept out of office during the Democratic wave of 2006 by 9,329 votes to Webb.
Now Allen is betting against history that he can return to the Senate after a six-year layoff.
In total, of the 879 men and women who have served in the U.S. Senate since popular vote elections were introduced nearly 100 years ago, only 31 have seen their service interrupted for any reason – for a period of a few months to several years.
However, most of these Senators were not in Allen's situation.
Of these 31 Senators, 10 were appointed to either one or both of their stints in the nation's upper legislative chamber: Democrats Alva Adams (Colorado), James Eastland (Mississippi), Howard Metzenbaum (Ohio), and William Blakley (Texas) and Republicans William Purtell (Connecticut), Thomas Du Pont (Delaware), Joseph Ball (Minnesota), Norris Cotton (New Hampshire), Bronson Cutting (New Mexico), and Charles McNary (Oregon).
Another 10 Senators were elected into office during each of their stretches in the Senate, but only for a limited term in at least one of them due to special elections or voluntarily stepping down from office: Democrats Strom Thurmond (South Carolina) and Joseph O'Mahoney (Wyoming) and Republicans John Thomas (Idaho), Henry Dworshak (Idaho), William Jenner (Indiana), Smith Brookhart (Iowa), John Cooper (Kentucky), Fred Mulkey (Oregon), and W. Chapman Revercomb (West Virginia).
Of the 11 remaining Senators who were elected to full terms sandwiched around their absence from the Senate, six departed the Senate on their first go-around on their own terms – unlike Allen who was defeated at the ballot box.
· Democrat Alben Barkley (Kentucky) served from 1927 through 1949 before resigning to become Vice President of the United States under Harry Truman. Barkley was elected again to a full term in 1954 and served from 1955 until his death in 1956.
· Republican Henry Cabot Lodge, Jr. (Massachusetts) served from 1937 to 1944 before resigning to return to active duty in the U.S. Army. Lodge was elected again to a full term in 1946 and served again from 1947 to 1953.
· DFLer Hubert Humphrey (Minnesota) was elected in 1948 and served until 1964 when he resigned to become Vice President under Lyndon Johnson. Humphrey was elected again to a full term in 1970 (and again in 1976) and served until his death in 1978.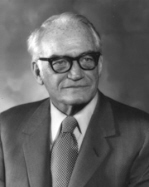 · Republican Barry Goldwater (Arizona) served from 1953 to 1965 before retiring to run for the presidency in 1964. He was elected again in 1968, 1974, and 1980 and served until 1987.
· Democrat Frank Lautenberg (New Jersey) served from 1982 until his retirement in 2001. Lautenberg came out of retirement to be an 11th hour replacement on the Democratic ticket in 2002 – winning full terms that cycle as well as in 2008.
· Republican Dan Coats (Indiana) served from 1989 to 1999 (via appointment, special election, and general election victories), but did not seek reelection in 1998. Coats won back his seat in the 2010 election and is currently serving in D.C.
That means Allen is trying to clear a pathway back to Washington, D.C. that only 5 of 879 Senators have taken, and only once since the 1940s:
· Democrat Thomas Gore (Oklahoma) served from 1907-1921 but was an unsuccessful candidate for renomination in 1920. After 10 years out of the Senate, Gore was elected once again by voters in Oklahoma in 1930 and served from 1931 to 1937.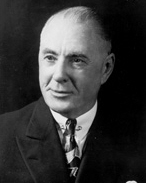 · Democrat Matthew Neely (West Virginia) served one term from 1923 to 1929, but lost the election of 1928. Neely was then elected to West Virginia's other Senate seat in 1930, winning again in 1936, and served until resigning to become governor in 1941. Neely returned for a third stint with his reelection to the Senate in 1948 and 1954 and served until his death in 1958.
· Democrat Peter Gerry (Rhode Island) served two full terms from 1917 to 1929 before failing to receive his party's nomination in 1928. Gerry came back and won his seat in the Election of 1934 and served two more terms to 1947.
· Democrat Guy Gillette (Iowa) served from 1936 to 1945 before losing his reelection bid in 1944. Gillette then ran for Iowa's other Senate seat in 1948 and won – serving again from 1949 to 1955.
· Republican Slade Gorton (Washington) served one term from 1981 to 1987 before losing his reelection bid in 1986. Gorton then ran for Washington's other Senate seat in 1988 and served two terms to 2001.
Allen will thus try to follow the leads of Neely, Gore, and Gerry who had at least a six-year pause between their Senate victories.
Senator Webb is expected to make an announcement about his reelection plans sometime before April of this year.
Follow Smart Politics on Twitter.