Ensign Is First Nevada Senator to Resign Before Election Day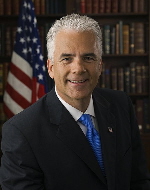 Embattled Nevada Republican U.S. Senator John Ensign's announcement Thursday that he will resign from his seat effective May 3rd adds even more political intrigue in a state that will have open seat races in four of its five federal legislative seats on the ballot in 2012, in addition to being a key bellwether state in the presidential election.
Ensign is one of just two Senators in Nevada history to resign from office before the end of his term, and the only one to do so for more than technical, procedural reasons.
The only other Senator from Nevada to resign from office of the two dozen who have served the Silver State over the last 146 years is Democrat Alan Bible.
Bible, who was retiring at the end of his term in January 1975, resigned a few weeks early in mid-December 1974 to give his successor Republican Paul Laxalt seniority in that year's incoming freshman class.
Ensign, however, is resigning nearly 19 months before the end of his term, as he continues to be dogged by an ethics investigation stemming from an extramarital affair he had with the wife of his former top aide.
Every other Senator in Nevada history (besides Bible) has opted to serve their state until the end of their term – or the end of their life.
Here is how the other 21 Senators from Nevada left office:
· Nine Senators lost their election bids: Democrats James Fair, Howard Cannon, and Charles Henderson, and Republicans George Malone, William Massey, J. Chic Hecht, James Nye, Tasker Oddie, and Ernest Brown.
(Massey and Brown were appointed Senators who remained in office after their election defeat until their respective duly elected successors were qualified to serve).
· Two Senators lost their renomination bids, but continued to serve out the remainder of their term: Democrats Berkeley Bunker and Edward Carville. (Bunker was an appointed Senator who served until his duly elected successor, James Scrugham, was qualified to serve).
· Five additional Senators died in office: Republican George Nixon and Democrats Key Pittman, James Scrugham, Francis Newlands, and Pat McCarran.
· Another five Senators from Nevada opted not to run for reelection, but still served out their term to the very last day: Democrat Richard Bryan, Republican/Silver Senator John Jones, and Republicans William Stewart, William Sharon, and Paul Laxalt.
With Ensign's early exit, expectations around D.C. are that U.S. Representative Dean Heller, the Republican front runner for Ensign's seat in 2012, will be appointed to the seat in May by Republican Governor Brian Sandoval.
Follow Smart Politics on Twitter.