Study: Faint Praise for Obama in U.S. House After Qaddafi's Death
Only six House Democrats and one Republican issue press releases crediting the president in ending the Libyan dictator's regime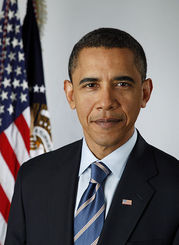 After the killing of Osama Bin Laden last May by U.S. special forces in Pakistan, the vast majority of U.S. Representatives issued press releases giving credit to America's armed forces, as well as other institutions and officials, for the important role they played in that high profile victory in the war on terror.
A Smart Politics study found the reaction in the U.S. House to that event showed a definite partisan tilt, with Republicans generally wary to give President Barack Obama any credit for the mission and most Democrats unwilling to mention the efforts of President George W. Bush in the region over the previous several years.
However, after the killing of the Libyan dictator who was responsible for the deaths of nearly 200 U.S. citizens, the House struck a more unified tone in their reaction.
Silence.
A Smart Politics content analysis of press releases issued on the official U.S. House member websites through Saturday evening finds that only 12 percent of U.S. Representatives issued statements on Qaddafi and the Libyan mission after the dictator's death (53 of 434) and less than two percent of the House gave any credit to the Obama administration including just one Republican.
Overall, the Democratic caucus was slightly more likely to issue a formal statement on the Libyan situation, with 29 of 192 members doing so (15.1 percent) compared to 24 of 242 Republicans (9.9 percent).
Press Releases Issued by U.S. Representatives on Libya After Qaddafi's Death
| | | | |
| --- | --- | --- | --- |
| Statements | Yes | No | % Yes |
| Democrat | 29 | 163 | 15.1 |
| GOP | 24 | 218 | 9.9 |
| Total | 53 | 381 | 12.2 |
Note: Press releases tabulated from those appearing on the official U.S. House websites of all 434 currently seated members. Tabled compiled by Smart Politics.
And of these 53 members who addressed the end of the Qaddafi regime, to whom did they give credit?
Support was divided between a variety of institutions, nations, and officials, with some members giving credit to more than one.
A plurality of 10 representatives gave credit to the Libyan people, particularly the rebel forces:
"Despite having been oppressed by Qaddafi and members of his tyrannical regime for over 40 years, the courageous Libyan revolutionaries have taken back their country." – Jean Schmidt (OH-02)
"Over the last seven months, Libyan rebels have fought for their freedom and to finally end Gadhafi's regime of oppression." – Kathy Hochul (NY-26)
"It is just that the movement for democracy that spread throughout the Middle East has swept through Libya and empowered its people to bring an end to Gaddafi's oil-fueled dictatorship." – Ed Markey (MA-07)
Another nine representatives praised America's allies and NATO, while six credited the U.S. military, four the Arab League, four the United Nations, and four the United States generally.
Only seven Representatives released statements praising the Obama administration – six Democrats and one Republican.
The six Democrats were House Minority Leader Nancy Pelosi (CA-08), DNC Chair Debbie Wasserman Schultz (FL-20), Allyson Schwartz (PA-13), Jim Moran (VA-08), John Garamendi (CA-10), and a qualified endorsement by Niki Tsongas (MA-05).
"The strong action taken by the United States, led by President Obama, and NATO, the United Nations and the Arab League proves the power of the world community working together." – Nancy Pelosi (CA-08)
"I thank all of the brave men and women who have dedicated themselves to this mission over the last eight months, and I am grateful to President Obama for his leadership, demonstrating once again that the United States stood with people fighting to cast off tyranny." – Debbie Wasserman Schulz (FL-20)
"We can take pride in President Obama's leadership in support of the Libyan rebels efforts to remove this oppressive dictator as a threat to his own people and to America and our allies." – Allyson Schwartz (PA-13)
"I congratulate the Obama Administration for its comprehensive and effective strategy of diplomatic and military support for the Transitional National Council, which has brought us to this day." – Jim Moran (VA-08)
"President Obama and his national security team have admirably focused on promoting a swift end to this conflict and on transitioning to a democratic government." – John Garamendi (CA-10)
"While I believe that President Obama should have come to Congress before acting in Libya, he should be commended for avoiding a prolonged military commitment, forming a strong international coalition, and for keeping US boots off the ground." – Niki Tsongas (MA-05)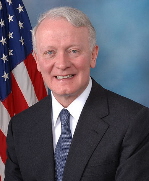 And as for the one Republican who acknowledged Obama's efforts – Leonard Lance from New Jersey's 7th CD – he actually ended up giving more praise to Hillary Clinton than the president:
"Confirmation of the death of Muammar el-Qaddafi is a tremendous victory for our U.S. Military, our NATO allies and most important for the people of Libya who for too long have endured his terrorist regime and long record of brutality. The Obama Administration, especially Secretary Clinton, also deserves credit for their work on this issue." – Leonard Lance (NJ-07)
But perhaps the most telling statistic is that of the 53 members who wrote press releases on the Libyan situation this week, 31 of them did not give credit to anyone (21 Republicans and 10 Democrats).
The operational cause or reason for Qaddafi's fall was not mentioned in their releases.
Instead, their statements focused on Qaddafi's acts of terrorism (especially the bombing of 1989 Pan Am Flight 103), the need to account for missing weapons across the country, the hope that Libya will set up Democratic institutions, the removal of U.S. troops from the arena, and the need to prevent Islamic radicals from taking control of Libya:
"We must be vigilant to prevent any radical elements in Libya from using this transition to take that country in the wrong direction." – Donald Manzullo (IL-16)
"While our military involvement in Libya should come to a swift end, we must continue to work with the new Libyan government to secure unaccounted-for weapons which have the potential to fall into the hands of terrorists or their backers" – Mike Fitzpatrick (PA-08)
"I have continued to stress that it is important we do all we can to secure and render safe Libya's large stockpile of chemical weapons and other advanced weapons. This is especially crucial during this time of transition to new leadership in Libya. The world cannot afford for Libya's dangerous weapons to fall into the hands of terrorists who are working hard to acquire them." – Mike Rogers (MI-08)
Moreover, some members took this opportunity to take a swipe at the president for his handling of the Libyan situation.
"I still firmly believe that the Constitution entrusts Congress — not the President acting alone — to decide when to use America's military might. I do not believe that the President fulfilled his obligation to seek Congress' approval with respect to military operations in Libya." – Michael Capuano (MA-08)
"While I have serious concerns about the Obama Administration's decision to launch Libyan air strikes without seeking the constitutionally-mandated approval of Congress, there is no denying that Qaddafi was a tyrant and a terrorist." – Steve Southerland (FL-02)
And then there is Ohio Democratic U.S. Representative and former presidential candidate Dennis Kucinich who decided to issue a press release not on the end of the Qaddafi reign of terror, but on the bipartisan lawsuit brought by 10 members of Congress against the Obama administration to go to war in Libya in the first instance.
"This lawsuit is not just about checking executive power, but also about securing the right of Members of Congress to defend the constitutionally required balance of power in court. This case can help set an important precedent on both issues." – Dennis Kucinich (OH-10)
And just as the President and the vast majority of members of Congress never could agree on what the proper U.S. policy should be in the Libyan conflict – and the constitutional process for implementing that policy – those U.S. Representatives issuing statements likewise could not agree on which of the many spellings of the former Libyan dictator's name to use in their press release.
A plurality of 21 representatives opted for "Qaddafi" (40 percent), with 12 each choosing "Gadhafi" and "Gaddafi." Another seven U.S. House members used "Qadhafi" and one did not mention the dictator by his name.
Follow Smart Politics on Twitter.