Can Democrats Save Their North Dakota U.S. Senate Seat in 2012?
Heidi Heitkamp would be just the second ND Attorney General elected to the US Senate while Rick Berg attempts to be the seventh US Representative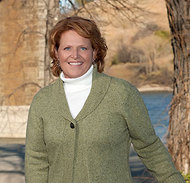 With a recently-released Democratic Senatorial Campaign Committee poll finding likely 2012 North Dakota Democratic U.S. Senate nominee Heidi Heitkamp edging likely Republican nominee U.S. Representative Rick Berg, the balance of power heading out of next November's elections may have become just a little more difficult to compute.
If the results of the poll are accurate – Heitkamp was found to have a 47 to 42 percent advantage – one of the U.S. Senate seats deemed most likely to flip to the Republicans in 2012 is now apparently still in play.
Heitkamp, of course, is no stranger to winning statewide elections – becoming just the second Democrat ever elected Attorney General in the Peace Garden State in 1992.
Heitkamp won a second term in 1996 before losing the state's 2000 gubernatorial election to current North Dakota U.S. Senator John Hoeven.
But it remains to be seen whether or not Heitkamp, who announced her candidacy earlier this month, can win retiring Kent Conrad's open seat with a political biography that has a very narrow pathway to the U.S. Senate in North Dakota political history.
A Smart Politics review of North Dakota electoral history finds that Heitkamp is seeking to become only the second attorney general in the state's history to both appear on a U.S. Senate general election ballot as well as win a Senate seat.
Since statehood 122 years ago, 28 North Dakotans have served as Attorney General, and the only such official in the state to later serve in the U.S. Senate is the colorful William Langer.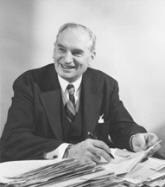 Langer's political journey between the two offices, however, was long and rocky.
Langer served as the state's AG from 1916 to 1920 before a failed gubernatorial bid in 1920.
He then won the governor's race of 1932, but was removed from office by the state Supreme Court after conviction on federal fraud charges.
After losing the GOP primary in 1936, Langer subsequently ran as an independent to win a second term as governor with just 35.8 percent of the vote in a five-candidate field.
After another failed bid to win the Republican Party nomination in 1938 – this time for the U.S. Senate – "Wild Bill" lost as an independent with 42.6 percent of the vote in a three-candidate race.
In 1940, Langer ran for the U.S. Senate as a Republican once again, this time defeating incumbent Lynn Frazier in the GOP primary, and then won the general election contest with 38.1 percent of the vote in a four-candidate field.
If Heitkamp becomes the Democratic nominee in 2012, she will therefore be just the second attorney general from North Dakota ever to appear on a general election U.S. Senate ballot.
By contrast, 10 of North Dakota's 28 U.S. Representatives have gone on to appear on a U.S. Senate general election ballot, with six of these winning election to the nation's upper legislative chamber.
Rick Berg is poised to be the 11th.
The six successful U.S. Representatives to graduate to the Senate are:
· Republican Henry Hansbrough, a one-term representative elected in 1890.
· Republican Martin Johnson, a four-term representative who had been out of the House for 10 years when he won election to the Senate in 1908.
· Republican Asle Gronna, who was a three-term Representative when he was appointed to the Senate in 1911. Gronna later won election to a full term in 1914.
· Democrat Quentin Burdick, a one-term representative who won a special election to the Senate in 1960. Burdick had previously lost the state's 1956 U.S. Senate contest before entering Congress in January 1959.
· Republican Mark Andrews, a nine-term representative elected to the Senate in 1980.
· Democrat Byron Dorgan, a six-term representative elected to the Senate in 1992.
North Dakota U.S. Representatives who lost U.S. Senate elections are Republican Thomas Marshall in 1908, Progressive Republican William Lemke in 1940, independent Fred Aandahl in 1952, and Republican Thomas Kleppe in 1970.
Lemke (as a Farmer-Laborite in 1926) and Kleppe (in 1964) had also previously lost U.S. Senate races before their respective tenures in the House.
If Republicans pick up Conrad's open Senate seat in 2012 as well as hold Berg's open House seat, they would control all seats from North Dakota on Capitol Hill for the first time in over 50 years.
The last time the GOP held all North Dakota U.S. Senate and U.S. House seats was January 1959 at the end of the 85th Congress.
Since statehood in 1889, Democrats have failed to hold a single North Dakota U.S. Senate or House seat across 61 of these 123 years, or 49.6 percent of the time.
Overall, North Dakotans have voted Republicans into office in 21 of 37 U.S. Senate elections since 1914, voted Democratic in 15 races, and elected a third party candidate in one contest (Gerald Nye in 1926).
As for Heitkamp's prospects in 2012 with Barack Obama's loss at the top of the ticket for Democrats in North Dakota a virtual lock, North Dakotans do have a rich history of splitting their presidential-Senate ballots. In fact, they have done so eight times out of the 16 election cycles the two offices have been on the ballot since the introduction of direct election of U.S. Senators.
In 1944, 1976, 1988, 1992, 2000, and 2004 North Dakota voted for the Republican presidential nominee and a Democratic Senator.
In 1916 and 1932 North Dakota voted for the Democratic presidential nominee and a Republican Senator.
Follow Smart Politics on Twitter.