Mississippi to Hold Its First Ever Competitive GOP Presidential Primary
The state's most competitive race has been a 34-point blow-out since its first Republican presidential primary in 1980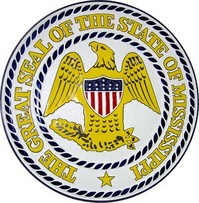 Whether or not the two Republican primaries in the deep south Tuesday will be as closely decided as recent polls indicate, there is little doubt the contest in Mississippi will be the most meaningful the party has seen in the history of the Magnolia State.
Although Mississippi has held its Republican primary in the middle of the primary election cycle dating back to 1988, the state has yet to host a competitive election.
A Smart Politics review of Republican presidential primary elections finds the average margin of victory in Mississippi to be 57.5 points since its first contest in 1980 with its closest race coming in at 34 points in 1996.
In each of the Republican primaries over the past 30+ years the GOP race has essentially been decided by the time Mississippi got its turn, with the state rubber-stamping the eventual nominee every time.
Mississippi held its first GOP presidential primary on June 3, 1980. (Ronald Reagan won its caucus against Gerald Ford in 1976).
During that cycle, frontrunner Ronald Reagan was expected to face a challenge in the state by George H.W. Bush and former Texas Governor John Connally.
However, Bush and Connally withdrew from the race prior to the Mississippi primary and thus no popular vote was held on the GOP side of the ticket, with Reagan collecting all of the state's delegates.
Reagan of course ran unchallenged from within his party in 1984, and in the 1988 primary (held on March 8) George H.W. Bush trounced Bob Dole by 49.0 points, receiving 66.0 percent of the vote in a four-candidate field that also included Pat Robertson (13.5 percent) and Jack Kemp (3.5 percent).
In the 1992 primary (conducted on March 10), Bush won the state by an even bigger margin with 72.4 percent of the vote – some 55.5 points ahead of Pat Buchanan (16.9 percent) with the notorious David Duke in third at 11 percent.
In 1996's GOP primary (held on March 12), the most narrowly-decided Republican contest was held – but it was still a blow-out.
Eventual nominee Bob Dole won 60.3 percent of the vote in a 34.4-point trouncing of Pat Buchanan (25.9 percent) with Steve Forbes a distant third at 8.0 percent.
In the 2000 cycle, George W. Bush's only major opponent, John McCain, withdrew from the race five days prior to the March 14th contest in Mississippi.
As a result, Bush won the primary with an overwhelming 87.9 percent of the vote – some 82.3 points ahead of Alan Keyes.
Bush ran without opposition in 2004, and in 2008 John McCain was the beneficiary in Mississippi of the early exit of his chief rival at that stage of the campaign, Mike Huckabee.
Huckabee withdrew from the race on March 4th – one week before the state's primary.
McCain therefore easily carried the Magnolia State with 79.0 percent of the vote – 66.4 points ahead of the ex-candidate Huckabee.
Democrats have not had a competitive primary in Mississippi since the 1988 cycle when Jesse Jackson defeated Al Gore by 11.2 points – 44.7 percent to 33.5 percent.
Alabama will also hold its primary on Tuesday, where a series of blow-out races since 1980 ended in 2008 when Mike Huckabee won a 4.2-point victory over John McCain.
Prior to that race, Ronald Reagan defeated George H.W. Bush in Alabama by 43.8 points in 1980, Bush defeated Bob Dole by 48.1 points in 1988, Bush defeated Pat Buchanan by 66.7 points in 1992, Dole defeated Buchanan by 59.8 points in 1996, and George W. Bush defeated Alan Keyes by 74.7 points in 2000.
Winner and Margin of Victory in Mississippi Republican Presidential Primaries, 1980-2008
Year

Date

Winner

Percent

MoV

2nd Place

2008

March 11

John McCain

79.0

66.4

Mike Huckabee

2000

March 14

George W. Bush

87.9

82.3

Alan Keyes

1996

March 12

Bob Dole

60.3

34.4

Pat Buchanan

1992

March 10

George H.W. Bush

72.4

55.5

Pat Buchanan

1988

March 8

George H.W. Bush

66.0

49.0

Bob Dole

1980

June 3

Ronald Reagan*

—

—

—
* No popular vote was held after George H.W. Bush and John Connally withdrew from the race. Table compiled by Smart Politics.
Follow Smart Politics on Twitter.