Oklahoma GOP Poised to Run Table in US House Races for Just 3rd Time Since Statehood
Democrats won 79 percent of congressional contests in the Sooner State prior to the Republican Revolution and just 14 percent since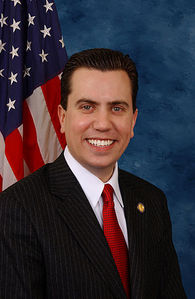 The ousting of six-term Republican U.S. Representative John Sullivan in Tuesday's Oklahoma primary by Jim Bridenstine does little to change the fact that the GOP is favored to sweep the state's five House seats this November.
The Democratic Party's lone seat, held by the retiring Dan Boren (pictured) in the 2nd CD, is likely to be lost in the Republican-tilted district where the major party's eventual nominees will face Independent Michael Fulks in a little over four months.
If the GOP picks up the seat for the party, and the other districts remain Republican as expected, Democrats will be shut out of holding any congressional seats in the Sooner State.
And that has been a rare feat in Oklahoma politics.
A Smart Politics review of Oklahoma election data finds that a GOP sweep of the state's U.S. House seats in 2012 would be just the third such occurrence since statehood.
The only two years in which Democrats have been shut out across the 53 election cycles since statehood in 1907 were the Elections of 1996 and 1998.
Republicans won all six seats those cycles before Democrats rebounded with wins by Brad Carlson in 2000 and 2002 and and Dan Boren in 2004, 2006, 2008, and 2010 – both from the 2nd CD.
Like most southern states, the Democratic hold on its U.S. House and Senate seats lasted for decades.
However, the grip loosened about 30 years earlier on the Senate side.
Democrats won 19 of the first 22 U.S. Senate races through 1966, but have claimed just 3 of 19 contests since.
By contrast, the Democratic dominance in House races lasted until the Republican Revolution.
Prior to 1994, the Democrats had won a majority of the state's congressional district races in all but two election cycles: in 1908 (when the GOP won three of five districts) and 1920 (with the GOP victorious in five of eight districts).
From statehood through 1992, Democrats won 247 general and special election House contests while losing only 65 to the Republicans, or 79.2 percent of all races.
Since 1994, Democrats have mustered only seven victories against 43 defeats, or just 14 percent of congressional races.
The 43 wins notched by the GOP over the last 16 years is an about-face for a party that took 55 years to win its first 43 House seats (out of 221 races) from 1907 to 1962.
Overall, Democrats still hold a 254 to 108 seat edge in Oklahoma House contests, winning 70.2 percent of congressional elections since 1907.
Follow Smart Politics on Twitter.