Tom Cotton's Quandary: Can House Freshmen Win Senate Seats?
Only 17 House freshmen have been elected to the Senate over the last century, and just two in the last 40 years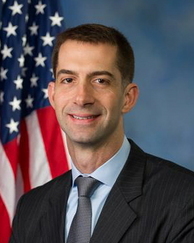 If Republicans are going to take back the U.S. Senate in 2014, one of their prime targets of opportunity is the seat held by two-term Democrat Mark Pryor in the increasingly red state of Arkansas.
One of the GOPers contemplating a run is recently elected freshman U.S. Representative Tom Cotton from the state's 4th Congressional District.
Despite the state's red leanings, unseating Pryor would be a remarkable turnaround for the party considering Republicans did not even field a candidate against him in 2008 when he took 79.5 percent of the vote against the Green Party's Rebekah Kennedy.
But on Tuesday a partisan poll was released that shows Cotton with an eight-point advantage in a hypothetical matchup against Pryor.
Cotton, a Harvard Law grad who later served in Iraq and Afghanistan in the U.S. Army, received 'rising star' status and national media buzz upon his arrival in Washington and an early Smart Politics review of media mentions of House freshmen in the 113th Congress found Cotton was ranked fourth among his colleagues.
Of course, making a move from the House to the Senate, whether as a freshman or otherwise, can be difficult even if a candidate wins his or her party's nomination.
For example, in the 2012 general election, sitting and ex- Republican U.S. Representatives had a rather dismal record at the ballot box: Connie Mack (Florida), Pete Hoekstra (Michgan), Todd Akin (Missouri), Denny Rehberg (Montana), Heather Wilson (New Mexico), and freshman Rick Berg (North Dakota) all lost.
(Former House and Senate member George Allen of Virginia was also unsuccessful in his Senate bid last November).
Only six-term Representative Jeff Flake was victorious – in Arizona's open seat race.
Meanwhile, on the Democratic side, U.S. Representatives Chris Murphy (Connecticut), Mazie Hirono (Hawaii), Joe Donnelly (Indiana), Martin Heinrich (New Mexico), and Tammy Baldwin (Wisconsin) all captured open Senate seats with Shelley Berkley (Nevada) losing in her challenge of incumbent Dean Heller.
But as Rick Berg's 2012 candidacy demonstrated, House Republican freshmen cannot count on a slam dunk, even in deep red states.
In fact, freshmen from either party have only won two Senate contests over the last 40 years.
A Smart Politics analysis of U.S. Senate election data finds that only 17 freshman U.S. Representatives have won a seat to the upper chamber since direct elections were introduced nearly 100 years ago.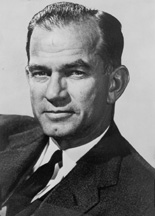 One of those freshmen came from Cotton's state of Arkansas.
Of the 11 U.S. Representatives who successfully won a U.S. Senate seat in the history of the Natural State, Democrat J. William Fulbright was the only freshman.
In 1944, Fulbright defeated three-term Senator Hattie Caraway to nab his party's nomination and then cruised to his first of five general election victories that November.
The remaining 10 Arkansas U.S. Senators who had previous House experience all had served more than one term before their election to the nation's upper legislative chamber:
· 1853: Three-term Democrat Robert Johnson was appointed (and then subsequently elected) to the Senate after the resignation of Democrat Solon Borland.
· 1884: Two-term Democrat James Jones won an open seat race after Democrat James Walker opted not to seek another term.
· 1913: Five-term Democrat Joseph T. Robinson won an open seat race after the death of Democrat Jeff Davis. Democratic Senator William Kavanaugh, who won a special election a few months prior, was not a candidate for the full term.
· 1920: Four-term Democrat Thaddeus Caraway defeated one-term incumbent Senator William Kirby in the Democratic primary and captured nearly two-thirds of the vote in the general election.
· 1937: Three-term Democrat John Miller won a special election as an independent in a race held after the death of Majority Leader Joseph T. Robinson.
· 1942: After a four-year absence from the House, former two-term Democrat John McClellan won an open seat race after the resignation of John Miller. Appointed Democratic Senator George Spencer was not a candidate for the full term.
· 1978: After a six-year absence from the House, former four-term Democrat David Pryor won an open seat after the death of John McClellan. Appointed Democratic Senator Kaneaster Hodges was not a candidate for the full term.
· 1996: Two-term Republican Tim Hutchinson won an open seat race after the retirement of David Pryor.
· 1998: After a two-year absence from the House, former two-term Democrat Blanche Lincoln won an open seat race after the retirement of Dale Bumpers.
· 2010: Five-term Republican John Boozman unseated two-term Democratic Senator Blanche Lincoln with 57.9 percent of the vote.
Overall, these successful Arkansas U.S. Representatives had an average of three terms in the House under their belt before their Senate win.
Nationwide, of the more than 600 Senators in U.S. history who first served in the House of Representatives, just 41 were sitting freshmen at the time of their election or appointment.
And only 17 of these freshmen were elected to the Senate since direct elections were introduced a century ago.
South Carolina Republican Tim Scott was appointed to his Senate seat this January, and is the only current member who was either appointed or elected to the chamber as a freshman of the 52 with House experience on their resumé.
(Washington Democrat Maria Cantwell had served just one term in the House but was six years removed from the lower chamber when she won her first Senate race in 2000).
The average length of prior House service for these 52 Senators is 4.5 terms.
Over the last 40 years, only two freshman U.S. Representatives have been elected to the Senate: Kansas Republican Sam Brownback in 1996 and Minnesota Republican Rod Grams in 1994.
House Freshman Elected to the U.S. Senate Since 1914
State

Senator

Party

Year

Illinois

Joseph McCormick

Republican

1918

Oklahoma

John Harreld

Republican

1920

Louisiana

John Overton

Democrat

1931

Illinois

William Dieterich

Democrat

1932

Connecticut

Francis Maloney

Democrat

1934

Nebraska

Edward Burke

Democrat

1934

Iowa

Guy Gillette

Democrat

1936

Oklahoma

Joshua Lee

Democrat

1936

Arkansas

J. William Fulbright

Democrat

1944

Nebraska

Roman Hruska

Republican

1954

North Dakota

Quentin Burdick

Democrat

1960

Colorado

Peter Dominick

Republican

1962

Connecticut

Lowell Weicker

Republican

1970

Maryland

John Beall

Republican

1970

South Dakota

James Abourezek

Democrat

1972

Minnesota

Rod Grams

Republican

1994

Kansas

Sam Brownback

Republican

1996
Data compiled by Smart Politics.
Follow Smart Politics on Twitter.