Obama Has Mentioned Terrorism Nearly 1,500 Times as President
Although accused by some of being too stingy with using the term, the president has mentioned terrorism (and variants of the word) an average of one time per day while in office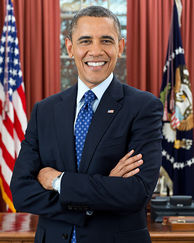 Barack Obama was criticized in some quarters on Monday when his initial public remarks about the bombings at the Boston marathon failed to mention the word "terrorism."
Instead Obama closed his speech by calling it a "tragedy."
But in the President's remarks the next day, he made headline news when he called the Boston bombings an "act of terror" – purportedly after coming under pressure for the omission during Monday's statement.
This is not the first time Obama has been taken to task for failing to call violent, deadly acts "terrorism," but a survey of the president's speeches, addresses, and written statements finds the president has hardly been gun-shy when using the term across his 4+ years in office.
A Smart Politics analysis finds that Barack Obama has mentioned terrorism or one of its related usages 1,469 times across 530 different remarks and written statements since becoming president prior to the Boston bombing.
Smart Politics combed through the Public Papers of the President and tallied every mention of terrorism and related usages (terror, terrorist, terrorize, counterterrorism, bioterrorism, antiterrorism, counterterrorist, narcoterrorist etc.).
Since his first day in office until April 14, 2013, Obama mentioned terror 1,469 times, or an average of 1 time per day.
In fact, Obama used the term on his first day in office, during his first speech – the Inaugural Address:
"And for those who seek to advance their aims by inducing terror and slaughtering innocents, we say to you now that our spirit is stronger and cannot be broken. You cannot outlast us, and we will defeat you." – January 20, 2009
Obama also brought up the problem of terrorism during his Address accepting his Nobel Peace Prize award in Oslo in December 2009:
"Terrorism has long been a tactic, but modern technology allows a few small men with outsized rage to murder innocents on a horrific scale." – December 10, 2009
Overall, Obama has discussed terror in 530 different remarks and statements during his presidency including 14 weekly addresses, 21 formal addresses, 26 interviews, and 55 news conferences.
The president has used the term terror or one of its derivations in spoken form 779 times since taking office with another 690 mentions in written statements (e.g. proclamations, messages to Congress, executive orders etc.).
The president has used the term "terrorist" 712 times, with 435 mentions for "terrorism," 216 for "counterterrorism," 77 for "terror," 18 for "terrorize," five for "bioterrorism," four for "antiterrorism," and one each for "counterterrorist" and "narcoterrorist."
Obama's omission of the word "terrorism" in Monday's remarks comes on the heels of a high profile linguistic dance involving the president and his critics after the assassination of the U.S. Ambassador to Libya last fall, with some saying Obama failed to label it an act of terror in a timely manner for political purposes.
That charge came to a head in an October 16, 2012 presidential debate when Republican nominee Mitt Romney doubted the president's claim that he had stood in the Rose Garden and called the Benghazi assassination an "act of terror":
Romney: You said in the Rose Garden the day after the attack it was an act of terror? It was not a spontaneous demonstration?

Obama: Please proceed.

Romney: Is that what you're saying?

Obama: Please proceed, Governor.

Romney: I want to make sure we get that for the record, because it took the President 14 days before he called the attack in Benghazi an act of terror.

Obama: Get the transcript.

Candy Crowley (debate moderator): He did, in fact, sir. So let me–call it an act of terror in the Rose Garden. He used the word—-

Obama: Can you say that a little louder, Candy?

Crowley: He did call it an act of terror. It did, as well, take 2 weeks or so for the whole idea of there being a riot out there about this tape to come out. You are correct about that.
That controversial exchange became the most talked about moment of the debate with the president seemingly winning that round.
However, perhaps not coincidentally, the president, who had not mentioned terrorism during the previous 17 days of the campaign prior to the debate, went on to use the term 22 times over the next 11 days.
Although Obama has discussed terrorism in hundreds and hundreds of speeches and written documents, he has done less so in recent years.
In fact, Obama has used the term less frequently in each subsequent year in office, declining from 1.26 mentions per day in office in 2009, to 1.15 in 2010, 0.78 in 2011, 0.72 in 2012, and 0.63 in 2013 prior to the Boston bombing.
President Barack Obama Mentions of Terrorism by Year, 2009-2013
Year

# Mentions

Days

Per day

2009

436

346

1.26

2010

419

365

1.15

2011

283

365

0.78

2012

265

366

0.72

2013

66

104*

0.63

Total

1,469

1,546

0.95
* Through April 14, 2013. Includes mentions of terror, terrorism, terrorist, terrorize, counterterrorism, bioterrorism, antiterrorism, counterterrorist, narcoterrorist. Data compiled by Smart Politics from a study of the Public Papers of the President.
Over the years, Obama has used the term 'terror' to refer to a variety of events including terrorism at home and abroad, nuclear terrorism, bioterrorism, as well as gun violence (e.g. Aurora).
Follow Smart Politics on Twitter.