Wyoming Primary Election Results By the Numbers
Enzi continues the perfect renomination streak of Wyoming U.S. Senators – 29 for 29 since the first primary contest 1918; Lummis extends renomination streak by Cowboy State U.S. Representatives to 19 in a row since 1972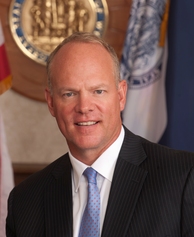 One-term Wyoming Governor Matt Mead prevailed as expected in Tuesday's Republican primary, winning 55 percent of the vote in the three-candidate field.
Mead faced two challengers in the contest with the most notable being State Superintendent of Public Instruction Cindy Hill who came in last with only 13 percent while Cheyenne physician Taylor Haynes garnered just shy of one-third of the vote in second.
Mead famously stripped Hill of most of her duties as the head of the Department of Education last year – a decision that was eventually reversed by the Wyoming Supreme Court earlier this year. Hill challenged Mead for the GOP nod as a result.
With his victory, Mead avoided becoming the first sitting governor from Wyoming to lose his party's nomination since Republican Clifford Rogers in 1954.
Rogers was the Acting Governor of the state for two years after GOPer Frank Barrett cut his term short winning the U.S. Senate election of 1952.
Rogers was defeated by Milward Simpson in the August 1954 primary.
Prior to Rogers, only three other governors (or acting governors) failed to win his or her party's nomination in Wyoming history: Republicans Fenimore Chatterton in 1904, Robert Carey in 1922, and Alonzo Clark in 1932.
Overall, Wyoming governors are now 18 for 22 in securing their party's nomination since statehood, for a success rate of 82 percent.
Republican U.S. Senate Primary
The state's U.S. Senate primary offered much less fanfare than what was expected in 2013 when Liz Cheney set out to challenge three-term incumbent Mike Enzi in the Republican primary.
Cheney withdrew from the race in early 2014, and Enzi was left with four lesser-known challengers: Arthur Clifton of Cheyenne, Bryan Miller of Sheridan, James 'Coaltrain' Gregory of Jackson, and Thomas Bleming of Lusk.
Enzi cruised to a 72-point victory over Miller with 82 percent of the vote.
Wyoming U.S. Senators running for reelection are now a perfect 29 for 29 in renomination bids in the direct election era with victories by Republican Francis Warren (1918, 1924), Democrat John Kendrick (1922, 1928), Democrat Joseph O'Mahoney (1934 – special, 1934, 1940, 1946, 1952), Republican Robert Carey (1936), Democrat Harry Schwartz (1942), Republican Edward Robertson (1948), Republican Frank Barrett (1958), Democrat J.J. Hickey (1962 – special), Democrat Gale McGee (1964, 1970, 1976), Republican Clifford Hansen (1972), Republican Malcolm Wallop (1982, 1988), Republican Alan Simpson (1984, 1990), Republican Craig Thomas (2000, 2006), Republican Mike Enzi (2002, 2008, 2014), and Republican John Barrasso (2008 – special, 2012).
Wyoming is one of just eight states in which U.S. Senators seeking reelection have never lost their party's nomination along with Hawaii, Kentucky, Massachusetts, New Mexico, Rhode Island, Vermont, and Washington.
The four challengers taking on Enzi ties the state record for the largest field to face a Republican U.S. Senate incumbent across 18 such primaries in state history.
In 1988, GOPer Malcolm Wallop also faced four challengers and won 83.2 percent of the primary vote.
There has been no primary challenger in 10 of the 18 cycles in which a Republican U.S. Senator from Wyoming sought reelection.
Republican U.S. House Primary
In the Republican primary for the state's at-large U.S. House seat, three-term incumbent Cynthia Lummis easily dispensed with her lone challenger, Jason Senteney of Yoder.
Lummis won approximately three-quarter percent of the vote en route to the 19th consecutive successful renomination bid by a sitting Wyoming U.S. Representative dating back to Democrat Teno Roncalio in 1972.
Overall, U.S. Representatives seeking reelection have won 48 of 49 renomination bids since statehood.
The only sitting member of the nation's lower legislative chamber from the Cowboy State to lose his or her party's nomination was William Henry Harrison in 1968.
Harrison, a direct descendant of Presidents William Henry Harrison and Benjamin Harrison, had served five terms in the U.S. House across three interrupted stints from 1951-1955, 1961-1965, and 1967-1969 but lost the GOP nod in 1968 to John Wold.
Follow Smart Politics on Twitter.