Can Dayton, Franken Both Win By Double-Digits in 2014?
The DFL/Democratic parties have won Minnesota gubernatorial and U.S. Senate contests in the same cycle in just three out of 25 elections and never by double-digits in both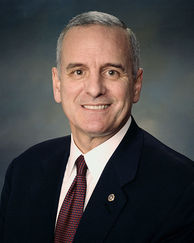 Debate season is well underway in Minnesota, but a new poll of likely voters suggests there is no debate as to which party will win the Gopher State's gubernatorial and U.S. Senate races this November.
A KSTP/SurveyUSA poll conducted September 30th through October 2nd finds DFL Governor Mark Dayton leading Hennepin County Commissioner Jeff Johnson by a 51 to 39 percent margin with Independence Party nominee Hannah Nicollet at 4 percent while DFL U.S. Senator Al Franken enjoys a 55 to 37 percent lead over businessman Mike McFadden with the IP's Steve Carlson at 3 percent.
Incumbents Dayton and Franken have been viewed as favorites throughout the 2014 cycle, although both races were considered to be fairly competitive – particularly if November shaped up to be a banner election for the GOP nationwide.
And so even though Republicans are expected to pad their advantage in the U.S. House and perhaps take back control of the U.S. Senate, in Minnesota the GOP's top-tier candidates appear to be struggling to gain traction even with expectations that Republicans will make gains down the ballot in elections to the Minnesota House.
To be sure, it seems unlikely that Dayton and Franken will both win by double-digits on Election Day in purplish/light blue Minnesota – particularly in a quasi-GOP cycle.
In fact, such a feat has never been accomplished by the DFL/Democratic Parties in the history of the Gopher State.
Since Minnesota's first popular vote U.S. Senate election in 1912, there have been 25 election cycles in which both gubernatorial and U.S. Senate elections were held.
The DFL has won eight of these 25 Senate contests (1948, 1954, 1958, 1960, 1966, 1970, 1990, 2006) and four of these 25 gubernatorial races (1954, 1958, 1970, 1982).
In only three of these 25 cycles have Democrats won both of these top-tier elections:
● 1954: Hubert Humphrey for U.S. Senate and Orville Freeman for governor
● 1958: Eugene McCarthy for U.S. Senate and Freeman for governor
● 1970: Humphrey for U.S. Senate and Wendell Anderson for governor
However, in none of these three cycles did both victorious DFL nominees rout their Republican opponents by double-digits.
In 1954, Humphrey defeated Val Bjornson by 14.3 points, but Freeman unseated incumbent C. Elmer Anderson by only 5.9 points.
In 1958, Freeman defeated former one-term GOP Congressman George MacKinnon by 14.5 points, but McCarthy knocked Edward Thye out of office with a narrower 6.3-point win.
In 1970, Humphrey won an open seat race against five-term Congressman Clark MacGregor by 16.2 points, but Anderson won the open gubernatorial race by 8.5 points over Douglas Head.
Meanwhile, during this century-long span, Republicans won U.S. Senate and gubernatorial races in the same cycle 11 times (1912, 1916, 1918, 1924, 1940, 1942, 1946, 1952, 1978, 1994, 2002) with the Farmer-Laborites doing so once (1934).
The GOP has carried both races by double-digits six times: in 1916, 1918, 1940, 1942, 1946, and 1952.
Overall, Democratic/DFL nominees for governor have won by double-digits five times since statehood:
● 1906: John Johnson (26.1 points over A.L. Cole)
● 1958: Orville Freeman (14.5 points over George MacKinnon)
● 1974: Wendell Anderson (33.4 points over John W. Johnson)
● 1982: Rudy Perpich (18.9 points over Wheelock Whitney)
● 1986: Rudy Perpich (13.0 points over Cal Ludeman)
Republicans have done so 25 over the decades.
Meanwhile, DFL U.S. Senate nominees have won their seats by double-digits nine times (1948, 1954, 1960, 1964, 1970, 1972, 1976, 2006, 2012) with the GOP claiming 13 (1912, 1916, 1918, 1936 (special), 1940, 1942, 1942 (special), 1946, 1952, 1978, 1978 (special), 1984, 1988) and Farmer-Laborites five (1922, 1923, 1928, 1934, 1936).
The second of five gubernatorial debates will be held Wednesday evening at Minnesota State University Moorhead.
Follow Smart Politics on Twitter.