Mark Pryor Loss Makes US Senate History
Pryor is the first of 89 U.S. Senators to lose a general election coming off a victory in which there was no major party opponent on the ballot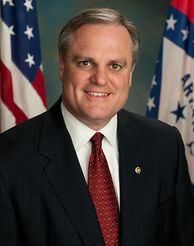 The quickly changing partisan preferences of the Arkansas electorate made a bit of history Tuesday evening.
As expected in recent months, Republican Congressman Tom Cotton defeated two-term Democratic incumbent U.S. Senator Mark Pryor in an important victory for the GOP in their quest to pry back control of the nation's upper legislative chamber.
While the loss by Pryor was expected, it was nonetheless historic and a huge comeback win for the Arkansas GOP from six years ago.
A Smart Politics analysis finds that Mark Pryor is the first out of 89 sitting U.S. Senators to be defeated in the general election following a cycle in which the Senator did not face a major party opponent.
(Note: Included in this study are independents or third party candidates who faced only one major party incumbent in their victory).
Pryor's 2014 campaign came on the heels of a slam-dunk 2008 cycle in which the Republican Party did not even field a candidate with Pryor trouncing the Green Party's Rebekah Kennedy by 59.1 points.
Since states began electing U.S. Senators via popular vote a century ago, there have been 144 contests in which only one major party candidate appeared on the ballot.
A total of 89 of these Senators ran in the subsequent general election and all but Pryor were reelected.
Of the remaining Senators, 23 died in office, 17 opted not to run for reelection, two resigned during their term, and nine lost their party's nomination: Democrats Thomas Hardwick (Georgia, 1918), Nathaniel Dial (South Carolina, 1924), Joseph Ransdell (Louisiana, 1930), Coleman Blease (South Carolina, 1930), Edwin Broussard (Louisiana, 1932), Hubert Stephens (Mississippi, 1934), Wall Doxey (Mississippi, 1942), Absolom Robertson (Virginia, 1966), and Republican Dick Lugar (Indiana, 2012).
(Three Senators on this list still await their fate: South Dakota Republican John Thune (in 2016), independent Bernie Sanders of Vermont (in 2018), and Alabama Republican Jeff Sessions (in 2020). The U.S. Senate contest in Kansas in 2014 also only featured one major party candidate).
Not only have these incumbent Senators enjoyed an unblemished general election record coming off a victory without a major party opponent, but very few follow-up races have even been close.
Among incumbents like Pryor who did not face major party competition in the previous cycle, the average victory margin in the subsequent cycle for these U.S. Senators has been 72.0 points, with just three decided by less than 10 points:
● In 1962, five-term Alabama Democrat J. Lister Hill narrowly defeated Republican James Martin by just 1.7 points – after not facing a Republican challenger during his previous two victories in 1950 and 1956.
● In 1996, three-term Virginia Republican John Warner beat Democrat Mark Warner by 5.1 points after facing only an independent candidate in 1990 – Nancy Spannaus, who failed to get 20 percent of the vote. (The latter Warner would later win the former's open seat in 2008).
● In 2006, two-term Arizona Republican Jon Kyl followed up his 71.5-point blow-out victory over a Democrat-less field six years prior with a 9.8-point win over Jim Pederson.
No other race has been decided by less than 18 points among the 88 contests held before Cotton vs. Pryor.
Of course, most of the races with only one major party candidate on the ballot over the years have taken place in the South, where Democrats enjoyed effective one-party rule for decades.
Still, the average victory margin by such Senate incumbents coming off a race without such a challenger has been nearly as obscene over the last 50 years (50.3 points) as the first 50 years (79.6 points).
The Arkansas Republican Party's turnaround from no candidate to winning candidate in one cycle against a sitting Senator is remarkable, but also highlights the GOP's failed effort to recruit a candidate six years ago.
Follow Smart Politics on Twitter.