Presidential Winning Streaks in Minnesota and Virginia
Meet the only two states that have backed both Republican and Democratic presidential nominees in at least 10 consecutive cycles since statehood (though in different eras)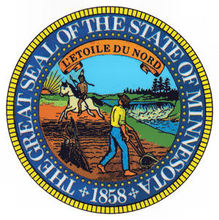 With new polls and media rankings of presidential frontrunners coming out each week, the 2016 election cycle is undoubtedly upon us and here to stay.
Soon to come will be the usual array of lists denoting the battleground / purple / swing states that will be up for grabs next year.
One of those states will assuredly be Virginia – the once reliably Republican state in presidential elections that Barack Obama carried in competitive races in 2008 and 2012.
Minnesota will also inevitably be lumped into this pool of states, for although it has given its Electoral votes to the Democratic nominee in each of the last 10 cycles, six of those races have been decided by single digits (including four by less than four points).
And what do these two states – half a country away – have in common?
Smart Politics reviewed the longest partisan presidential electoral streaks in the nation, and found that only two states have cast their Electoral College votes for both Republican and Democratic nominees in 10 consecutive cycles – Minnesota and Virginia.
Minnesota's current 10-cycle Democratic streak is particularly impressive.
The Gopher State has the longest consecutive Democratic winning streak in presidential elections for a state outside of the South since the founding of the modern Democratic Party in 1828.
Prior to Minnesota voting for Barack Obama in 2012, the state was tied at nine straight cycles with Missouri, which voted Democratic from 1828 through 1860 (twice for Andrew Jackson and Martin Van Buren, as well as James Polk, Lewis Cass, Franklin Pierce, James Buchanan, and Stephen Douglas).
Minnesota's current streak is #12th highest all-time for the Democrats, with the 11 ahead of it all coming from the nation's southern region: Georgia is tops with 24 straight cycles from 1868 to 1960, followed by Arkansas at 23 (1876-1964), Alabama and Mississippi at 18 (1876-1944), Louisiana and South Carolina at 17 (1880-1944), and Texas at 13 (1872-1924).
Minnesota has now voted Democratic in 13 of the last 14 presidential elections dating back to 1960 and 18 of 21 since 1932.
These results are completely flipped from how the state voted in the 19th and early 20th Centuries. Prior to 1932, no Democratic presidential nominee had won the state.
For 13 consecutive elections from its first presidential vote in 1860 through 1908, Minnesotans cast their Electoral votes for the Republican nominee – good for the ninth longest streak in GOP history.
Democrats were only competitive in one of these contests: Benjamin Harrison defeated President Grover Cleveland by 8.2 points in 1888.
The GOP streak was only broken in 1912 when the Gopher State was carried by Republican-turned-Progressive Teddy Roosevelt (one of six states won by the former president).
The GOP's nominee would also win Minnesota in 1916, 1920, 1924, and 1928.
Vermont by far and away has the longest GOP presidential winning streak in the nation at 27 consecutive cycles from 1856 through 1960.
Seven other states are tied at 14 cycles (all from 1856 through 1908): Iowa, Maine, Massachusetts, Michigan, New Hampshire, Ohio, and Rhode Island.
Aside from Minnesota, Virginia is the only other state to notch Democratic and GOP victories in 10 straight cycles.
Virginia voted for the Democratic nominee in 12 consecutive cycles after Reconstruction in 1876 through 1924 – tied for the eighth longest streak in the party's history.
Only three of those dozen victories were competitive with the rest decided by double-digits:
● 1884: Grover Cleveland by 2.2 points over James Blaine
● 1888: Cleveland by 0.5 points over Benjamin Harrison
● 1896: William J. Bryan by 6.6 points over William McKinley
That streak was broken in 1928 when Herbert Hoover carried Virginia by eight points – one of five Confederate states won by the GOP nominee that cycle (along with Florida, North Carolina, Tennessee, and Texas).
The Old Dominion State would vote Democratic for the next five cycles through 1948.
After the passage of the Civil Rights Act in 1964, Virginia cast its Electoral votes for the Republican nominee in 10 consecutive cycles through George W. Bush's reelection victory in 2004.
Five of those races were settled by single digits:
● 1976: Gerald Ford by 1.3 points over Jimmy Carter
● 1992: George H.W. Bush by 4.4 points over Bill Clinton
● 1996: Bob Dole by 2.0 points over Clinton
● 2000: George W. Bush by 8.0 points over Al Gore
● 2004: Bush by 8.2 points over John Kerry
This 10-cycle streak ranks tied for 21st overall for the longest in the history of the Republican Party.
Minnesota and Virginia have voted for the same presidential nominee in just 13 of 37 election cycles since 1860: in 1872 (Grant), 1928 (Hoover), 1932 through 1944 (Roosevelt), 1948 (Truman), 1952-1956 (Eisenhower), 1964 (Johnson), 1972 (Nixon), and 2008-2012 (Obama).
Follow Smart Politics on Twitter.