Murphy vs DeSantis and the Youngest US Senate Matchups in History
Only two U.S. Senate elections featured a pair of major party nominees who were collectively younger than Florida's two young Congressmen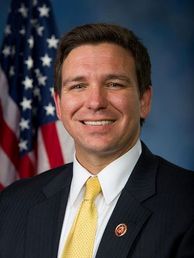 Republican Ron DeSantis' entrance into Florida's U.S. Senate race means there is a chance that both of the state's major party nominees will be less than 40 years old on Election Day.
DeSantis will be 38 in November 2016 and Democratic frontrunner Patrick Murphy will be 33.
To be sure, neither of these young congressmen is guaranteed to receive their party's nomination at this point.
Murphy might still face a challenge from the left from fellow Representative Alan Grayson while DeSantis is expected to have multiple challengers such as Lieutenant Governor Carlos Lopez-Cantera with Representatives Jeff Miller and David Jolly, former U.S. Senator George LeMieux, and former Congressman and Florida Attorney General Bill McCollum all contemplating bids.
(Note: If he runs and is victorious, McCollum would become the oldest newly elected (or appointed) U.S. Senator in Florida history).
But if DeSantis and Murphy are both able to win their respective primaries next year, will their general election matchup feature the youngest candidates for the nation's upper legislative chamber ever to square off at the ballot box?
Not quite.
Out of the approximately 1,700 general and special U.S. Senate contests held during the direct election era, Smart Politics identified just two matchups in which major party nominees were collectively younger than Murphy and DeSantis.
On Election Day next year, Murphy (33 years, 7 months, 10 days) and DeSantis (38 years, 1 month, 26 days) will be a combined 71 years, 9 months, and 6 days of age – more than five years shy of the all-time record.
The youngest pair of U.S. Senate hopefuls both came from Massachusetts political royalty.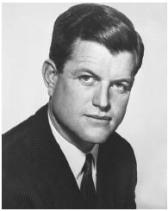 In the Bay State's 1962 special election, Democrat Ted Kennedy and Republican George Cabot Lodge were a combined 66 years and 16 days old.
Kennedy (30 years, 8 months, 16 days), was running for his brother John's old seat from which he resigned after being elected president two years prior. (Benjamin Smith had been appointed to the seat in between).
Lodge (35 years, 4 months) was seeking the seat once held by his father Henry Cabot Lodge, Jr. (1947-1953) and great-grandfather, Henry Cabot Lodge (1893-1924).
John Kennedy had picked off Henry Cabot Lodge, Jr.'s seat in the Election of 1952.
In the 1962 special, the Kennedys prevailed over the Lodges again, with Ted defeating George by 8.4 points.
The second youngest pair of nominees faced each other in New Jersey's 1978 election in a race between Democrat Bill Bradley and Republican Jeff Bell who were a combined 70 years, 2 months, and 7 days old.
Bradley, a recently retired NBA star, was 35 years, 3 months, 11 days old on Election Day while Bell, a GOP aide and speechwriter, came in at 34 years, 10 months, 26 days.
Bell had narrowly ousted four-term Republican U.S. Senator Clifford Case in that year's primary but lost to Bradley in the general election by 12.2 points.
Bell would seek a U.S. Senate seat again in 1982 (losing the primary to Congresswoman Millicent Fenwick) and 2014 (losing the general election to Cory Booker by 13.6 points).
Other U.S. Senate elections featuring pairs of young nominees include:
● Wisconsin, 1928: Republican Robert La Follette, Jr. (33) versus independent Republican William Markham (39)
● South Dakota, 1978: Republican Larry Pressler (36) versus Democrat Don Barnett (36)
● Montana, 1978: Democrat Max Baucus (36) versus Republican Larry Williams (36)
● Indiana, 1986: Republican Dan Quayle (39) versus Democrat Jill Long (34)
● California, 1946: Republican William Knowland (38) versus Democrat Will Rogers, Jr. (35)
● North Dakota, 1926: Republican Gerald Nye (33) versus independent Republican Norris Nelson (40)
● Tennessee, 1984: Democrat Al Gore (36) versus Republican Victor Ashe (39)
● Massachusetts, 1970: Democrat Ted Kennedy (38) versus Republican Josiah Spaulding (37)
● Oklahoma, 1980: Republican Don Nickles (31) versus Democrat Andy Coats (45)
● Indiana, 1968: Democrat Birch Bayh (40) versus Republican William Ruckelshaus (36)
● Pennsylvania, 1976: Republican John Heinz (38) versus Democrat William Green (38)
Note: There have also been several U.S. Senators in their 30s who did not face an opponent in the general election such as Democrats Richard Russell of Georgia in 1932 (age 35) and 1936 (age 39), Claude Pepper of Florida in 1936 (age 36), Huey Long of Louisiana in 1930 (age 37), and Russell Long of Louisiana in 1956 (age 38) and Republican David Stewart of Iowa (age 39).
Follow Smart Politics on Twitter.