Which States Give Their US Senators the Lowest Marks?
A new poll finds Kentuckians give their U.S. Senators the worst job approval ratings in the nation with Arizona, Kansas, Wisconsin, North Carolina, and Illinois close behind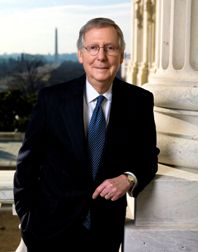 One of the interesting trends in U.S. politics is how Americans generally have a very low regard for Congress overall but also a high regard for (and high likelihood of reelecting) their own state's delegation on Capitol Hill.
Support for the latter is borne out by a recent Morning Consult poll which surveyed more than 75,000 voters measuring the job approval ratings of each state's respective U.S. Senators.
All but one of the chamber's 100 members was given a positive net job approval rating by their constituencies.
[Note: Net approval is the difference between an officeholder's job approval and disapproval ratings. While nearly one-third of the nation's U.S. Senators failed to receive a 50 percent approval rating in the Morning Consult survey, their disapproval ratings were even lower, and that is because a fair-sized percentage of each state's electorate had no opinion or were not familiar with the officeholder. As such, the net approval rating is utilized for this analysis].
But although nearly every U.S. Senator is above water in job approval in this new poll, there was nonetheless a wide range between the states as to how they viewed their respective officeholders.
On the low end of the spectrum is Kentucky – the only state in which likely voters gave their U.S. Senators a negative average net approval rating at -1.5 points.
Kentuckians gave Majority Leader Mitch McConnell a net -14 approval rating (38 percent approve, 52 percent disapprove) – the only member of the chamber to be underwater.
The state's junior senator, Rand Paul, who is attempting to run for both reelection for a second term and president in 2016, is not exactly impressing his constituency either. Paul's +11 net approval rating was tied for 85th in the chamber.
The 25-point net approval rating gap between Senators Paul and McConnell was also the largest within any state delegation.
Five others eclipsed 20 points:
New Jersey (24): Cory Booker (+25) and Bob Menendez (+1)
North Dakota (23): John Hoeven (+54) and Heidi Heitkamp (+31)
Maine (22): Susan Collins (+62) and Angus King (+40)
Iowa (22): Chuck Grassley (+29) and Joni Ernst (+7)
Vermont (21): Bernie Sanders (+70) and Patrick Leahy (+49)
Also faring poorly in the Morning Consult survey are the all-GOP delegations from Kansas and Arizona where U.S. Senators averaged a net job approval rating of just +4.5 points in each state.
In Kansas, Pat Roberts is tied for #98 with an even net approval rating (41 percent approval and disapproval). Roberts survived a close shave in his renomination battle last year as well as a tough general election matchup against independent Greg Orman.
Junior Senator Jerry Moran was tied for #91 with a +9 net approval rating and is up for reelection this cycle.
The Morning Consult poll found similar ratings in Arizona where Jeff Flake tied for #98 with an even net approval rating (39 percent approve and disapprove) and long-serving Senator John McCain tied for 91st at +9 points.
McCain is also up for reelection in 2016 and will face challengers from the right in the GOP primary and, if he survives that race, a strong challenger in the general election with Congresswoman Ann Kirkpatrick the likely Democratic nominee.
Other state delegations with collectively low net approval ratings for its U.S. Senators include:
Wisconsin at #47 (+6.5 points): Democrat Tammy Baldwin (+10; #88) and Republican Ron Johnson at (+3; #96)
North Carolina at #46 (+10): Republicans Richard Burr (+14, #78) and Thom Tillis (+6, #95)
Illinois at #45 (+10.5): Democrat Dick Durbin (+11, #85) and Republican Mark Kirk (+10, #88)
Louisiana at #44 (+11.5): Republicans Bill Cassidy (+12, #83) and David Vitter (+11, #85)
At the top of the heap is Vermont – with its delegation boasting an impressive net approval rating of +59.5 points.
Independent Bernie Sanders is tops among all 100 members at +70 points (83 percent approve, 13 percent disapprove) while Patrick Leahy was the highest rated Democrat at +49 points (71 percent approve, 22 percent disapprove).
Close behind was the all-Republican delegation of Wyoming at +53 points and the split-delegation from Maine at +51 points where GOPer Susan Collins claimed the top rating for her party at +62 and independent Angus King landed at #10 with +40.
Rounding out the Top 10 states are North Dakota (+42.5), Minnesota (+41), West Virginia (+38.5), Delaware and South Dakota (+37 each) and New York and Oregon (+36 each).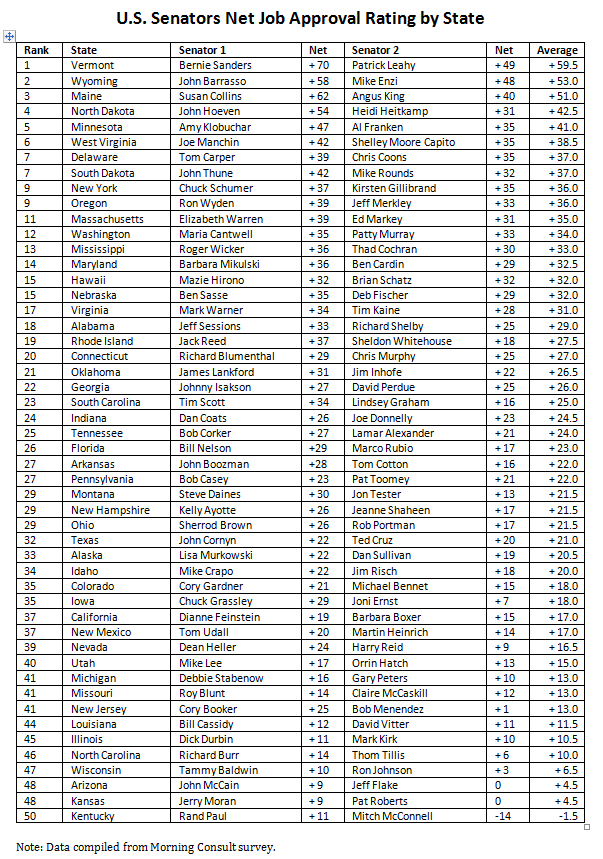 Overall, the chamber's 44 Democrats are viewed as doing a slightly better job by their constituencies than its 54 Republicans.
Democratic U.S. Senators tallied an average net approval rating of +26.5 points led by Vermont's Patrick Leahy (+49), Minnesota's Amy Klobuchar (+47), West Virginia's Joe Machin (+42), Delaware's Tom Carper (+39), Massachusetts' Elizabeth Warren (+39), and Oregon's Ron Wyden.
Republican members, meanwhile, recorded an average net approval rating of +22.6 points with the top rated scores belonging to Maine's Susan Collins (+62), Wyoming's John Barrasso (+58), North Dakota's John Hoeven (+54), Wyoming's Mike Enzi (+48), and South Dakota's John Thune (+42).
In general, the nation's blue states seemed to have taken more of a shine to their U.S. Senators than those in red states.
U.S. Senators serving the 15 states with an all-Democratic delegation average a +28.6 net approval rating: California, Connecticut, Delaware, Hawaii, Maryland, Massachusetts, Michigan, Minnesota, New Jersey, New Mexico, New York, Oregon, Rhode Island, Virginia, and Washington.
Those serving the 20 states with an all-Republican delegation come in at +21.6 point net approval rating: Alabama, Alaska, Arizona, Arkansas, Georgia, Idaho, Iowa, Kansas, Kentucky, Louisiana, Mississippi, Nebraska, North Carolina, Oklahoma, South Carolina, South Dakota, Tennessee, Texas, Utah, and Wyoming.
U.S. Senators from the 15 states with a split delegation logged a net approval rating of +26.0 points: Colorado, Florida, Illinois, Indiana, Maine, Missouri, Montana, Nevada, New Hampshire, North Dakota, Ohio, Pennsylvania, Vermont, West Virginia, and Wisconsin.
Looking at the polling data by region finds the most popular U.S. Senators are those who call the Northeast home.
The 22 members serving the 11-state region have a +32.9-point net approval rating with the remaining three regions far behind.
The 26 U.S. Senators in the West averaged +23.5 with the 28 members from the South at +22.8 and the 24 members from the Midwest at +22.
Follow Smart Politics on Twitter.