Second Chances: Will Gary Johnson Improve in 2016?
Nearly two-thirds of repeat third party nominees performed worse during their second White House run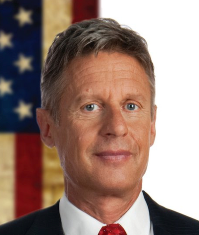 Former New Mexico Governor Gary Johnson announced his candidacy for the Libertarian Party presidential nomination last Wednesday, four years after delivering the party's best showing in 32 years.
Johnson won 0.99 percent of the national vote in 2012 in a cycle that began with him seeking the Republican nomination, only to withdraw after being shut out from most of the GOP primary debates.
The Libertarian Party has nabbed prominent former officeholders in recent cycles with Johnson's 2012 bid coming on the heels of ex-Georgia Congressman Bob Barr's (somewhat controversial) nomination in 2008.
If Johnson does become the Libertarian nominee again in 2016, he will add his name to a long list of third party presidential candidates who received a second chance – though history suggests there is little guarantee he'll perform better the second time around.
Smart Politics examined the presidential candidacies of more than three-dozen repeat third party nominees and independent candidates and found that only one-third improved on their second attempt with just four candidates who fell shy of one percent of the national vote during their first attempt eclipsing that mark on their subsequent bid.
Despite some impressive pre-Election Day polling numbers in some states in 2012, Johnson fell just shy of the one percent mark with a nation-best 3.6 percent in his home state and eclipsing two percent in Alaska, Montana, and Wyoming.
Johnson's 0.99 percent was the second best showing by a Libertarian nominee behind Edward Clarke's 1.06 percent in 1980.
So what are the chances Johnson will improve on his 2012 bid – and eclipse the one percent mark – should he become the Libertarian nominee this cycle?
Over the decades there have been a handful of prominent third party or independent candidates who had a noticeable effect on the presidential electoral map such as Constitutional Unionist John Bell in 1860, Populist James Weaver in 1892, Progressive Teddy Roosevelt in 1912, Progressive Robert La Follette in 1924, State's Rights candidate Strom Thurmond in 1948, American Independent candidate George Wallace in 1968, and independent Ross Perot in 1992.
However, due to a lack of name recognition and funding as well as limited ballot access, the overwhelming majority of third party candidates in U.S. history have failed to win one percent of the national vote – with most not even recording one-tenth of one percent.
Despite limited success, a few dozen of these candidates have returned to the general election ballot in subsequent cycles and an even smaller subset have improved their standing in the national vote on their second try.
The first prominent third party candidate to do so was former Kentucky state legislator James Birney of the anti-slavery Liberty Party.
In 1840, Birney received 0.31 percent of the national vote with his best showing in New Hampshire at 1.5 percent.
Four years later, Birney returned to claim 2.3 percent including 8.5 percent in New Hampshire, 8.2 percent in Massachusetts, 8.1 percent in Vermont, 6.5 percent in his home state of Michigan, 5.7 percent in Maine, and more than three percent in Connecticut, Illinois, and New York.
Several decades later at the tail end of the 19th Century, the nation witnessed the biggest second chance success story in the annals of third party presidential politics.
In 1880, one-term Iowa Congressman James Weaver won 3.32 percent as the Greenback nominee including 11.3 percent in Texas, 10.0 percent in the Hawkeye State, 9.9 percent in Michigan and Kansas, 8.8 percent in Missouri, and 8.0 percent in Mississippi.
After winning two more terms in the U.S. House in the 1880s, Weaver ran as the Populist nominee in 1892 and more than doubled his national vote with 8.51 percent.
Weaver made it onto the ballot in nearly every state and won four of them (Colorado, Kansas, Idaho, and Nevada) tallying 22 Electoral College votes. [Weaver claimed one electoral vote in both North Dakota and Oregon as well].
The former congressman also won more than 40 percent of the vote in Nebraska, North Dakota, and Wyoming and north of 30 percent in Alabama, Oregon, and South Dakota.
The second third party nominee who was able to eclipse the one percent mark on his second attempt was Socialist Eugene Debs.
Debs received 0.62 percent of the vote in 1900 and nearly quintupled that mark in 1904 at 2.98 percent reaching his high water marks out West: 8.9 percent in California, 8.8 percent in Montana, 8.5 percent in Oregon, 7.6 in Nevada, 6.9 percent in Washington, and 6.8 percent in Idaho.
Debs would be the Socialist nominee in three more cycles and peaked in 1912 with 5.99 percent of the national vote.
The next third party presidential candidate to surpass one percent of the national vote on his second attempt was Socialist Norman Thomas.
Thomas won 0.73 percent in 1928 and tripled that amount in the midst of the Great Depression in 1932 with 2.23 percent including 4.8 percent in Wisconsin, 4.2 percent in Oregon, and more than three percent in Connecticut, Montana, New York, and Pennsylvania.
With less success, Thomas would also be the Socialist nominee in 1936 (0.41 percent), 1940 (0.23 percent), 1944 (0.16 percent), and 1948 (0.29 percent).
The last third party nominee to see a marked improvement during his second presidential campaign was Ralph Nader.
Nader received ballot access as the Green Party nominee or independent in 22 states in 1996 and collected 0.71 percent of the national vote.
Four years later, Nader got his name on the ballot in more states and won 2.74 percent of the national vote including 10.1 percent in Alaska, 6.9 percent in Vermont, 6.4 percent in Massachusetts, 6.1 percent in Rhode Island, and more than five percent of the vote in Colorado, Hawaii, Maine, Minnesota, Montana, Oregon, and the District of Columbia.
Other notable third party candidates who improved – though some quite modestly – during their second presidential run include:
Verne Reynolds (Socialist Labor): 0.06 percent in 1928 and 0.09 percent in 1932
Claude Watson (Prohibition): 0.16 percent in 1944 and 0.21 percent in 1948
Eric Haas (Socialist Labor): 0.05 percent in 1952 and 0.07 percent in 1956
Gus Hall (Communist): 0.03 percent in 1972 and 0.07 percent in 1976
Lyndon LaRouche (U.S. Labor, independent): 0.05 percent in 1976 and 0.09 percent in 1984
Earl Dodge (Prohibition): 0.00 percent in 1984 and 0.01 percent in 1988
Edward Winn (Workers League): 0.01 percent in 1980 and 0.02 percent in 1984
John Hagelin (Natural Law): 0.04 percent in 1992 and 0.12 percent in 1996
Howard Phillips (U.S. Taxpayers): 0.04 percent in 1992 and 0.19 percent in 1996
In addition to Debs in 1912, a few other third party nominees had their best showing subsequent to their second presidential run such as Communist William Foster in 1932 (0.26 percent, third run) and Socialist Workers nominee Farrell Dobbs in 1960 (0.06 percent, fourth run).
Two-dozen notable third party and independent candidates failed to improve their standing in the national vote during their second presidential campaign including Populist Thomas Watson, Prohibitionists Eugene Chafin and E. Harold Munn, Socialist Labor nominees Arthur Reimer, John Aiken, and Edward Teichert, Communists William Foster and Earl Browder, Socialist Workers nominees Farrell Dobbs, Clifton DeBerry, James Warren, James Harris, and Róger Calero, independent Eugene McCarthy, Workers World nominees Larry Holmes and Monica Moorehead, American nominee Delmar Dennis, New Alliance nominee Lenore Fulani, independent Ross Perot, Libertarian Harry Browne, Concerns of People/Prohibitionist Gene Amondson, and Constitution/Reform nominee Chuck Baldwin.
To improve on his 2012 performance, Johnson is likely hoping for a matchup between polarizing major party nominees (e.g. Hillary Clinton and Donald Trump) and an absence of a notable independent candidate in the mix (e.g. Michael Bloomberg).
Follow Smart Politics on Twitter.