Wasserman Schultz Could Become 2nd Party Leader to Lose Chair, Reelection in Same Year
It has been 150 years since the last time a sitting elected official lost their seat and saw their chairmanship end in the same year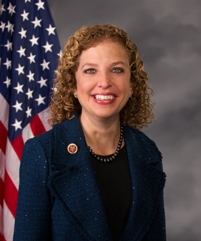 Debbie Wasserman Schultz's premature departure as chair of the Democratic Party this week means the six-term Florida U.S. Representative will now focus her efforts on surviving her Democratic primary for renomination next month.
Wasserman Schultz is facing the strongest opponent of her congressional career in Democratic law professor Tim Canova, who has benefited from Bernie Sanders' support to the tune of $2.2 million raised and nearly $1 million cash on hand through June.
The Florida congresswoman has not previously faced a primary challenger during her tenure in D.C. (nor did she even face a general election opponent in 2006) and the DNC e-mail scandal that forced her resignation as party chair could not have come at a worse time to fire up the pro-Sanders contingent in her district.
In the end, it could also put her name in the record books.
A Smart Politics analysis finds that if Debbie Wasserman Schultz loses her August 30th primary she will become just the second Democratic or Republican party leader to see their tenure as chair end and lose their seat to elected office in the same year – and the first since 1866.
Over the decades, many Republicans and Democrats – like Wasserman Schultz – have simultaneously served in elected office while holding the title of party chair.
Examples over the past half-century or so include Democrats Scoop Jackson of Washington, Fred Harris of Oklahoma, Chris Dodd of Connecticut, Roy Romer of Colorado and Republicans Thurston Morton of Kentucky, William Miller of New York, Rogers Morton of Maryland, Bob Dole of Kansas, and Jim Gilmore of Virginia.
However, since the establishment of these party positions in the mid-19th Century, only one leader both lost their seat and saw their chairmanship end during the same year – New York Republican Henry Raymond in 1866.
Raymond, a former lieutenant governor and state legislator, became the party's second chair following Edwin Morgan in 1864.
Raymond subsequently won a seat to the state's 6th congressional district as a Unionist and served one term.
In 1866, New Jersey Governor Marcus Ward took Raymond's place as head of the Republican Party and later that year the freshman lost his renomination bid to his congressional seat to Charles Spencer.
If Canova defeats Wasserman Schultz next month, she will add her name to this very short list.
Over the decades, just one party leader lost a reelection bid while serving as party chair, although he continued to serve as the party leader thereafter – William Butler of Massachusetts.
A former state legislator, Butler became chairman of the Republican National Committee in 1924 and was later appointed to the U.S. Senate in the Bay State that November after the death of long-serving GOPer Henry Cabot Lodge.
Butler continued to serve in both roles until he was defeated in a 1926 special election by former Democratic governor and U.S. Senator David Walsh.
However, Butler would remain chairman of the GOP until 1928.
Wasserman Schultz is hoping she will join the ranks of another short list – party chairs who were reelected to their congressional seat in the year their chairmanship came to an end:
1924: Tennessee Democratic U.S. Representative Cordell Hull (1921-1924)
1942: Massachusetts Republican U.S. Representative Joseph Martin (1940-1942)
A more common path for party chairs in the year of their exit is to run for a new political office.
Many have tried over the decades without success:
1876: New York Republican Edwin Morgan (1856-1864; 1872-1876) lost his gubernatorial bid by 3.0 points to Lucius Robinson
1916: New York Democrat William McCombs (1912-1916) lost by 15.1 points to William Calder in the state's U.S. Senate race
1920: Connecticut Democrat Homer Cummings (1919-1920) peaked in 9th place in the second round of balloting for his party's presidential nomination at the 1920 convention
1940: New York Democrat and Postmaster General James Farley (1933-1940) placed a distant second running for his party's nomination against Franklin Roosevelt at the 1940 convention
1948: Tennessee Republican B. Carroll Reece (1946-1948) lost by 31.9 points to Estes Kefauver in the race for U.S. Senate
1964: New York Republican William Miller (1961-1964) was roundly defeated in his bid for the vice-presidency on Barry Goldwater's ticket
In recent decades, a better recipe for success has been for exiting party chairs to wait at least a year to run for elected office such as Republicans George H.W. Bush (vice-president, president) and Haley Barbour (governor of Mississippi) and Democrats Steven Grossman (treasurer of Massachusetts), Ed Rendell (governor of Pennsylvania), Terry McAuliffe (governor of Virginia, on his second attempt), and Tim Kaine (U.S. Senator from Virginia).
Follow Smart Politics on Twitter.