Greitens Wins Most Divided GOP Gubernatorial Primary in Missouri History
Greitens moves on to the general election with the lowest support ever recorded by a major party gubernatorial nominee in Missouri across 56 primary contests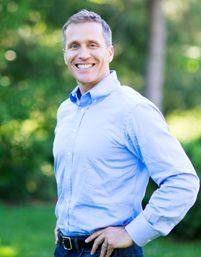 One of the nation's most closely watched races this primary season has been the Republican race for governor in Missouri, where the party is trying to regain control of a seat won by term-limited governor Jay Nixon over the last two cycles.
While Attorney General Chris Koster enjoyed a relatively easy path to the Democratic nomination – winning north of 78 percent of the primary vote Tuesday in a four-candidate field – the Republican race has produced high drama including the suicide of gubernatorial candidate and state Auditor Tom Schweich last year.
Three current and former state legislators also ended their bids along the way leaving four candidates in the primary: Lieutenant Governor Peter Kinder, businessman John Brunner, former U.S. Navy SEAL Eric Greitens, and former Missouri House speaker Catherine Hanaway.
If Republicans are going to defeat Koster in November they will need to unify around their nominee – something that did not happen on Tuesday in a historically divided vote.
A Smart Politics analysis finds Eric Greitens' 34.6 percent plurality victory marks the lowest support ever registered for a major party Missouri gubernatorial nominee across the 56 primaries conducted for the office since 1908.
Before Tuesday's election, the winning GOP nominee has averaged 65.4 percent of the vote across the 27 primaries conducted since 1908.
Greitens defeated Brunner (24.8 percent) by 9.8 points with 34.6 percent of the vote, with Kinder 13.9 points back at 20.7 percent and Hanaway 14.7 points behind with 19.9 percent.
Prior to Greitens, the previous low water mark in a primary by any major party gubernatorial nominee in the state was the 36.0 percent won by Democrat Frederick Gardner more than a century ago in 1912. Gardner won that race in a field of seven candidates that included the sitting Secretary of State (Cornelius Roach), Attorney General (John Barker), and Lieutenant Governor (William Painter).
The Democratic Party's 1908 nominee, former Congressman William Cowherd, was also held under the 40 percent mark (39.1 percent).
The last four times a Missouri Republican gubernatorial nominee failed to win a majority of the vote in a primary the party was defeated in the general election.
Missouri Republicans controlled the governorship heading into the 1932, 1944, 1992, and 2008 cycles.
The party hosted very competitive primaries during each of these cycles which resulted in plurality-winning nominees winning by the four closest victory margins for the office in party history.
All four of these bruised nominees were subsequently defeated that November in the general election.
In 1932, at the end of Governor Henry Caulfield's term, Lieutenant Governor Edward Winter defeated three-term Secretary of State Charles Becker by 1.9 points – the closest gubernatorial primary in GOP history.
Winter received just 39.9 percent of the vote with Becker at 38.0 percent and highway engineer and Jackson County surveyor Leo Koehler at 22.1 percent.
Prior to Greitens, Winter was the only Republican primary winner to fail to reach the 40 percent mark.
Winter lost the general election to judge Guy Park by 21.1 points.
In 1944, at the close of Governor Forrest Donnell's term, attorney Jean Paul Bradshaw (46.7 percent) defeated state party chairman Charles Ferguson (41.0 percent) by 5.7 points in a three-candidate field and then lost the general election to state senator Phil Donnelly by 2.0 points.
With John Ashcroft's two-term administration coming to an end in 1992, the GOP saw its big guns fight it out in the primary.
Two-term Attorney General William Webster (43.8 percent) edged two-term Secretary of State Roy Blunt (39.0 percent) by 4.8 points with two-term Treasurer Wendell Bailey (15.1 percent) in a distant third in a five-candidate contest.
Webster lost by 17.4 points to Democratic Lieutenant Governor Mel Carnahan that November.
In 2008, when Matt Blunt decided not to seek reelection after a controversial single term, six-term Congressman Kenny Hulshof (49.2 percent) defeated Treasurer Sarah Steelman (44.7 percent) by 4.5 points in the second closest GOP gubernatorial primary in state history.
Hulshof was routed by 18.9 points in November by four-term Attorney General Jay Nixon.
The remaining GOP gubernatorial primary plurality winners are Henry Lamm in 1916 (46.5 percent), Samuel Baker in 1924 (45.5 percent), and Henry Caulfield in 1928 (44.4 percent).
The four-candidate Republican primary field in 2016 was only slightly larger than average for the party. Across the 28 primaries since 1908 Missouri Republicans have fielded an average of 3.5 candidates per cycle.
Only twice has a Republican ran uncontested for the gubernatorial nomination – Attorney General Herbert Hadley in 1908 and incumbent Governor John Ashcroft in 1988.
Follow Smart Politics on Twitter.