Tom Price's Historically Short HHS Tenure
Price lasted less than a quarter of the time on the job than the average HHS secretary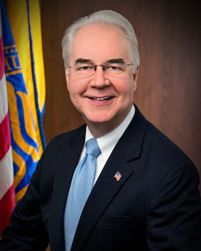 The resignation of Health and Human Services Secretary Tom Price last week was noteworthy not only for his extremely short time in office, but also for the stark contrast between his quick exit and the tenures of Barack Obama's original department heads.
Price's 232 days on the job ranks as the shortest tenure in history among the 23 appointees who served as secretary of Health and Human Services and its predecessor, the Department of Health, Education, and Welfare.
Price's tenure was 24 days shorter than Wilbur Cohen – the third and final secretary under President Lyndon Johnson. Cohen served eight months and 11 days until Richard Nixon took office in January 1969.
None of the other 21 secretaries served less than a year and only four others served less than two years:
Robert Finch (1969-1970, under Richard Nixon): 1 year, 5 months, 3 days
David Matthews (1975-1977, Gerald Ford): 1 year, 5 months, 13 days
Abraham Ribicoff (1961-1962, John Kennedy): 1 year 5 months, 24 days
Patricia Roberts Harris (1979-1981, Jimmy Carter): 1 year, 5 months, 24 days
The average tenure of the 23 men and women to serve in this position has been 2 years, 9 months, and 1 day – or more than four times longer than Price.
The three longest serving secretaries are Donna Shalala (1993-2001) at 7 years, 11 months, 29 days, Kathleen Sebelius (2009-2014) at 5 years, 1 month, 5 days, and Michael Leavitt (2005-2009) at 3 years, 11 months, 26 days.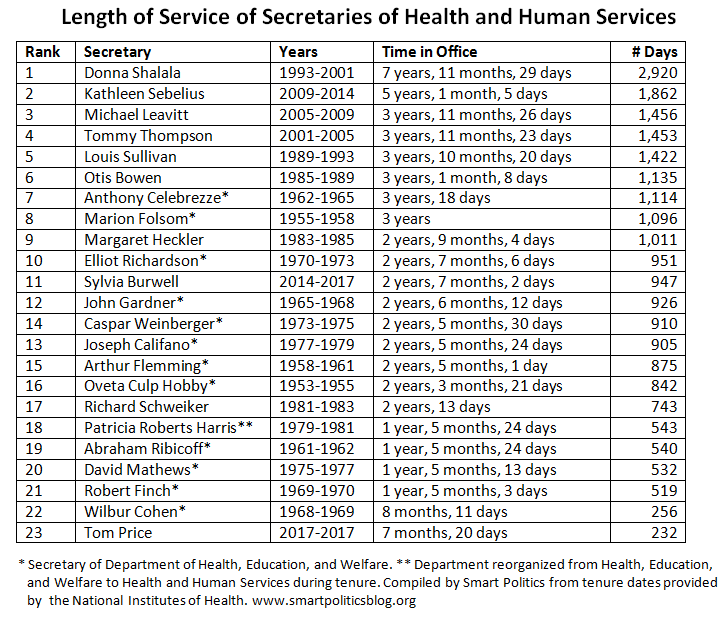 Price is the second cabinet head to leave his post during the Trump administration.
In late July, Homeland Secretary John Kelly resigned to become the president's chief of staff after Reince Priebus' departure.
Many reports have also surfaced highlighting President Trump's rocky relationship with Attorney General Jeff Sessions, although the former Alabama U.S. Senator remains in charge of the Justice Department.
By contrast, Barack Obama did not lose a department head in his first term until the end of June during his third year in office when Defense Secretary Bob Gates (a holdover from George W. Bush's administration) exited.
In fact, 13 of Obama's original 15 department heads lasted through the entirety of his first term (all but Gates and Commerce Secretary Gary Locke).
All told, many of Obama's appointees lasted an unusually long time in office.
Three were the longest ever to serve at their post:
Steven Chu (Energy): 4 years, 3 months, 3 days
Eric Shinseki (Veterans Affairs): 5 years, 4months, 10 days
Janet Napolitano (Homeland Security): 4 years, 7 months, 17 days
Three were the second longest to serve as head of their respective departments:
Shaun Donovan (Housing and Urban Development): 5 years, 6 months, 3 days
Arne Duncan (Education): 6 years, 11 months, 12 days
Kathleen Sebelius (Health and Human Services): 5 years, 1 month, 5 days
And two were the third longest serving in their position:
Eric Holder (Attorney General): 6 years, 2 months, 25 days
Ray LaHood (Transportation): 4 years, 5 months, 10 days
Physician Don Wright, who has served in HHS for a decade, was named acting secretary of the department after Price's resignation.
Follow Smart Politics on Twitter.