Jeff Flake Becomes 1st Arizona US Senator Not to Seek 2nd Term
Flake will tie Ralph Cameron for the shortest tenure in the chamber in state history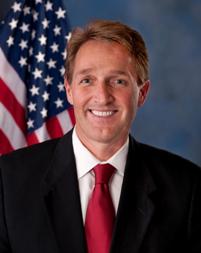 Jeff Flake's surprise announcement on Tuesday that he will not run for reelection in 2018 means he is the first of the 11 Arizona U.S. Senators since statehood never to run for a second term.
Arizona has a history of long-serving members of the nation's upper legislative chamber.
Democrats Carl Hayden (1927-1969) and Henry Ashurst (1912-1941) served seven and five terms respectively while Dennis DeConcini (1977-1995) served three and 'Mac' McFarland (1941-1953) and Marcus Smith (1912-1921) lasted two terms each.
On the Republican side, John McCain (1987-present) is in his sixth term, Barry Goldwater (1953-1965; 1969-1987) served five interrupted terms, Jon Kyl (1995-2013) served three, Paul Fannin (1965-1977) two, and Ralph Cameron (1921-1927) just one.
Flake will join Cameron as the only one-term senators in the history of the Grand Canyon State.
Cameron did seek reelection in 1926, but was defeated by Hayden, an eight-term U.S. Representative, by 16.7 points that November.
Flake becomes the sixth Arizona U.S. Senator to exit the chamber via retirement joining Hayden, Fannin, Goldwater (in 1986), DeConcini, and Kyl. [Goldwater also technically retired from the U.S. Senate in 1964 when he ran for the presidency].
Meanwhile, Ashurst lost his party's nomination in 1940 and Smith (1920), Cameron (1926), and McFarland (1952) were all defeated in the general election.
Arizona is one of only two states never to have a U.S. Senator die in office, along with neighboring Utah.
Flake bowed out in advance of what was shaping up to be an uphill battle to win his party's nomination next year, with former state senator and 2016 GOP candidate Kelli Ward leading him by double digits in all public polling conducted since the summer.
Fun fact: while Jon Kyl does not have the shortest tenure in state history, he does have the shortest name in the history of the U.S. Senate.
Follow Smart Politics on Twitter.