Sam Brownback and a Brief History of Gubernatorial Resignations
Over 100 elected governors have resigned since 1900; a state's last two elected governors have resigned back-to-back only 10 times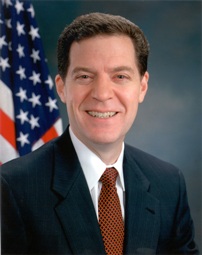 The U.S. Senate's razor-thin vote last week to confirm Sam Brownback as the U.S. Ambassador at-large for international religious freedom means the controversial two-term Kansas governor will shortly be resigning from his seat approximately a year before the end of his term.
Brownback will be the fifth Kansas governor to resign since statehood joining:
Republican Samuel Crawford: resigned a few months before the end of his second term in November 1868 to take command of the 19th Kansas Volunteer Regiment
Republican Frank Carlson: resigned six weeks early in November 1950 after winning a special election to the U.S. Senate
Republican Fred Hall: lost his 1956 renomination bid to Warren Shaw and then resigned 11 days before the end of his term in early January 1957
Democrat Kathleen Sebelius: resigned in the third year of her second term in April 2009 to become Barack Obama's Secretary of Health and Human Services
Once Brownback officially takes on his new role in the Trump administration, Kansas will have seen its last two elected governors resign. [Lieutenant Governor Mark Parkinson served in between Sebelius and Brownback, but was never elected to the office].
This has been rather unusual in the annals of U.S. politics. In fact, it has occurred just nine other times since the turn of the 20th Century:
South Carolina: Democrats Burnet Maybank in 1941 (to become a U.S. Senator) and Olin Johnston in 1945 (U.S. Senate)
Rhode Island: Democrats James McGrath in 1945 (U.S. Solicitor General) and John Pastore in 1950 (U.S. Senate)
Wyoming: Democrat Lester Hunt in 1949 (U.S. Senate) and Republican Frank Barrett in 1953 (U.S. Senate)
Arkansas: Democrats Dale Bumpers in 1975 (U.S. Senate) and David Pryor in 1979 (U.S. Senate)
Arkansas: Democrats Bill Clinton in 1992 (president) and Jim Guy Tucker in 1996 (fraud conviction)
Delaware: Republican Mike Castle in 1992 (U.S. House) and Democrat Tom Carper in 2001 (U.S. Senate)
Massachusetts: Republicans William Weld in 1997 (expected U.S. Ambassadorship) and Argeo Cellucci in 2001 (U.S. Ambassador to Canada)
New Jersey: Republican Christine Todd Whitman in 2001 (EPA Administrator) and Democrat Jim McGreevey in 2004 (affair with staffer)
Utah: Republicans Michael Leavitt in 2003 (EPA Administrator) and Jon Huntsman in 2009 (U.S. Ambassador to China)
Overall, more than 105 elected governors have resigned from office since 1900 – with nearly half of them doing so to take a seat in the U.S. Senate.
All told, 50 have done so since the turn of the 19th Century, including four currently serving in the chamber: the aforementioned Carper of Delaware (2001), North Dakota Republican John Hoeven (2010), West Virginia Democrat Joe Manchin (2010), and New Hampshire Democrat Maggie Hassan (2017) who exited her post two days before the end of her term.
Becoming a U.S. Senator is by far the most common destination for the men and women who resign from their governorship.
Ten others became U.S. department heads, eight received U.S. ambassadorships, seven received judicial appointments, three became president, one was elected to the U.S. House, and seven received other U.S. governmental posts.
Three elected governors resigned due to ill health: Democrats John Little of Arkansas in 1907, Joseph Toole of Montana in 1908, and Ella Grasso of Connecticut in 1980.
Another 12 quit in the face of personal scandals, ethical inquiries, or mounting criminal proceedings: Texas Democrat Pa Ferguson in 1917 (embezzlement), Indiana Republican Warren McCray in 1924 (mail fraud), Louisiana Democrat Richard Leche in 1939 (mail fraud), Alabama Republican Guy Hunt in 1993 (illegal use of campaign funds), Arkansas Democrat Jim Guy Tucker in 1996 (fraud), Arizona Republican Fife Symington in 1997 (fraud), New Jersey Democrat Jim McGreevey in 2004 (affair), Connecticut Republican John Rowland in 2004 (fraud), New York Democrat Eliot Spitzer in 2008 (prostitution scandal), Alaska Republican Sarah Palin in 2009 (ethics investigations), Oregon Democrat John Kitzhaber in 2015 (ethics investigation), and Alabama Republican Robert Bentley in 2017 (ethics, affair).
Six others resigned for various reasons, including one – Republican Harold Stassen of Minnesota – to serve in the Navy during World War II. Stassen resigned a few months into his third term in 1943 and eventually achieved the rank of captain and was highly decorated for his service including being awarded the Legion of Merit.
Only seven states have not had an elected governor exit office via resignation since 1900: Hawaii, Maryland, Missouri, Mississippi, North Carolina, Virginia, and Washington.
In addition to Brownback, Huntsman, and Cellucci listed above, other governors who resigned for an ambassadorship include Democrat Raul Castro of Arizona in 1977 (Argentina), Democrat Patrick Lucey of Wisconsin in 1977 (Mexico), Democrat Richard Kneip of South Dakota in 1978 (Singapore), Republican Nikki Haley of South Carolina in 2017 (United Nations), and Republican Terry Branstad of Iowa in 2017 (China).
Follow Smart Politics on Twitter.