Are the Eyes of Kansas Democrats Getting Wider?
The party has picked up more than one U.S. House seat during just three cycles since statehood – each time riding a massive national Democratic wave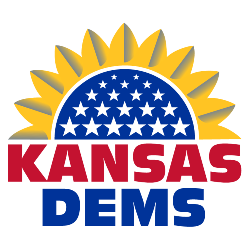 Democrats may very well take back control of the U.S. House after the 2018 elections without picking up a seat in Kansas, but if seats do flip from red to blue in the Sunflower State this November the party is assured of being in the majority during the 116th Congress.
Kansas Democrats are probably as bullish about their opportunities for pick-ups in the chamber this cycle as they have been in more than a decade.
The last time the party flipped a seat was in 2006 when Nancy Boyda ousted five-term incumbent Jim Ryun in a rematch of the 2004 2nd CD race.
This year, Lynn Jenkins' retirement leaves the 2nd CD open and former state representative and 2014 gubernatorial nominee Paul Davis will likely await whichever Republican emerges from that party's competitive primary with more money on hand. [Note: Former Topeka city councilman Nathan Schmidt is considering an 11th hour bid against Davis].
A bevy of Democrats have lined up in the 3rd CD to take on what the party believes to be a vulnerable incumbent – four-term Republican Kevin Yoder. The Democratic field is led by investor and 2016 nominee Jay Sidie (who lost to Yoder by 10.7 points last cycle), attorney Brent Welder, educator Tom Niermann, Army veteran Sharice Davids, and businessman Mike McCamon. [A few Democrats have already withdrawn from the race, including top recruit Andrea Ramsey due to the resurfacing of a 2005 sexual harassment lawsuit].
National prognosticators have highlighted both of these districts as legitimate opportunities for Democratic gains, as the party attempts to net two-dozen seats.
Meanwhile, in the 4th CD, attorney James Thompson is seeking a rematch against freshman Ron Estes, who escaped with a 6.2-point win in last April's special election to fill Mike Pompeo's seat.
While Republican nominees are not normally vulnerable in this deep red district, Thompson's strong performance a year ago puts him on the Democratic Party's fundraising radar in what could be a third competitive race in the state. [Middle East trade association executive Laura Lombard is running against Thompson in the primary].
But will Democrats be able to flip these seats on November 6th?
To be sure, Democratic pick-ups in Kansas U.S. House races have been few and far between over the last half-century.
Since 1966, Democrats have cashed in on only five of 92 opportunities in Republican-held seats during this 26-cycle span:
1970 (2nd CD): Physician Bill Roy unseated three-term incumbent Chester Mize by 7.4 points
1976 (4th CD): Attorney Dan Glickman defeated eight-term Republican Garner Shriver by 1.8 points
1982 (2nd CD): Former state legislator Jim Slattery defeated Morris Kay in an open seat race by 14.9 points
1998 (3rd CD): Attorney Dennis Moore beat freshman Vince Snowbarger by 4.8 points
2006 (2nd CD): Nancy Boyda defeated five-term Republican Jim Ryun by 3.5 points
Overall, Kansas Democrats have flipped the partisan control of 23 U.S. House seats in 372 chances in general and special elections since statehood, or 6.2 percent of the time.
And while picking up even a single U.S. House seat has been an unusual feat for Democrats in the annals of Kansas electoral history, picking up more than one seat in a given cycle has been particularly rare.
Such an event has occurred in only three cycles and corresponded with a massive Democratic national wave each time.
Kansas Democrats first flipped more than one seat in 1912 when the party knocked three Republican freshmen out of office: Strong City Mayor Dudley Doolittle beat Fred Jackson in the 4th CD by 1.5 points, attorney Guy Helvering defeated Rollin Rees in the 5th by 3.9 points, and Colby mayor and newspaperman John Connelly unseated Isaac Young in the 6th by 2.4 points.
Nationally, Democrats netted 61 seats that cycle with Woodrow Wilson winning the presidency against a divided Republican Party.
Two decades later, in 1932, Democrats picked up two Kansas U.S. House seats: state legislator Randolph Carpenter unseated eight-term incumbent Homer Hoch in the 4th by 0.7 points and attorney Kathryn O'Loughlin McCarthy defeated three-term Republican Charles Sparks in the 6th by 11.1 points.
With Franklin Roosevelt at the top of the ticket, Democrats netted a whopping 97 seats across the country.
A quarter-century later in 1958, Democrats netted more than one congressional seat for the last time in the state: attorney Newell George eked out a 1.5-point win against eight-term incumbent Errett Scrivner in the 2nd and Coffeyville Mayor Denver Hargis beat five-term Republican Myron George by 3.5 points.
Democrats netted 49 seats during the second midterm election of President Dwight Eisenhower's administration.
It should be noted that Kansas is also holding a gubernatorial election at the top of the ticket in 2018.
During the 16 cycles in which Democrats have flipped a U.S. House seat with a gubernatorial race on the ballot, the party also won the governorship in seven of these: 1912 (George Hodges), 1922 (Jonathan Davis), 1956 (George Docking), 1958 (George Docking), 1970 (Robert Docking), 1982 (John Carlin), and 2006 (Kathleen Sebelius).
The congressional filing deadline for Kansas' August 7th primary is June 1st.
Follow Smart Politics on Twitter.