A Review of US House Speakers by State
The 54 speakers in U.S. history have come from less than two-dozen states, with speakers from five states collectively accounting for more than half the time in office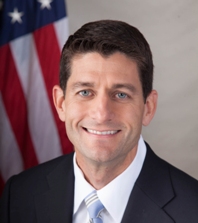 Paul Ryan's announcement on Wednesday that he will retire at the end of his 10th term this year guarantees the 116th Congress will have a new U.S. House speaker, even if Republicans maintain what would be a remarkable hold on their control of the chamber this November.
Immediately after that news was leaked, speculation began that Majority Whip Steve Scalise of Louisiana's 1st Congressional District would be favored to vie for Ryan's office next January on the GOP side of the aisle.
Ryan is the first Wisconsinite to serve as speaker in the 229-year history of the legislative body and will end his tenure with 3 years, 2 months, 6 days on the job in January 2019.
Scalise is the only member of the Republican leadership who represents a district in a state that has not yet produced a House speaker: Majority Leader Kevin McCarthy of California, Conference Chair Cathy McMorris Rodgers of Washington, Conference Vice-Chair Doug Collins of Georgia, Conference Secretary Jason Smith of Missouri, Campaign Committee Chair Steve Stivers of Ohio, and Policy Committee Chair Luke Messer of Indiana (who is running for U.S. Senate this cycle).
Overall, 27 states have never produced a speaker – mostly from the West or sparsely populated states: Alaska, Arizona, Arkansas, Colorado, Delaware, Florida, Hawaii, Idaho, Kansas, Louisiana, Maryland, Michigan, Minnesota, Mississippi, Montana, Nebraska, Nevada, New Hampshire, New Mexico, North Dakota, Oregon, Rhode Island, South Dakota, Utah, Vermont, West Virginia, and Wyoming.
Twenty-two speakers have come from the South, with 18 from the Northeast, 12 from the Midwest, and just two from the West (Democrats Tom Foley of Washington and Nancy Pelosi of California).
Massachusetts by far leads the nation with the largest number of speakers in the history of the office with eight: Federalist Theodore Sedgwick (1799-1801), Jeffersonian Republican Joseph Varnum (1807-1811), Whig Robert Winthrop (1847-1849), the American Party's Nathaniel Banks (1856-1857), Republican Frederick Gillett (1919-1925), Republican Joseph Martin (1947-1949; 1953-1955), Democrat John McCormack (1962-1971), and Democrat Tip O'Neill (1977-1987).
Kentucky and Virginia have each produced four speakers with three coming from Georgia, Illinois, Indiana, Ohio, Pennsylvania, Tennessee, and Texas.
Massachusetts U.S. Representatives also lead the country logging a collective 34.6 years as speaker over the decades. That amounts to 18.4 percent of the time the legislative body has been led by a speaker since 1789.
Texas is next at 20.8 years followed by Illinois (15.3), Kentucky (14.7), Ohio (10.4), Maine (9.7), and Pennsylvania (8.5).
Speakers from just five states – Massachusetts (18.4 percent), Texas (11.1 percent), Illinois (8.2 percent), Kentucky (7.8 percent), and Ohio (5.5 percent) – constitute more than half of the total time in office logged by the 54 speakers in U.S. history (95.8 of 187.7 years, or 51.0 percent). [Note: The sum total of House Speaker tenures is less than the number of years in which the legislative body has existed because elections for the position were frequently not held until late in the year until the 21st Century].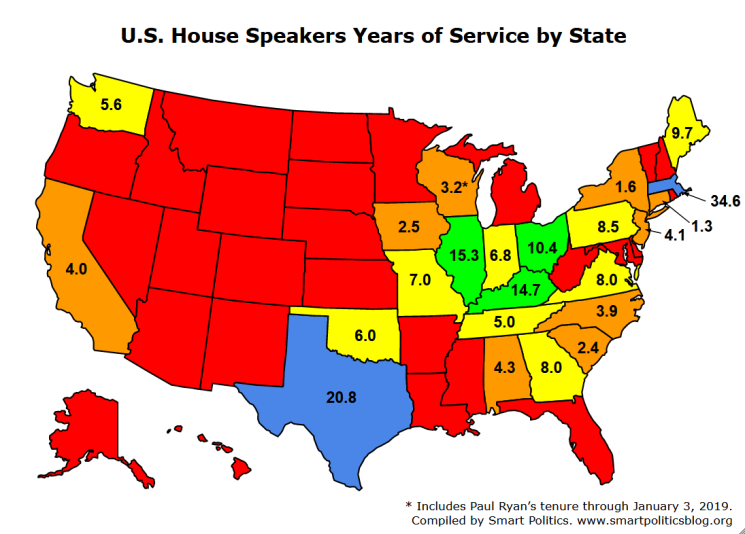 Speakers from southern states have led the chamber for 73.1 years with those from the Northeast at 59.8 years, the Midwest at 45.2 years, and the West at just 9.6 years.
Follow Smart Politics on Twitter.