Stacey Abrams Notches 3rd Best Showing in Contested Georgia Democratic Gubernatorial Primary Since 1898
Only two Democratic gubernatorial nominees who faced primary challengers over the last 120 years garnered a larger percentage of the vote than Abrams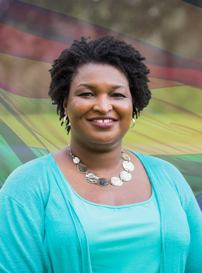 Former state representative Stacey Abrams made headlines Tuesday evening by becoming the first black woman to be nominated for governor by a major party in U.S. history.
Abrams' victory against former legislator Stacey Evans was not only decisive – winning by 53 points – but the newly minted nominee turned in one of the most impressive primary victories for the office in Georgia Democratic Party history.
Smart Politics reviewed the results of the 44 Democratic statewide primaries conducted in Georgia since the first contest in 1898 and found that the 76.5 percent of the vote won by Abrams is the third largest support received by a nominee across the 38 contested primaries in party history.
Over the last 120 years, only two nominees received a larger share of the Democratic primary vote than Abrams of those who did not run unopposed – Ernest Vandiver in 1958 and Governor Joe Frank Harris in 1986.
Vandiver, the state's lieutenant governor, was opposed by two candidates 60 years ago: former state representative and arch segregationist Reverend William Bodenhammer and gospel singer Lee Roy Abernathy.
Vandiver rolled to a 66.3-point victory over Bodenhammer with 80.5 percent of the vote.
No other Democratic nominee had won more than 63 percent of the vote in a contested primary up to that point.
Note: With the exception of 1908's direct primary, for decades winners of Democratic nominations in Georgia were calculated by the number of winner-take-all county unit votes collected by a candidate (either two, four, or six votes depending on the population of the county). Those votes would subsequently translate into convention votes. As such, candidates who performed well in rural areas (counties with low population) could overtake candidates who ran up their popular vote margin by carrying the state's more heavily populated counties. However, prior to the current runoff primary system, only on rare occasion did the winner of the popular vote lose at the convention (e.g. former state legislator James Carmichael who beat former Governor Eugene Talmadge by 2.3 points in the popular vote but lost the nomination).
Vandiver's mark lasted until 1986, when Governor Joe Frank Harris won 85.3 percent in his race against law student Kenneth Quarterman.
Six gubernatorial nominees from the party have run unopposed in the statewide primary: Governors Allen Candler in 1900, Joseph Terrell in 1904, Hugh Dorsey in 1918, Clifford Walker in 1924, Roy Barnes in 2002, and State Senator Jason Carter in 2014.
When including Republican contests for the office, Abrams registered the fifth largest support out of 50 candidates facing primary opposition behind only former GOP state Representative Rodney Cook in 1978 (87.3 percent), Governor Sonny Perdue in 2006 (88.4 percent), Vandiver (80.5 percent), and Harris (85.3 percent).
The average percentage of the vote received by the winner of the 38 contested Democratic primaries over the last 120 years is 52.5 percent, with an average of 4.5 candidates on the ballot.
Abrams' 53.0-point margin of victory against Evans ranks fourth all time in Georgia Democratic primary history behind Harris' 70.6-point win in 1986 over Quarterman, Vandiver's 66.3-point victory in 1958 against Bodenhammer, and Governor George Busbee's 56.3-point win in 1978 against state Senator Roscoe Dean.
Follow Smart Politics on Twitter.