How Well Will the GOP Fare in New England's 2018 Gubernatorial Races?
Despite a seemingly Democratic-friendly cycle, Republicans may add to their gubernatorial majority in the region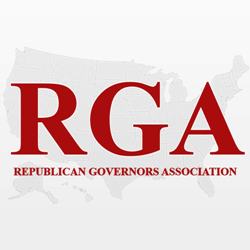 While Democrats are still hoping for a banner year in the 2018 midterms – particularly in congressional races – the party also hopes to pick up seats in several gubernatorial contests across the country.
Democrats are well-positioned to flip states like Illinois and New Mexico and have decent chances to do so in Florida, Maine, Michigan, and Nevada.
Picking up Maine's open seat race (where controversial Governor Paul LePage is term-limited) is seemingly the best chance Democrats have in New England where the party only holds two of six seats.
Three Republican incumbents are on the ballot in New England, and all three clock in with approval ratings in the Top Five among governors across the nation.
According to Morning Consult's latest survey, Charlie Baker of Massachusetts (71 percent), Phil Scott of Vermont (65 percent), and Chris Sununu of New Hampshire (63 percent) rank first, fourth, and fifth respectively in gubernatorial approval marks. [The outgoing LePage ranks 12th lowest at 41 percent].
On the other side of the coin, outgoing Democratic governor Dan Malloy of Connecticut (21 percent) and Gina Raimondo of Rhode Island (39 percent), who is seeking a second term, own the lowest and 10th lowest approval ratings respectively.
Pending upcoming late summer primaries, the GOP seems poised to run bona fide challengers in each state with former U.S. Senate nominee Ned Lamont in Connecticut potentially matched up against GOP Danbury Mayor Mark Boughton and (with less certainty) Governor Raimondo eying a rematch against Cranston Mayor and 2014 nominee Allan Fung in the Ocean State.
And so, with Democrats facing uphill challenges in Massachusetts, New Hampshire, and Vermont, Republicans will therefore have an opportunity – despite the anticipated Democratic wave – to emerge from the 2018 cycle maintaining a majority of New England governorships, and an outside chance at claiming five of the six seats.
Such a feat has rarely been accomplished by the party in the modern political era.
In fact, of the last 22 cycles since 1940 during which all six New England states had a gubernatorial race on the ballot, Republicans have won five of these states only twice: during the 1946 GOP wave and in 2002.
The 1946 midterms were brutal for Democrats, suffering net losses of 54 U.S. House, 10 U.S. Senate, and two gubernatorial seats.
One of those losses came in Massachusetts where Governor Maurice Tobin was knocked out of office by Lieutenant Governor Robert Bradford.
The GOP held seats in Connecticut (James McConaughy), Maine (Governor Horace Hildreth), New Hampshire (Governor Charles Dale), and Vermont (Ernest Gibson) to notch five wins in the region. [Democratic Governor John Pastore survived in Rhode Island].
Republicans would win four of these states during four subsequent midterms over the next half-century: in 1950 (Connecticut, Maine, New Hampshire, Vermont), 1970 (Connecticut, Massachusetts, New Hampshire, Vermont), 1990 (Maine, Massachusetts, New Hampshire, Vermont), and 1994 (Connecticut, Massachusetts, New Hampshire, Rhode Island).
[The GOP would also win four states in 1952 and 1960 – all but Rhode Island – but Connecticut stopped holding elections during presidential election cycles after 1948].
Although the cycle was not a wave election for the party, Republicans also claimed five governorships in the region during the 2002 midterms, winning open Democratic seats in New Hampshire (with Craig Benson) and Vermont (Jim Douglas), holding open seats in Massachusetts (Mitt Romney) and Rhode Island (Don Carcieri), plus holding Connecticut as Governor John Rowland was reelected to a third term.
Before World War II, it was quite common to see Republicans sweep all six New England states.
Since the turn of the 20th Century, the GOP ran the table in the region nine times: in 1900, 1908, 1916, 1918, 1920, 1924, 1926, 1928, and 1938.
Overall, Republicans have won 201 of the 320 gubernatorial elections held in the region since 1900 (62.8 percent) winning 72.9 percent of the races in New Hampshire and Vermont (43 of 59), 64.4 percent in Maine (29 of 45), 60.7 percent in Massachusetts (34 of 56), 54.8 percent in Connecticut (23 of 42), and 49.2 percent in Rhode Island (29 of 59).
With the most unpopular outgoing governor in the nation in Connecticut, an unpopular governor running for reelection in Rhode Island, and three extremely popular Republican incumbents in Massachusetts, New Hampshire, and Vermont, the pressure is on Democrats to flip the governorship in Maine to avoid a possible regional  sweep.
At this stage it is difficult for prognosticators to weigh in on Maine's gubernatorial race, where nominees will now be selected via ranked choice voting in the primary.
Follow Smart Politics on Twitter.