Wisconsin's 2018 Gubernatorial Primary By the Numbers
A record number of candidates on the Democratic ballot will likely result in the party producing a nominee with the second lowest support heading into the general election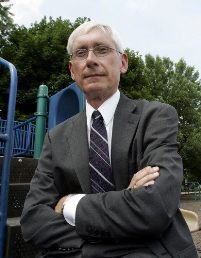 A second poll has been released within a week that shows Wisconsin Superintendent of Public Instruction Tony Evers with a healthy lead against two-term GOP Governor Scott Walker – 48 to 41 percent among registered voters.
The Emerson College survey also found Evers to be the overwhelming favorite to win the crowded Democratic primary.
However, while Evers' advantage in the primary has hovered around the 20-point mark, he has not yet coalesced the support of even one-third of potential Democratic primary voters – topping out thus far at approximately 30 percent.
And so, with two weeks until Primary Day, the August 14th nomination contest may not provide the kind of drama that was expected earlier in the cycle, but there are nonetheless several state records that will be set, tied, or come close to being broken.
Record Number of Candidates
The 10 Democratic candidates on the 2018 primary ballot marks both party and state records in a Wisconsin gubernatorial race.
[Note: While two candidates have withdrawn from the race – state Assemblyman Dana Wachs and businessman Andy Gronik – their names will still appear on the ballot].
Prior to 2018, the largest number of candidates in a Badger State gubernatorial primary was six – a mark reached three times:
1914 (Republican): Milwaukee Police Commissioner Emanuel Philipp (35.1 percent) defeated state legislator and former Treasurer Andrew Dahl (22.2 percent) as well as New London lumberman and former state Senator William Hatton (18.7 percent), publisher and state Assemblyman Henry Roethe (10.0 percent), state Assembly Speaker Merlin Hull (8.7 percent), and Bruce Utman of Hudson (5.4 percent)
1920 (Republican): Attorney General John Blaine (29.9 percent) narrowly beat state Senator Roy Wilcox (27.0 percent), physician Gilbert Seaman (15.6 percent), Secretary of State Merlin Hull (12.0 percent), Lieutenant Governor Edward Dithmar (8.3 percent), and progressive farmer James Tittemore (7.2 percent)
1942 (Democratic): Kaukauna dentist William Sullivan (24.3 percent) eked out a win against endorsed candidate and Appleton attorney Gustav Keller (24.0 percent) with former U.S. Representative Raymond Cannon (17.2 percent), Corporal Stanley Fajkowski (16.0 percent), druggist Albert Wilde (11.2 percent), and Burlington songwriter Joseph Conlin (7.3 percent) rounding out the field
After including Scott Walker and his GOP challenger, businessman Robert Meyer, the 2018 cycle also shatters the state record for the most cumulative major party candidates for governor on the state primary ballot with 12.
That breaks the previous mark of eight Democrats and Republicans who ran for their party's nomination in the state's second primary in 1914. Seven major party candidates ran in 1920, 1946, 1986, and 2012.
Even when including Progressives – who essentially had major party status in the 1930s and 1940s – the three parties topped out at 11 candidates for governor on the primary ballot twice: in 1942 (five Progressives, four Democrats, two Republicans) and 1946 (five Republicans, four Progressives, two Democrats).
Lowest Support for a Democratic Nominee?
Unless Evers' campaign endures a significant setback during the next fortnight, it is unlikely he will go down in the history books with the lowest support for a Democratic gubernatorial nominee in state history – although he may end up second on that list.
The aforementioned Democrat William Sullivan won just 24.3 percent in 1942's six-candidate race en route to winning just 12.3 percent – the second-worst showing by a Democratic gubernatorial nominee in Wisconsin history.
[The worst general election performance by a Democrat came in 1938 when state Senator Harry Bolens won just 8.0 percent. But Bolens was selected as the party's nominee a month before the general election after coalition candidate Robert Henry withdrew from the race leaving Democrats without a nominee. Note: Arthur Bentley, winner of the party's 1922 primary, ran as an independent Democrat in the general election and won 10.6 percent.]
Just two other Democratic nominees have failed to win 40 percent of the primary vote across the 42 previous primaries conducted for the office since 1912.
Former two-term Republican Governor Francis McGovern won the 1940 Democratic primary with 38.9 percent in a four-candidate field that included former congressman Raymond Cannon and 1938 Secretary of State nominee William Callahan. McGovern won just 19.3 percent that November.
In 2002, Attorney General Jim Doyle captured only 38.4 percent of the primary vote – besting congressman Tom Barrett and Dane County Executive Kathleen Falk.
Three other Democrats were nominated with pluralities over the decades: Madison Mayor Albert Schmedeman in 1932 (44.0 percent), Lieutenant Governor Patrick Lucey in 1966 (45.2 percent), and former state legislator and DNR Secretary Tony Earl in 1982 (45.9 percent).
Walker To Tie State Record
As for the Republicans, with his expected landslide renomination victory, Governor Walker will tie a state record with his fourth gubernatorial primary win.
Walker will join GOPer Tommy Thompson (1986, 1990, 1994, 1998) as the only major party candidates in the state to win four nominations for governor in the direct primary era.
Philip Fox La Follette also won four nominations – once as a Republican (1930) and three times as a Progressive (1934, 1936, 1938).
Eight other candidates have been nominated three times: Democrats Albert Schmedeman (1928, 1932, 1934), William Proxmire (1952, 1954, 1956), and Patrick Lucey (1966, 1970, 1974) and Republicans Emanuel Philipp (1914, 1916, 1918), John Blaine (1920, 1922, 1924), Julius Heil (1938, 1940, 1942), Walter Kohler, Jr. (1950, 1952, 1954), and Warren Knowles (1964, 1966, 1968).
Prior to the adoption of direct primaries in 1912, the only major party candidate to win four gubernatorial nominations was Democratic newspaperman and Milwaukee Mayor George Peck (1890, 1892, 1894, 1904).
Walker is unlikely to break his own state record for the strongest primary performance by a sitting Wisconsin governor in a contested primary.
In 2012's recall election primary, Walker won 96.9 percent of the GOP vote in a two-candidate race against 23-year-old political novice Arthur Kohl-Riggs.
This cycle, Walker is being challenged by businessman Robert Meyer of Sun Prairie.
Republican governors have run unopposed in eight out of the 25 times they have sought another term during the direct primary era: Francis McGovern (1912), Walter Kohler, Jr. (1952, 1954), Vernon Thompson (1958), Warren Knowles (1966, 1968), Tommy Thompson (1994), and Walker (2014). Three other GOP governors lost their party's nomination – all in back-to-back-to-back cycles: Fred Zimmerman in 1928, Walter Kohler, Sr. in 1930, and Philip Fox La Follette in 1932.
Non-incumbents running unopposed in the Republican primary include Attorney General Vernon Thompson (1956), former state party Chair Philip Kuehn (1960), former Madison Mayor William Dyke (1974), and U.S. Representative Mark Green (2006).
Democratic nominees have run without opposition in the primary 15 times: former Ashland Mayor Burt Williams (1916), bank president Henry Moehlenpah (1918), Colonel Robert McCoy (1920), circuit court Judge Martin Lueck (1924), former state Assemblyman Virgil Cady (1926), Madison Mayor Albert Schmedeman (1928), Milwaukee attorney Charles Hammersley (1930), state Assemblyman William Proxmire (1952, 1956), state Senator Gaylord Nelson (1958, 1960), Attorney General John Reynolds (1962), Assembly Speaker Tom Loftus (1990), state Senator Chuck Chvala (1994), and Governor Jim Doyle (2006).
Follow Smart Politics on Twitter.