Chuck Grassley: Win One for the…Grim Reaper?
One in six former Iowa U.S. Senators died in office – although none in 80+ years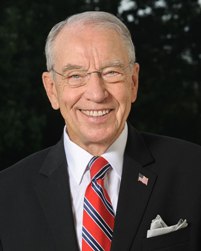 Among the pitches Chuck Grassley made last week as to why Iowans should vote for Republican Kim Reynolds in next month's gubernatorial election, was the warning that the next governor could be appointing a new U.S. Senator should his health fail:
"Something could happen to me in the next four years. I don't want a Democrat appointing my successor who would then be a Democrat, not a Republican. Keep that in mind when you work for Kim Reynolds."
Grassley, who by all accounts is in reasonably good health, is still by far the oldest Iowan to serve in the U.S. Senate – clocking in at 85 years, 1 month, 14 days through Tuesday.
No other delegation member ever reached 80 years of age, although six served into their 70s:
Republican William Allison (1873-1908): 79 years, 5 months, 3 days
Republican Albert Cummins (1908-1926): 76 years, 5 months, 16 days
Democrat Guy Gillette (1936-1945; 1949-1955): 75 years, 11 months, 1 day
Republican John Gear (1895-1900): 75 years, 3 months, 8 days
Democrat Tom Harkin (1985-2015): 75 years, 1 month, 16 days
Republican Bourke Hickenlooper (1945-1969): 72 years, 5 months, 14 days
The average age of the state's 32 former senators at the time of their (final) exit from the chamber was 59.3 years. [Four Iowans served two or more stints in the senate: Free Soiler/Republican James Harlan, Republican Samuel Kirkwood, Republican Smith Brookhart, and Democrat Guy Gillette].
To Grassley's point, however, several Iowa U.S. Senators have died in office – five of the 32 former delegation members since statehood, or nearly one in six.
However, none passed away over the last 80 years – and the five who died in office all did so within a 36-year period.
Republican John Gear – the state's 11th U.S. Senator – was the first to die in office in July 1900 before the start of his second term.
Long-serving GOP Senator William Allison died during his sixth term in August 1908 – followed soon thereafter by Gear's successor, Republican Jonathan Dolliver, in October 1910.
Dolliver remains the youngest Iowa U.S. Senator to die in office at 52 years, 8 months, 10 days.
Allison's successor, Republican Albert Cummins, died during his fourth term in July 1926.
The fifth and final Iowa U.S. Senator to pass away during his term was Democrat Richard Murphy in July 1936. Murphy, serving in his first term, died in an automobile accident in Wisconsin at the age of 60 years, 8 months, 11 days.
Grassley is already the longest-serving U.S. Senator in Iowa history at 37 years, 9 months, 28 days through Tuesday.
Senator Grassley passed Allison near the end of his sixth term in early June 2016. Allison served 35 years, 5 months, 1 day.
Follow Smart Politics on Twitter.