Climbing the Ladder: US Senators Running for President
With the addition of Gillibrand, the 2020 field ties 1972 and 2016 for the most sitting U.S. Senators running for president in the modern primary era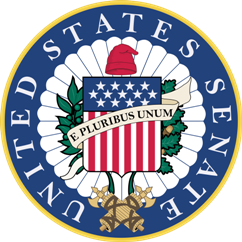 Democratic New York U.S. Senator Kirsten Gillibrand made it official on Sunday – launching her presidential campaign some two months after forming an exploratory committee.
Gillibrand is now the sixth sitting U.S. Senator to announce a 2020 presidential bid, joining fellow Democrats Kamala Harris of California, Cory Booker of New Jersey, Elizabeth Warren of Massachusetts, Amy Klobuchar of Minnesota, and independent (turned Democrat?) Bernie Sanders of Vermont.
Much has been made this cycle about the large number of senators vying to take on Donald Trump next year, and Gillibrand appears to be the last sitting member of the chamber likely to enter the race.
Although the more common pathway for winning presidential candidates in the modern primary era has been the governorship (e.g. Jimmy Carter, Ronald Reagan, Bill Clinton, and George W. Bush) dozens of senators have attempted a run at the White House, but only one has been successful.
Since 1972, a total of 59 sitting or former U.S. Senators from 34 states have formally run for president a collective 74 times with only one winner – Barack Obama in 2008.
The only states not to generate a presidential candidate who had served in the U.S. Senate during this period are Alabama, Arkansas, Georgia, Hawaii, Louisiana, Maryland, Michigan, Mississippi, Missouri, Montana, New Mexico, Nevada, North Dakota, Oregon, Wisconsin, and Wyoming.
One aspect of Obama's candidacy in 2008 that garnered him a lot of headlines was his entrance into the race as a first-term U.S. Senator (with just a shade more than two years on the job when he launched his campaign).
Harris is looking to follow suit, having just completed her second year in the chamber two and one-half weeks prior to her 2020 campaign launch.
The average length of U.S. Senate service for those who have run for president since 1972 has been 2.5 terms, although several lawmakers have run for the White House without a full term under their belt: Democrats Lloyd Bentsen of Texas (1976), Paul Simon of Illinois (1988), Al Gore of Tennessee (1988), Bob Kerrey of Nebraska (1992), John Edwards of North Carolina (2004), Obama (2008), and Harris (2020), and Republicans Larry Pressler of South Dakota (1980), Marco Rubio of Florida (2016), Rand Paul of Kentucky (2016), and Ted Cruz of Texas (2016).
Add to that tally a handful of Democratic candidates who ran for president upon leaving the chamber after only one term: Paul Tsongas of Massachusetts (1992), Carol Moseley Braun of Illinois (2004), Edwards (2008), and Jim Webb of Virginia (2016).
Overall, 51 of the 74 presidential candidacies by sitting or former U.S. Senators were for the Democratic nomination, with just 22 for the GOP (including three by Bob Dole and two by John McCain), and one independent candidacy (Eugene McCarthy in 1976).
The six sitting U.S. Senators on the campaign trail in 2020 ties the all-time mark reached twice before in the modern primary era:
1972: Democrats Vance Hartke (Indiana), Ed Muskie (Maine), Hubert Humphrey (Minnesota), Fred Harris (Oklahoma), George McGovern (South Dakota), and Scoop Jackson (Washington)
2008: Democrats Chris Dodd (Connecticut), Joe Biden (Delaware), Barack Obama (Illinois), and Hillary Clinton (New York) and Republicans John McCain (Arizona) and Sam Brownback (Kansas)
If former senators are included, the 2020 field has a way to go tie the 2008 and 2016 fields which tallied nine each.
The 2008 hopefuls included the six senators listed above plus Democrats Mike Gravel of Alaska and John Edwards of North Carolina plus Republican Fred Thompson of Tennessee.
In addition to sitting U.S. Senators Sanders, Rubio, Paul, Cruz, and Lindsey Graham of South Carolina, the 2016 field also included ex-Senators Jim Webb of Virginia, Hillary Clinton of New York, Lincoln Chafee of Rhode Island, and Rick Santorum of Pennsylvania.
Prior to 1972, U.S. Senators who later became president include Democratic-Republicans James Monroe and John Quincy Adams, Democrats Andrew Jackson, Martin Van Buren, Franklin Pierce, James Buchanan, Andrew Johnson, Harry Truman, John Kennedy, and Lyndon Johnson, Whigs William Harrison and John Tyler, and Republicans Benjamin Harrison, Warren Harding, and Richard Nixon.
Follow Smart Politics on Twitter.