Will Jon Huntsman Make a Historic Return to Utah's Governorship?
The Beehive State's former chief executive may be one of several prominent Republicans looking at a 2020 bid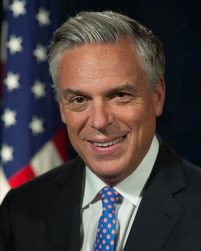 Word that Republican Jon Huntsman is considering a return to his former job as governor of Utah adds yet another big name to the list of rumored GOP candidates who may vie for their party's nomination to the state's highest elected office.
No major candidate has yet formally announced a bid, but several have shown interest including Lieutenant Governor Spencer Cox, state Attorney General Sean Reyes, state Auditor John Dougall, former U.S. Representative Jason Chaffetz, congressman Rob Bishop, and former state House Speaker Greg Hughes.
[Though few are expected to get in the race should popular Governor Gary Herbert unexpectedly reverse course and run for a third full term].
If Huntsman does run and win, he would become the first former Utah governor to return to the office in state history.
Huntsman exited the governorship in August 2009 after being confirmed to serve as U.S. Ambassador to China under Barack Obama.
Even though not every Utah governor was able to leave office on their own terms, none later sought a return to their old job:
Republican Charles Mabey (1921-1925) lost reelection in 1924 to state Senator George Dern
Democrat Herbert Maw (1941-1949) lost reelection in 1948 in a rematch against Price Mayor Brack Lee
Republican Brack Lee (1949-1957) lost renomination to engineer and political newcomer George Clyde in 1956 and the subsequent general election as an independent candidate
Republican Olene Walker (2003-2005) lost her nomination bid at the 2004 state GOP convention
A few former governors have sought other elected office, including Huntsman who made a bid for the GOP presidential nomination in 2012. Others include:
Republican William Spry (1909-1917) who lost a bid for Utah's 2nd CD in 1918 to Congressman James Mays
Republican Brack Lee (1949-1957) who lost the 1958 U.S. Senate election as an independent but was subsequently elected Salt Lake City Mayor in 1959, 1963, and 1967
Lee was also the Conservative Party nominee for president in 1960.
More than two-dozen former governors have come back to win gubernatorial elections over the last half-century including Alabama Democrat George Wallace (in 1970 and 1982), Alaska Democrat William Egan (1970), Virginia Republican (and former Democrat) Mills Godwin (1973), Ohio Republican Jim Rhodes (1974), New Mexico Democrat Bruce King (1978, 1990), Oklahoma Democrat George Nigh (1978), Missouri Republican Kit Bond (1980), Arkansas Democrat Bill Clinton (1982), Massachusetts Democrat Michael Dukakis (1982), Minnesota DFLer Rudy Perpich (1982), Louisiana Democrat Edwin Edwards (1983, 1991), West Virginia Republican Arch Moore (1984), Idaho Democrat Cecil Andrus (1986), Oklahoma Republican Henry Bellmon (1986), Texas Republican Bill Clements (1986), Alaska Independence nominee (and former GOPer) Wally Hickel (1990), Vermont Republican Richard Snelling (1990), North Carolina Democrat Jim Hunt (1992), Alabama Republican (and former Democrat) Fob James (1994), South Dakota Republican Bill Janklow (1994), West Virginia Republican Cecil Underwood (1996), California Democrat Jerry Brown (2010), Iowa Republican Terry Branstad (2010), and Oregon Democrat John Kitzhaber (2010).
Unlike Huntsman, most of these aforementioned governors were term-limited or lost their gubernatorial seat in between their two (or more) stints in office.
Follow Smart Politics on Twitter.