What is Bill Weld's Ceiling in the 2020 GOP Primaries?
Many primary challengers with less of a political resume than Weld have reached double-digits against sitting presidents over the last five decades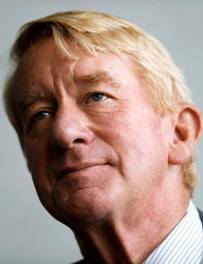 It appears at least one prominent sitting GOP officeholder is poised to back former Massachusetts Governor Bill Weld for president over Donald Trump – Vermont Governor Phil Scott recently stated that he would vote for Weld over Trump.
Other current (or former) Northeastern government officials like Massachusetts Governor Charlie Baker and U.S. Senators Susan Collins of Maine and (former Massachusetts Governor) Mitt Romney of Utah have not yet publicly committed to endorsing Weld but have frequently criticized the president.
It is also not clear yet if Weld will be the only Republican to challenge Trump in 2020. While some moderate and old-school 'establishment' party members saw their hopes of a Romney candidacy fade, they perhaps are still hoping former Ohio Governor John Kasich or, less likely, Maryland Governor Larry Hogan gets into the race.
Should Weld remain the lone prominent GOP challenger to Trump (and his campaign survives into the primaries), just how much support can he expect at the ballot box?
While Trump's renomination is not in doubt, over the decades several elected presidents have been embarrassed by the amount of support they have shed in primaries to both well-known and fringe challengers.
[Note: Ronald Reagan's 1976 campaign against Gerald Ford is excluded from this analysis as Ford was not a traditional incumbent – never having been elected to the presidency in the first instance].
In Barack Obama's 2012 renomination bid, challengers held the president to under 60 percent of the vote in three southern states – Oklahoma (57.1 percent), Arkansas (58.4 percent), and West Virginia (59.4 percent). [Obama also failed to reach the 60 percent mark in Kentucky with the 'uncommitted' vote tallying 42.2 percent].
Attorney John Wolfe recorded the high water mark against Obama in Arkansas (41.6 percent) and also hit double-digits in Louisiana (11.8 percent).
Perhaps more famously, prison inmate Keith Judd received 40.7 percent of the primary vote in West Virginia.
Two candidates tallied double-digit support against the president in Oklahoma – Randall Terry (18.0 percent) and Jim Rodgers (13.8 percent).
Back in 2004, only one candidate registered any noticeable support against President George W. Bush.
Liberal Republican Bill Wyatt of California received 10.0 percent of the vote in Oklahoma on Super Tuesday and 3.9 percent in March in Louisiana.
The most successful primary challenge to an elected president in the modern era was launched by Senator Ted Kennedy in 1980 against Jimmy Carter.
Kennedy won eight primaries outright from March through June: in Massachusetts (65.1 percent), Connecticut (46.9 percent), New York (58.9 percent), Pennsylvania (45.7 percent), D.C. (61.7 percent), New Mexico (46.3 percent), New Jersey (56.2 percent), and Rhode Island (68.3 percent). [Kennedy slates also had a plurality in the California and South Dakota primaries].
In 1972, one of President Richard Nixon's challengers – California U.S. Representative Pete McCloskey – reached double-digits in three primaries: New Hampshire (19.8 percent), Massachusetts (13.5 percent), and Oregon (10.4 percent).
Ronald Reagan had only token opposition during his 1984 renomination bid with just one candidate winning at least two percent of the vote in any state primary.
Former Minnesota Governor Harold Stassen won 2.0 percent in the New Hampshire primary in February and 8.2 percent near the end of the primary season in West Virginia in June.
In February 1992, Pat Buchanan made a splash in New Hampshire against President George H.W. Bush with his 37.4 percent showing, but the conservative political commentator never again reached that mark in the subsequent state primaries.
Buchanan won at least 30 percent in four more states: Colorado (30.0 percent), Georgia (35.7 percent), Florida (31.9 percent), and Rhode Island (31.8 percent).
Although his 1996 candidacy got little attention from the media, Lyndon LaRouche did reach double-digits in multiple state primaries against Bill Clinton.
The controversial Democrat did so in Colorado (11.0 percent), Oklahoma (12.7 percent), Nebraska (10.9 percent), and West Virginia (13.5 percent).
Another Clinton challenger – Westchester, Illinois accountant Elvena Lloyd-Duffie – also won 11.1 percent in the Oklahoma primary.
In 2020, pending his ballot access, one would expect Weld's best chances to win a notable slice of the primary vote to come in northeastern states and perhaps Utah, especially if Romney gives full-throated support to his GOP gubernatorial predecessor.
Given the frequent narrative (and polling data) that indicates how popular Trump is with the GOP base, one should also expect the media to closely track how much Republican primary support he sheds in primaries next year.
Follow Smart Politics on Twitter.