Will a Maine US Senator Lose for the First Time Since the 1970s?
Only nine states have had a longer stretch since the last time an incumbent lost a bid for another term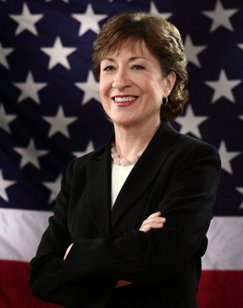 Democrats now have a candidate to rally behind against Maine U.S. Senator Susan Collins in 2020 – a key stepping stone in the party's attempt to flip the chamber next year.
On Monday, State House Speaker Sara Gideon announced she would seek the Democratic nomination to challenge Collins in a state that has not seen an incumbent lose a U.S. Senate seat in more than 40 years.
In the direct election era, only one state – Hawaii – has not seen a sitting senator lose their seat, winning in all 19 attempts since statehood.
Ten additional states – including Maine – have not had an incumbent lose a primary or general election since at least the 1970s.
The last U.S. Senator from Maine to fail in their bid for another term was Democrat William Hathaway in 1978.
Hathaway was a former four-term U.S. Representative from the state's 2nd Congressional District and was defeated in 1978 by his successor (to both seats) – three-term Rep. William Cohen.
Maine's senators have rattled off 10 consecutive victories ever since by Democrat George Mitchell (1982, 1988), Cohen (1984, 1990), Republican Olympia Snowe (2000, 2006), Collins (2002, 2008, 2014), and independent Angus King (2018).
The remaining states that have not seen an incumbent tumble in more than four decades are:
Vermont (1931): Appointed Republican Frank Partridge lost the GOP primary by 10.2 points to Warren Austin
Mississippi (1942): Wall Doxey came up 9.3 points short in the Democratic primary to James Eastland
Arizona (1952): Two-term Democrat (and Majority Leader) Mac McFarland lost to Phoenix City Councilman Barry Goldwater
West Virginia (1958): Both Republican lawmakers were defeated that November – W. Chapman Revercomb to Robert Byrd and appointed Senator John Hoblitzell in a special election to Jennings Randolph
South Carolina (1966): 'Self-appointed' Democrat Donald Russell lost his party's primary by 21.6 points to Fritz Hollings in a battle between two former governors
Oklahoma (1968): Three-term Democrat Mike Monroney was unseated by former Governor Henry Bellmon
Maryland (1976): First-term Republican John Beall, Jr. was defeated by U.S. Representative Paul Sarbanes
Wyoming (1976): Gale McGee, the last Democrat to serve in the chamber from the Cowboy State, lost to state Senator Malcolm Wallop
New Jersey (1978): Four-term Republican Clifford Case lost the GOP primary by 1.5 points to Jeffrey Bell
The majority of states – 28 – have had at least one sitting U.S. Senator lose their seat during the 21st Century – with the most recent losses by state occuring in:
2000: Delaware (Republican Bill Roth), Michigan (Republican Spencer Abraham), and Washington (Republican Slade Gorton)
2002: Georgia (Democrat Max Cleland)
2004: South Dakota (Democrat Tom Daschle)
2006: Montana (Republican Conrad Burns), Ohio (Republican Mike DeWine), Rhode Island (Republican Lincoln Chafee), and Virginia (Republican George Allen)
2008: Minnesota (Republican Norm Coleman) and Oregon (Republican Gordon Smith)
2010: Pennsylvania (Democrat Arlen Specter), Utah (Republican Bob Bennett), and Wisconsin (Democrat Russ Feingold)
2012: Massachusetts (Republican Scott Brown)
2014: Alaska (Democrat Mark Begich), Arkansas (Democrat Mark Pryor), Colorado (Democrat Mark Udall), Louisiana (Democrat Mary Landrieu), and North Carolina (Democrat Kay Hagan)
2016: Illinois (Republican Mark Kirk) and New Hampshire (Republican Kelly Ayotte)
2017: Alabama (Republican Luther Strange)
2018: Florida (Democrat Bill Nelson), Indiana (Democrat Joe Donnelly), Missouri (Democrat Claire McCaskill), Nevada (Republican Dean Heller), and North Dakota (Democrat Heidi Heitkamp)
Gideon was not the first Democrat to announce a 2020 challenge against Collins (e.g. attorney Bre Kidman and progressive lobbyist and 2018 gubernatorial candidate Betsy Sweet) but is by far the most established candidate seeking the party's nomination.
Senator Collins has yet to formally announce her reelection bid and would first face nominal opposition from the right in the GOP primary.
Follow Smart Politics on Twitter.