24 States Currently Have Record Partisan US Senate Winning Streaks
Only two of these states are located in the Midwest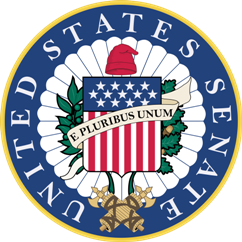 A recent Smart Politics report referenced the fact that a very large number of states (36) are currently in the midst of their longest Democratic or Republican winning streaks in presidential electoral history.
In elections to the U.S. Senate, the pool of states with political parties on a record run is not quite as large, but still noteworthy – with major parties in two-dozen states enjoying their longest winning streak during the direct election era.
Through the 2018 cycle, Republicans currently have their largest ever winning streak in elections to the nation's upper legislative chamber in 15 states: Arkansas, Florida, Georgia, Idaho, Kansas, Kentucky, Louisiana, Mississippi, North Carolina (tie), Oklahoma, South Carolina, Tennessee, Texas, Utah, and Wyoming.
Democrats, meanwhile, are in the midst of their greatest string of consecutive U.S. Senate victories in nine states: California, Delaware, Hawaii, Maryland, Michigan, New Hampshire, New Jersey, New York, and Oregon (tie).
On balance, the GOP streaks are more impressive than those on the Democratic side.
For example, of the 15 states in which Republicans have at some point won at least 10 U.S. Senate elections in a row, eight are still active: Kansas (31), Wyoming (17), Utah (16), Idaho (14), Mississippi (14), Oklahoma (11), Texas (11), and Tennessee (10).
Democrats made bona fide attempts to end the streaks in Texas and Tennessee last cycle but turned up short.
Utah is the only one of these aforementioned eight states which does not have an election in 2020. Interestingly, perhaps the state in which the GOP might be most vulnerable is Kansas which boasts the party's longest ever winning streak.
Democrats have never won back-to-back elections in Kansas and have been defeated in every contest dating back to 1936. [The party has also failed to win back-to-back races in two other states – Idaho and Vermont].
But Democrats – who won the Sunflower State's governorship in 2018 and picked up one U.S. House seat (and just narrowly lost a second) – are poised to have either former U.S. Representative Nancy Boyda or former U.S. Attorney Barry Grissom as their nominee.
Meanwhile, failed 2018 gubernatorial nominee Kris Kobach's controversial decision to run for retiring Pat Roberts' open seat has created a free-for-all primary campaign with Treasurer Jake LaTurner, state Senate president Susan Wagle, and former NFLer Dave Lindstrom vying for the nomination thus far.
In 2020, the Republican Party will also be defending record winning streaks in Kentucky (eight in a row), South Carolina (seven), Georgia (six), Arkansas (three), Louisiana (three), and North Carolina (three). [In North Carolina, the GOP also won three straight from 1978-1984 and 1990-1996].
A streak of nine straight wins for Republicans in Arizona (1992-2016) came to a halt last November with Kyrsten Sinema's victory over Martha McSally.
The GOP also won back-to-back elections for the first time in Florida in 2018 with Rick Scott's unseating of Bill Nelson. Republicans have still never accomplished that feat in Hawaii and Montana.
On the Democratic side, the party's winning streak of 18 in a row in Hawaii dating back to 1974 is its largest outside of the South and is one of just five states with current double-digit streaks along with New Jersey (16 in a row), Maryland (13), California (11), and New York (10).
Kirsten Gillibrand's win in 2018 broke a tie in the Empire State where the Democrats had also previously won nine consecutive races from 1922 to 1944.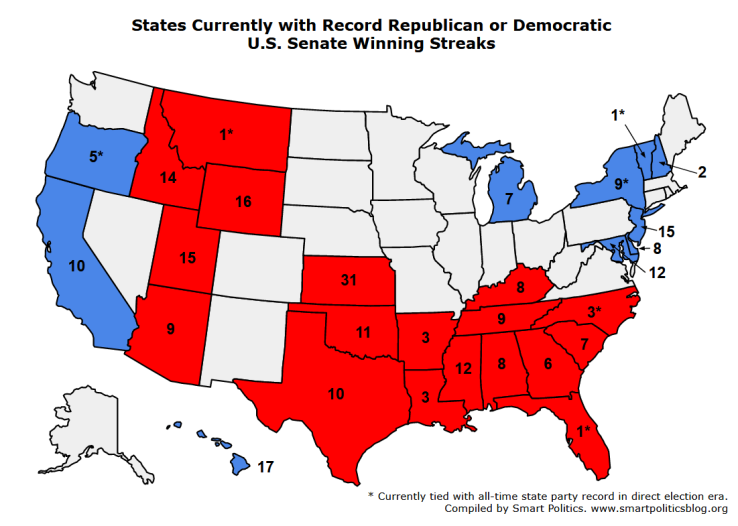 Current party-long streaks in Delaware (nine), Michigan (eight), Oregon (five), and New Hampshire (two) are on the line in 2020 although Democrats will be favored in each of these races.
Michigan and Kansas are the only two of the 12 Midwestern states in which parties are currently enjoying a historic run of victories.
Eleven states with record streaks are located in the South with six in the West and five in the Northeast.
Follow Smart Politics on Twitter.