Introducing the Minnesota Historical Election Archive
A Smart Politics companion site two years in the making houses nearly 20,000 searchable election returns – the largest collection of Minnesota election results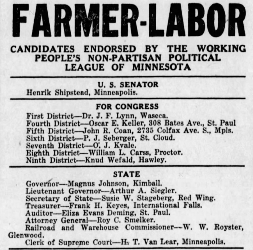 Smart Politics announces the launch of the Minnesota Historical Election Archive – a searchable website collecting the returns of nearly 20,000 elections since statehood. It is the largest collection of Minnesota election data and a valuable resource for journalists, educators, scholars, and citizens interested in Minnesota history and politics.
The Archive houses general, special, and primary election results across 17 offices: President, US Senate, US House, Governor, Lieutenant Governor, Secretary of State, Attorney General, Auditor, Treasurer, Railroad Commissioner, Railroad & Warehouse Commissioner, Public Service Commissioner, Supreme Court Chief Justice, Associate Supreme Court Justice, Supreme Court Clerk, state Senate, and state House.
Archive users can filter the election data by year, office, stage of election, political party, and legislative district, and the results have also been coded to enable filtering by candidate gender, incumbency, and margin of victory.
Users can also search for one of the more than 15,500 candidates for state and federal office.
Thousands of the election returns also note interesting political firsts, unusual historical information, and brief candidate biographies. For example:
Among the many features of the Archive is the inclusion of hundreds of links on individual election and candidate pages to related reports published at Smart Politics over the last 15 years.
The Minnesota Historical Election Archive has been financed in part with funds provided by the State of Minnesota from the Arts and Cultural Heritage Fund through the Minnesota Historical Society.
The Archive is published by the University of Minnesota Libraries Publishing, designed by DataMade, and curated by Smart Politics author Dr. Eric Ostermeier. The database will continue to be updated throughout the 2020 cycle and beyond.
Follow Smart Politics on Twitter.