New Hampshire on the Verge of Massive Split Ticket Vote in 2020
November's election could see the second biggest partisan divide in Granite State history between presidential and gubernatorial contests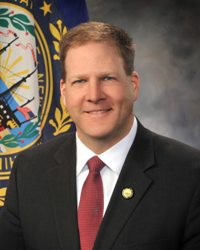 The state of New Hampshire – Donald Trump's narrowest loss of the 2016 cycle – appears to be slipping away from the president this November.
But the apparent notable drop in support for the president vis-à-vis four years ago is not having the slightest drag on his party one step down the ballot in the race for governor.
Two-term Republican Chris Sununu is on track to notch his biggest gubernatorial victory to date, while his party's standard bearer lags behind Joe Biden by double-digits in most surveys.
The Real Clear Politics average of polls currently shows Biden up 11 points on Trump in a state the president lost by just 0.4 points four years ago.
Meanwhile, Real Clear Politics gives Governor Sununu a 22.5-point advantage over his Democratic challenger, state Senator Dan Feltes.
If this 30+ point spread holds, the partisan gap between these two offices will be one of the biggest in state history.
There have been 35 election cycles in New Hampshire in which the contests for president and governor were held on the same date. [The state only began holding elections for the latter office in November 1878].
The largest partisan gap among voters for these two offices came in 1980. That year, the Granite State backed Republican Ronald Reagan by 29.4 points over President Jimmy Carter.
Meanwhile, first term Democratic Governor Hugh Gallen defeated former three-term Governor Mel Thomson by 18.3 points in a rematch of the 1978 race in which Gallen unseated Thomson. All told there was a 47.7-point net difference in the partisan spread in the vote for governor and president.
The 1980 election is one of just seven cycles during which New Hampshire voters split their ticket for president and governor since 1880. The state backed Democrat Woodrow Wilson and Republican Henry Keyes in 1916, Democrat Franklin Roosevelt and Republican Francis Murphy in 1936, Roosevelt and Republican Robert Blood in 1940, Roosevelt and Republican Charles Dale in 1944, Democrat Bill Clinton and Republican Steve Merrill in 1992, Republican George W. Bush and Democratic Governor Jeanne Shaheen in 2000, and Democrat Hillary Clinton and Sununu in 2016.
In addition to 1980, there have been three other cycles in which the net partisan victory margin in the races for president and governor was more than 20 points – each with the Democratic gubernatorial nominee running well ahead of the top of the ticket.
In 1956, first-term Republican Governor Lane Dwinell defeated John Shaw by 9.5 points in a rematch of the state's 1954 contest as President Dwight Eisenhower crushed Adlai Stevenson by 32.3 points (a 22.8-point difference).
In 1972, GOPer Mel Thomson edged Roger Crowley by 2.4 points (in a race in which Republican-backed independent Malcolm McLane won 19.6 percent of the vote) while President Richard Nixon easily defeated George McGovern by 29.1 points (26.7-point difference).
In 2008, two-term Democratic Governor John Lynch beat Joe Kenney by 42.6 points with Barack Obama earning the state's four Electoral College votes with a 9.6-point win over John McCain (33.0-point difference).
In 26 of these 35 election cycles, the net difference in the vote for president and governor has been only in single digits.
Sununu is one of four popular Republican governors in the Northeast who have seemingly thrived despite the party generally waning in the region in recent years, along with Larry Hogan of Maryland, Charlie Baker of Massachusetts, and Phil Scott of Vermont.
Follow Smart Politics on Twitter.