Elusive Perfection: A Historical Overview of Defeated US Senators
No election cycle has passed without at least one sitting U.S. Senator coming up short in their bid for another term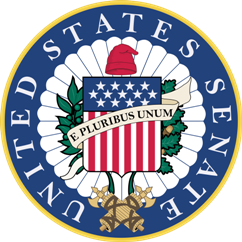 To date five U.S. Senators – all Republicans – have announced they will retire at the end of their term in the 117th Congress.
That currently leaves nearly 30 incumbents who have either announced they are running for reelection or have not yet made an official decision.
With 19 months until the 2022 general election, one thing is (nearly) for certain: at least one U.S. Senator will fail in their reelection bid.
Since the first cycle with direct elections for the office in 1914, there has not been a single midterm or presidential election cycle in which every incumbent running for another term was successful.
Incumbents have come close to perfection a few times, with only one U.S. Senator going down to defeat in three of these 54 cycles:
1960: Two-term Delaware Democrat J. Allen Frear narrowly lost by 1.4 points to Governor J. Caleb Boggs
1990: Two-term Minnesota Independent-Republican Rudy Boschwitz came up 2.6 points short to DFL college professor Paul Wellstone
2004: Three-term South Dakota Democrat and Minority Leader Tom Daschle lost by 1.2 points to former U.S. Representative John Thune
In six other cycles – including two during the last decade – just two incumbents have lost their bid for another term:
1914: One-term Kansas Republican Joseph Bristow lost his party's nomination to former U.S. Senator Charles Curtis and one-term South Dakota Republican Coe Crawford lost his party's nomination to seven-term U.S. Representative Charles Burke
1982: Four-term Nevada Democrat Howard Cannon was defeated by former Nevada state Senator Chic Hecht and one-term New Mexico Republican Harrison Schmidt was ousted by state Attorney General Jeff Bingaman
1994: One-term Pennsylvania Democrat Harris Wofford was beaten by two-term U.S. Representative Rick Santorum and three-term Tennessee Democrat Jim Sasser was unseated by physician Bill Frist
1996: Appointed Kansas Republican Sheila Frahm lost her party's nomination to freshman U.S. Representative Sam Brownback and three-term Republican Larry Pressler was defeated by five-term U.S. Representative Tim Johnson
2012: Six-term Indiana Republican Dick Lugar lost his party's nomination to state Treasurer Richard Mourdock and first-term Massachusetts Republican Scott Brown lost to former Consumer Financial Protection Bureau special advisor Elizabeth Warren
2016: Illinois Republican Mark Kirk lost to two-term U.S. Representative Tammy Duckworth and first-term New Hampshire GOPer Kelly Ayotte was defeated by two-term Governor Maggie Hassan
In total, incumbents have been defeated 382 times either at the nomination phase or in the general election since 1914. [Note: This tally double counts each instance in which U.S. Senators simultaneously lost both their party's nomination for expired and unexpired terms or both special and general elections for their seat].
Incumbents have lost their seat via special or general elections 269 times and via their party's nomination 113 times.
Note: The latter tally includes a handful of U.S. Senators who lost their party's nomination but still attempted and failed to win the general election as an independent (Oregon's Robert Stanfield in 1926, Alabama's James Heflin in 1930, Iowa's Smith Brookhart in 1932), on a third party ticket (New York's Jacob Javits in 1980), or via a write-in campaign (Alaska's Ernest Gruening in 1968).
Overall, an average of seven incumbents per cycle lost their party's nomination or the general election dating back to 1914.
There have been 16 cycles in which incumbents lost at least 10 times with a high water mark of 15 such defeats in 1932 (this includes each nomination loss by North Carolina Democrat Cameron Morrison for the special and general elections to his seat).
Incumbents lost 14 races in 1922 (including Delaware Republican T. Coleman Du Pont's special and general election defeats), and 13 each in 1916, 1926 (including special and general election losses by Missouri Republican George Williams), 1930 (including both special and general election defeats by Kentucky Republican John Robsion), and 1980.
Hawaii is the only state in which U.S. Senators have a perfect track record at the ballot box.
Vermont also has never had one of its U.S. Senators voted out of office in a general election, although appointed Republican Frank Partridge lost a special primary to Warren Austin in 1931.
In addition to Hawaii, six other states have never had a U.S. Senator lose their party's nomination since 1914: Kentucky, Massachusetts, New Mexico, Rhode Island, Washington, and Wyoming.
North Carolina has seen incumbents lose 16 primary or general elections followed by Delaware and Illinois with 14, Missouri with 13, and Ohio and South Dakota with 12 each.
Only nine U.S. Senators have lost their party's nomination since 1982 (with Joe Lieberman and Lisa Murkowski still prevailing in the 2006 and 2010 general elections respectively), but with each major party becoming ideologically more extreme that potentiality lurks around the corner in 2022.
And so while each U.S. Senator running for reelection may be at least slightly favored to retain their seat at this point in the election cycle, rest assured at least one vulnerable incumbent (or perhaps one currently off the board) will fall next November.
Follow Smart Politics on Twitter.