Crist to Join Line of Ex-Governors Seeking a Return to Their Old Job
Only three ex-governors have been elected back to lead their states during the 21st Century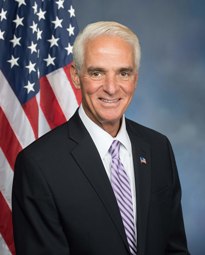 Democratic Florida U.S. Representative Charlie Crist is set to announce his bid for governor this week, where he is expected to face a bona fide fight for his party's nomination and then, should he prevail, a tough campaign against an incumbent (Ron DeSantis) who currently enjoys an above-water job approval rating.
Crist is the last Florida governor to win with the support of a majority of voters (52.2 percent in 2006) and is seeking to become just the second former governor to win back his old job in state history. [This will be Crist's second attempt at that feat, falling 1.1 points shy of unseating Governor Rick Scott in 2014].
Former Virginia Governor Terry McAuliffe (2014-2018), meanwhile, has been the frontrunner for the 2021 Democratic gubernatorial nod throughout the campaign as he seeks to bring his party their third consecutive win for the office for the first time since the 1980s.
In Maine, former two-term Republican Governor Paul LePage (2011-2019) has stated he plans to challenge Democratic Governor Janet Mills in 2022 although he has not officially launched his bid.
And while he was never an elected governor, Kansas Republican Jeff Colyer (2018-2019) recently announced his campaign to challenge Democratic incumbent Laura Kelly. [Colyer was the state's lieutenant governor when Sam Brownback resigned in January 2018 and served the last year of his term. Colyer lost his party's nomination for governor in August 2018 by 0.1 points (343 votes) to Secretary of State Kris Kobach in the closest primary for governor in state history].
If successful, McAuliffe, Crist, and LePage would add their names to what is currently a short list – governors who have won election to a nonconsecutive term during the 21st Century.
To date, just three politicians have achieved this feat – all doing so during the 2010 cycle: California Democrat Jerry Brown (1975-1983) returned to office after 28 years, Iowa Republican Terry Branstad after 12 years (1983-1999), and Oregon Democrat John Kitzhaber after eight years (1995-2003).
[Note: New Jersey Democrat Richard Codey served as acting governor in two different stints in 2002 and 2004-2006 but was never elected to the office].
Branstad ended up as the longest-serving governor in U.S. history at 22 years, 4 months, and 13 days with Brown at #3 (16 years, 5 days), and Kitzhaber at #21 (12 years, 1 month, 14 days).
If elected in 2022, Crist would join Democrat William Bloxham as the only former governor to return to the office in Florida history.
Bloxham – the Liberal Republican nominee for governor in 1872 – was elected shortly after Reconstruction in 1880, defeating former GOP U.S. Senator Simon Conover by 9.8 points.
Term-limited after four years, Bloxham later served as Florida Comptroller and was elected governor again in 1896 – winning a 46.2-point blowout over Tampa attorney E.R. Gunby at a time during which Democrats had firmly established political control over the state.
McAuliffe, meanwhile, would be the fourth governor from Virginia to serve nonconsecutive terms joining Jeffersonian Republican James Monroe (1799-1802, 1811), Democrat William Smith (1846-1849, 1864-1865), and Democrat-turned-Republican Mills Godwin (1966-1970, 1974-1978).
[Note: Jeffersonian Republican George Smith also served as acting governor for less than a week prior to Monroe's second term in 1811 and then again in April of that year after Monroe resigned to become Secretary of State. Smith was elected in his own right in December 1811 but died later that month].
In Maine, Whig Edward Kent (1838-1839, 1841-1842) and Democrat John Fairfield (1839-1841, 1842-1843) are the only governors to win election to interrupted terms while none have done so in Kansas.
Crist is not the only former governor to have already attempted a return to office and failed during the 21st Century. Other notables include Alaska Democrat Tony Knowles in 2006 (lost general), Georgia Democrat Roy Barnes in 2010 (lost general), Maryland Republican Bob Ehrlich in 2010 (lost general), Minnesota Republican Tim Pawlenty in 2018 (lost primary), and Utah Republican Jon Huntsman in 2020 (lost primary).
More than 140 governors have served interrupted terms over the last 230+ years.
With just three accomplishing this feat thus far since 2000, the 21st Century is a fair bit off the pace set in the 19th and 20th Centuries when 72 and 68 former governors respectively found their way back to their old jobs.
Jerry Brown's 28-year gap in service is not quite the longest in U.S. history.
That mark belongs to the last governor to serve interrupted terms in the 20th Century – West Virginia Republican Cecil Underwood. Underwood saw 36 years pass before the end of his first term (1957-1961) and the start of his second (1997-2001).
Other governors with particularly long gaps in service include Kentucky Democrat James McCreary at 32 years (1875-1879, 1911-1915), New Jersey Republican Walter Edge at 24 years (1917-1919, 1944-1947), Alaska Republican (turned Alaska Independence Party nominee) Wally Hickel at 21 years (1966-1969, 1990-1994), Arkansas Democrat Junius Futrell at 20 years (1913-1913 – acting, 1933-1937), Oklahoma Republican Henry Bellmon at 20 years (1963-1967, 1987-1991), and Colorado Democrat Edwin Johnson at 18 years (1933-1937, 1955-1957).
Just five states have never had an ex-governor return to lead their state: Hawaii, Kansas, Nevada, Utah, and Wyoming.
Follow Smart Politics on Twitter.