Abby Finkenauer and a History of Iowa US Reps Running for US Senate
Four ex-US House members have run for the Senate from Iowa during the direct election era – each lost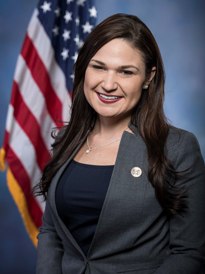 Even with the campaign status of seven-term Republican U.S. Senator Chuck Grassley up in the air until probably autumn, Iowa Democrats are beginning to come out of the woodwork and take their chances.
Grassley, who has not won less than 60 percent of the vote in any of his previous six reelection bids, would appear to be an out-of-reach target for Democrats this cycle – even at the age of 89 come Election Day.
Nonetheless, late last month former Crawford County Supervisor Dave Muhlbauer announced his bid for the Democratic nomination.
Shortly thereafter, it was reported that former U.S. Representative Abby Finkenauer is preparing to launch her campaign for Grassley's seat.
Following her two-term stint in the state House, Finkenauer served one term in the U.S. House before losing her seat by 2.6 points to former state legislative colleague Ashley Hinson last November.
While Finkenauer may ultimately be the biggest name Iowa Democrats can recruit for this seat (particularly if Grassley runs for an eighth term), it is not clear she yet carries the political clout to win statewide in this slightly red state.
Since the direct election of U.S. Senators in 1914, former U.S. Representatives from Iowa have sought their party's nomination four times.
None of those four were successful:
1922 (special): Republican Charles Pickett (1909-1913; 3rd CD) placed third out of six candidates in the special primary with 15.8 percent
1924: Republican Burton Sweet (1915-1923; 3rd CD) lost by 10.0 points in his primary challenge to incumbent Smith Brookhart
1950: Democrat Otha Wearin (1933-1939; 7th CD) came in a distant third with 11.9 percent in a six-candidate primary field won by former U.S. Department of Agriculture Undersecretary Albert Loveland
1968: Republican James Bromwell (1961-1965; 2nd CD) ran second with 26.7 percent in a four-candidate GOP field, 32.0 points behind state Senator David Stanley
Regarding Finkenauer's experience on Capitol Hill, only two Iowans with only one term under their belt in the U.S. House have launched U.S. Senate candidacies.
Both of these also lost.
In 1914, Democrat Maurice Connolly (1913-1915, 3rd CD) won the Democratic nomination but came up 9.0 points short of unseating GOP Senator Albert Cummins.
In 1936's special election, Democrat Hubert Utterback (1935-1937, 6th CD) placed second in the three-candidate primary with 34.9 percent – 18.7 points shy of two-term Congressman Guy Gillette.
Gillette won this 1936 race against newspaper editor Berry Halden and is one of six sitting U.S. House members to get elected to the U.S. Senate from Iowa since 1914 along with:
1930: Six-term Republican Lester (L.J.) Dickinson (1919-1931; 6th CD)
1954: Eight-term Republican Thomas Martin (1939-1955; 1st CD)
1974: Five-term Democrat John Culver (1965-1976; 2nd CD)
1980: Three-term Republican Chuck Grassley (1975-1981; 3rd CD)
1984: Five-term Democrat Tom Harkin (1975-1985; 5th CD)
In addition to the aforementioned Connolly and Utterback, seven other sitting U.S. Representatives came up short in their U.S. Senate bids:
1922 (special): Four-term Republican Burton Sweet (1915-1923, 3rd CD) placed fifth in the six-candidate GOP primary with 10.9 percent
1938: Three-term Democrat Otha Wearin (1933-1939, 7th CD) was runner-up to incumbent Guy Gillette with 27.4 percent in a five-candidate primary field
1938: Seven-term Republican Lloyd Thurston (1925-1939; 8th and 5th CDs) lost the GOP primary by 14.0 points to former Senator L.J. Dickinson
1990: Six-term Republican Tom Tauke (1979-1991; 2nd CD) won the GOP nomination unopposed but lost to Senator Tom Harkin by 7.8 points
1996: Six-term Republican Jim Lightfoot (1985-1997; 5th and 3rd CDs) won the GOP nomination but lost to Senator Harkin by 5.1 points
2002: Four-term Republican Greg Ganske (1995-2003; 4th CD) won the GOP primary but lost to Senator Harkin by 10.4 points
2014: Four-term Democrat Bruce Braley (2007-2015) was unopposed in the Democratic primary but lost the open seat general election to Joni Ernst by 8.3 points
Prior to the direct election era, five sitting or former U.S. Representatives were elected to the U.S. Senate by the Iowa legislature:
1873: Former four-term Republican William Allison (1863-1871; 3rd CD)
1881: Former two-term Republican James McDill (1873-1877; 8th CD)
1883: Former four-term Republican James F. Wilson (1861-1869; 1st CD)
1895: Four-term Republican (and former Governor) John Gear (1887-1891, 1893-1895; 1st CD)
1900 (special): Six-term Republican Jonathon Dolliver (1889-1900, 10th CD)
Republican state Senator Jim Carlin was the first major party candidate to jump into the race earlier this year.
Follow Smart Politics on Twitter.