Will Tim Walz Face a DFL Challenger in 2022?
No DFL gubernatorial nominee has run unopposed through the party convention and primary since the 1944 merger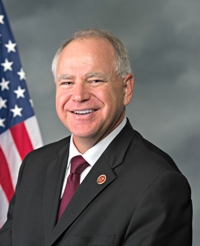 Although there is consensus among the nation's top political prognosticators that Minnesota's gubernatorial seat is likely to remain under DFL control after the 2022 election, a slew of Republicans are already out of the gate and on the campaign trail.
That list includes two state senators, a former state senator, and a small town mayor among the more than half-dozen GOPers who have announced their intention to run.
Meanwhile, Governor Walz has yet to officially launch his reelection campaign – although there is every expectation that he will do so.
In the meantime, despite garnering vocal criticism from the left of his party, no Democrat has yet stepped forward to challenge Walz for the DFL nomination on his impending reelection bid.
To date, there has not been a single cycle since the 1944 DFL merger in which a DFL gubernatorial nominee ran unopposed through both the state party convention and primary. And only once has a DFL nominee run unopposed for the office in the primary.
In 1970, State Senator Wendy Anderson was the lone choice on the ballot in that September's DFL primary – although he did have significant opposition for the party endorsement at the state convention earlier that June.
Anderson drew four opponents during several rounds of balloting before he reached the necessary 60 percent threshold of support among the 1,217 attending delegates: fellow state Senator Nick Coleman of St. Paul, law professor David Graven of Minneapolis, Hennepin County Attorney George Scott, and Edina businessman Robert Short.
Anderson eventually pulled through but only secured 429 votes on the first ballot (35 percent) with 345 delegates for Coleman, 242 for Graven, 98 for Scott, and 76 for Short.
During the primary era, but before the DFL merger, there were a handful of cycles in which the Democratic gubernatorial nominee did not face a primary opponent:
1924: Former state Game and Fish Commissioner and Hutchinson Leader editor Carlos Avery; Michael Lambrecht, a paperhanger from St. Paul, filed for governor but withdrew from the race in May
1926: Duluth Judge Alfred Jaques; Lambrecht filed again but withdrew in May before the June primary
1928: Duluth attorney Andrew Nelson was unanimously selected by the convention
1930: Edward Indrehus of Foley, the party's nominee in 1922, defeated St. Paul Mayor Laurence Hodgson at the convention on the first ballot by a 410 to 88 margin
In 1942, St. Paul attorney John D. Sullivan ran unopposed for the nomination in the last general election before the DFL merger; there was no endorsing convention that cycle for the Democratic Party
In 2018, Walz's primary victory with just 41.6 percent of the vote marked the fourth time in seven cycles that the Democratic nominee emerged from the nomination process without majority support, along with John Marty in 1994 (37.8 percent), Skip Humphrey in 1998 (37.0 percent), and Mark Dayton in 2010 (41.3 percent).
Since 1912, an average of 3.5 candidates have appeared on the Democratic gubernatorial primary ballot in Minnesota with a high water mark of seven in 1920 in a race won by St. Paul Mayor Laurence Hodgson.
Follow Smart Politics on Twitter.