Chuck Grassley and a History of 7-Term US Senators
Eighteen senators have been elected to at least seven terms; more than half never saw an eighth but just one ran for reelection and lost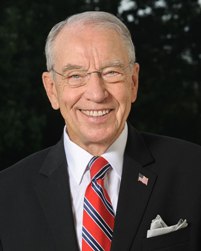 Iowa Republican Chuck Grassley made it official this week that he would seek reelection to the U.S. Senate seat he has held since 1981.
Overall, 18 U.S. Senators, including Grassley, have been elected to seven terms in the history of the chamber.
Just five were elected to an eighth – all since the 1990s:
South Carolina Democrat-turned-Republican Strom Thurmond in 1990
Massachusetts Democrat Ted Kennedy in 2000
West Virginia Democrat Robert Byrd in 2000
Hawaii Democrat Dan Inouye in 2004
Vermont Democrat Patrick Leahy in 2016
Each of those incumbents cruised to easy eighth term victories – Kennedy by 59.7 points, Inouye by 54.5 points, Thurmond by 31.7 points, Byrd by 30.7 points, and Leahy by 28.2 points.
To date, only one U.S. Senator has sought an eighth term and come up short – Alaska Republican Ted Stevens in 2008. [Note: Stevens had not logged seven full terms – serving the remaining three-plus years of Bob Bartlett's term via appointment and a 1970 special election victory].
But Stevens was embroiled in a federal investigation during his '08 campaign and, a week before the election, was found guilty on seven counts of making false statements on his U.S. Senate disclosure form by failing to report a quarter million dollars in gifts and services. Nonetheless, Senator Stevens nearly eked out a win for an eighth term in this red state, losing to Democrat Mark Begich by just 1.2 points. [Note: Those convictions were voided in 2009.]
Five other U.S. Senators opted to retire at the end of their seventh term:
Arizona Democrat Carl Hayden in 1968
Louisiana Democrat Russell Long in 1986 [Long's first term was a partial term of two years]
Mississippi Democrat John Stennis in 1988 [Stennis' first term was a partial term of five years]
South Carolina Democrat Fritz Hollings in 2004 [Hollings' first term was a partial term of two years]
Utah Republican Orrin Hatch in 2018
Three senators resigned in the midst of their seventh term:
Virginia Democrat Harry Byrd, Sr. in 1965 [Byrd's first term was a partial term of less than two years]
Delaware Democrat Joe Biden in 2009 [Serving less than two weeks of his seventh term before resigning to become Vice President]
Mississippi Republican Thad Cochran in 2018
Two others died during their seventh term:
Wyoming Republican Francis Warren in 1929 [Warren served interrupted terms with a partial first term of just over two years]
Georgia Democrat Richard Russell in 1971 [Russell's first term was a partial term of four years]
Kentucky Republican Mitch McConnell became the 18th U.S. Senator to win election to a seventh term with his victory in 2020.
It should be noted two other lawmakers served parts of seven terms, but were only elected to six of them.
Mississippi Democrat James Eastland served three months via appointment in 1941 and then was elected to his first of six additional terms in 1942. Washington Democrat Warren Magnuson was appointed to his seat in December 1944 less than three weeks before he was scheduled to take office following his first of six victories to the chamber in November 1944. Eastland did not run for reelection in 1978 while Magnuson lost his reelection bid in 1980.
In January 2023, Grassley would become the eighth U.S. Senator to serve at least seven full terms joining Thurmond, Kennedy, Byrd, Inouye, Leahy, Hayden, and Hatch.
Follow Smart Politics on Twitter.